KNAC's Junkman Recaps The Scorps/Dio/Purple Gig In Vegas


By Junkman, On-Air Personality
Thursday, June 20, 2002 @ 3:09 PM


| | | |
| --- | --- | --- |
| | | KNAC's Beloved DJ, Junkman, Re |
The "Big Three." No, I'm not talking about sports championships, or even rules about life or business that your mother and father or teacher told you to remember. Growing up in the 1970's like I did, and being a rock fan, especially British rock of that period, the "Big Three" meant the three biggest bands in the world. Led Zeppelin, Black Sabbath, and Deep Purple. These were the three bands responsible for the term "Heavy Metal." Everyone who has ever turned on a radio or picked up a musical instrument since 1970 is aware of the magnitude of these bands and the influence they would have on generations to come.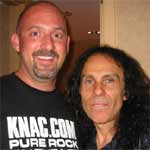 Led Zeppelin foremost, was the most popular. With their legendary live shows, wild road stories, and, of course, the staying power of their music on mass media, right up to this day, Zep has, and will always be, for most, the unofficial "Kings of Metal." When drummer John Bonham died and Zeppelin ceased to be, they also established themselves as martyrs. Ask anyone in the business to name the biggest band ever in heavy metal, and 9 times out of 10, the answer will be Led Zeppelin. Black Sabbath, especially recently, over the last few years have taken some of that popularity as well. Besides their body of work, which is very impressive, the fact that they are still PLAYING TOGETHER is amazing! Combine that with the enormous popularity of vocalist Ozzy Osbourne, especially this past year, and Sabbath are the "Living Legends" of the pure rock world as we enter the millennium. But for me, it has ALWAYS been about Deep Purple. From the time my brother brought home the Deep Purple In Rock LP, (yes kiddies, I said LP!) to the opening chords of "Smoke On the Water," Deep Purple was the band for me. They have actually been around longer than the other two, although not without many lineup changes, and long breaks in between releases. So when I heard about the opening of their 2002 American tour along with fellow legends Dio and Scorpions, I knew I had to attend. I could not wait until August when the tour stopped in Los Angeles so I headed out to Vegas for opening night. The concert would be held at the Theater for the Performing Arts inside the Aladdin Hotel and Casino on May 31. As I made my way to my seat in this beautiful venue, I was pleasantly surprised to see that the entire arena, from the carpets to the seat cushions were a deep purple color! This was going to be my night!!! At exactly 7:30 PM, the lights dimmed and Dio hit the stage, opening with the title track of their new release, Killing The Dragon. Ronnie James Dio who is a member of the "Six Degrees of Deep Purple" family himself, via his membership in Rainbow (and Black Sabbath as well, woah…) was in fine form, as always. Joined onstage by his band, featuring longtime members Jimmy Bain on bass, and Simon Wright on drums. New guitarist Doug Aldrich and Scott Warren on keys rounded out the unit.

"As I made my way to my seat... I was pleasantly surprised to see that the entire arena, from the carpets to the seat cushions, were a deep purple color! This was going to be my night!"

The new single "Push" featured Dio running through the audience. As the five foot four singer jumped back onstage you could see love of his audience on his face. The band played a great mix of old favorites like "Stand up and Shout," and "Holy Diver," as well as "Man on a Silver Mountain" and "Long Live Rock and Roll" from Ronnie James Dio's term as lead singer of Deep Purple alumnus Ritchie Blackmore's Rainbow. The band closed the set with "Heaven and Hell" from Dio's days as Ozzy's replacement in Black Sabbath, (Six degrees of Sabs?) and "Rainbow in the Dark." This left the crowd in a frenzy screaming for more, but to no avail. The night was just starting and the house lights went up and the roadies hit the stage for set change. I headed backstage to greet the guys in Dio. We had met at a convention in January and we had hit it off. I was pleased as I heard the words "Hey, Junkman!" as I entered Dio's dressing room, and was greeted by a hug from the man himself. If my friends could only see me now!!! Ronnie James Dio has got to be one of the nicest guys in rock n roll, and we talked about everything from our favorite sports teams to his plans for the rest of the tour. He is as much of a fan as the other bands on the tour as anyone in the arena and he told me how honored he was to be sharing the stage with them. See guys, you CAN stay in the business for a long time, make your mark and not be jaded. Ronnie James Dio is living proof of this!!!! Well back to my seat and at nine o'clock sharp I got the surprise of my night. Hitting the stage was none other than Deep Purple!!! Seems the bands decided that they would do a "co-headlining tour," and alternate who would follow whom, so, anyone who is planning on attending is in for a surprise, depending on the city. Anyway, the shock turned to joy at the sound and sight of my hero's opening with "Highway Star" and continuing with "Woman From Tokyo." Lead singer Ian Gillan from Mark 2 and, I believe, Mark 4 of the revolving Deep Purple lineup, looked totally relaxed. Dressed in baggy rolled up pants and a matching white shirt, he pranced barefoot across the stage, looking like he was taking a stroll on the beach as opposed to being on a stage fronting a popular rock band. Guitarist Steve Morse (yes THAT Steve Morse) tore into "Ted The Mechanic" from the Purpendicular CD. New keyboardist Don Airey then started the opening strains of the DP classic "Lazy." Following that, they played "Sometimes I Feel Like Screaming" and a as yet unrecorded song, "The Well Dressed Guitar." This showcased the amazing range of guitarist Morse, winner of many guitar magazine awards over the years and a superb replacement (sorry old schoolers!) for original guitarist Ritchie Blackmore. Following some great bass work during "Fools" featuring bassist Roger Glover, Don Airey played a brief keyboard solo that led into the opening chords of "Perfect Strangers." Following that up with "Speed King" from the 1970 release the afore mentioned "In Rock, in which drummer Ian Paice completely tore it up!!!! Gillan, clearly having a blast, injected bits and pieces of Elvis Presley's "Now or Never" and Jerry Lee Lewis' "High School Confidential" into the mix before leaving the stage. As the crowd and myself screamed for an encore -- I mean, c'mon, there were still a bunch of DP classics they had not played yet -- the band returned to the stage to the sound of , surprise, Led Zeppelin's "Good Times, Bad Times"! As the familiar chords of AC/DC's "Back in Black" followed, I realized that we would be in for a medley of some of the most popular guitar riffs in rock history and… well, let's see… there is this one riff that Deep Purple came up with in '72… What followed were bits of the Who's "Wont Get fooled Again," ZZ Tops "La Grange," Jimi Hendrix's "Voodoo Chile," Lynyrd Skynyrd's "Sweet Home Alabama," and more Zep with "Stairway to Heaven." This of course, led into the recognizable chords of… yep, "Smoke On The Water." This brought the arena to a virtual frenzy, as I'm sure the band has seen after playing this tune for the last 30 years. I'll tell you what, it sounded fresh with the addition of Morse and Airey, and even though Las Vegas has been a burial ground for oldies acts over the years, this was simply NOT the case tonight!!!! As the band waved goodbye from the stage and the lights went up, I almost forgot that the Scorpions were next!!!!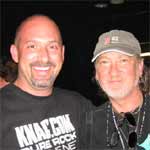 Once again I ran to the backstage area to try and meet my heros. I did get to see Ian Paice's drum kit up close. This, for me, a life long drummer, was a thrill in itself and I was disappointed not to get to meet him in person. But not to worry, I told myself. It is OPENING NIGHT of the tour, and there will be more opportunities. I did get to meet Roger Glover and I tried not to gush over him too much. I told him I'd been a fan since the In Rock LP. He told me that it was the first LP he had ever played on, so he guessed he got it right for me the first time!!! We had a laugh over that one, he is a great chap!!! At 10:50 or so, the Scorpions stormed the stage to the sounds of "Coming Home" and "Bad Boys Running Wild." Talk about energy!!!! These guys are like a Mercedes, a finely tuned German machine!!!! Blasting into "The Zoo," singer Klaus Meine never missed a note while running around the stage at full speed. It amazes me how much adrenaline this band releases during a performance and has been doing it for years. Guitarists Mathias Jabs and Rudolf Schenker blitzkrieged the arena with Scorpion favorites like "Tease Me, Please Me," "No One Like You," "Big City Nights," and Dynamite." Pounding the drums was former Kingdom Come drummer James Kottak, who after a very animated drum solo, kept the tempo up for "Breakout." The band left the stage and encored with the ballads "Still Lovin You," and "Wind of Change," both songs spotlighting the amazing soaring vocals of singer Meine. I haven't seen cigarette lighters lit in an arena in quite awhile, and it looked like an old fashioned Christmas tree when they were all lit! The guy sporting the mullet across from me, I'm sure had to fill his "Zippo" with fuel the next day, as well as stock up on sore throat drops as well. Scorpions finished the set with their biggest hit, "Rock You Like a Hurricane," and stayed onstage to thank the fans for what seemed like a very long time, before heading into the Las Vegas night via their tour bus and more shows across America. Do yourselves a favor rock fans. Go see the Dio/Deep Purple /Scorpions tour when it comes to a town near you. This tour has all the things a summer rock tour needs to keep you satisfied, lights, loudness, and plenty of action. Talk about a "Big Three"!"




Please log in to view RANTS

If you don't have a username, click here to create an account!