ROCKSTAR ENERGY DRINK UPROAR FESTIVAL Live In Houston, TX


By Larry Petro, News Monkey
Wednesday, September 4, 2013 @ 5:12 PM


| | | |
| --- | --- | --- |
| | | Festival Main Stage Bands Bring The Uproar To The Woodlands Pavilion |
I haven't had too many opportunities to catch rock festivals. The only one in recent memory I have is attending ROCKLAHOMA last year, so when the ROCKSTAR Energy Drink Uproar Festival announced a Houston area show, I figured this would be another great opportunity, especially since there were several main bands on the bill that I had yet to see live. As it turns out, due to this being a middle-of-the-week show (Thursday) and the local school districts having just started back in session that Monday, Houston would be getting an abbreviated version of the festival, that being performances by only the main stage bands: ALICE IN CHAINS, JANE'S ADDICTION, COHEED AND CAMBRIA and CIRCA SURVIVE. I was aware of this fact ahead of time, but made the decision to attend anyway because, as previously mentioned, I had not yet seen either ALICE IN CHAINS or JANE'S ADDICTION in a live setting and was curious to see what type of show they would put on.

The show had an early start time, with the doors opening up at 6 and the first band slated to go on at 6:20. Even with the venue's close proximity to my location, it still left me with just enough time to leave my day job (which I left an hour early), change clothes, pick my buddy up and grab a bite to eat before hitting the outdoor arena. To top it off, because I was shooting photos of the show for this review, I was supposed to meet at the backstage area 10 minutes before each band's set time, which left me with minimal time to get my tickets/passes, get inside and head straight back to the designated meeting location. I also wondered exactly how many people would actually be there for the opening band, given that the venue is just north of Houston proper, and getting out of Houston during work rush hour in a timely fashion is next to impossible. The answer was 'not many'.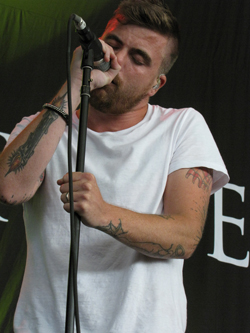 I was told by certain people at the venue that only about 5,000 tickets had been sold for this show, amazing because the Woodlands Pavilion holds upwards of 17,000 people when sold out. It certainly showed when it came time for CIRCA SURVIVE to take the stage. There were about 12 of us in the barricade shooting photos, and that was probably more people than there were in the pit. Ok, that was maybe an exaggeration, but not too much of one. I looked behind me and there could not have been more than 150-200 people inside the entire venue at their seats when they began their set. CIRCA SURVIVE are certainly not newcomers to the rock scene, having formed in Philadelphia nearly 10 years ago and at least 3 albums under their belt. I certainly had never heard of them and quite honestly, they really weren't my cup of tea musically. But they did put on a spirited set, opening up their 7 song set with "Oh Hello", from the band's debut album, Juturna, a song that lasted so long that some of us photographers wondered if that was one song or two, or even three! The band played for 35 minutes before closing out with "Get Out", from 2010's Blue Sky Noise release. Though I may not have been familiar with either the band or their music, of the people who were there for the band's performance, quite a few actually were familiar with them and sang along quite often.
Setlist:
"Oh Hello"
"Sharp Practice"
"Hair Back" "In The Morning And Amazing"
"The Lottery"
"Brother Song"
Get Out"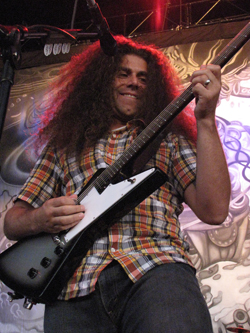 There was a very quick, 20 minute set changeover before it was time for COHEED AND CAMBRIA. I had actually caught this band last year when they opened up for IRON MAIDEN on the last leg of their Maiden England tour and I was quite impressed with them. Good music and great sound had me anticipating their appearance this time around. They hit the stage at 7:20 to a much more numerous crowd, kicking things off with "Sentry The Defiant", from their 2013 release The Afterman: Descension. The band was firing on all cylinders throughout their 8 song set, playing hits like "A Favor House Atlantic", "Gravity's Union" and "Ten Speed (Of God's Blood And Burial)" before finishing up with "Welcome Home" from the 2005 album Good Apollo, I'm Burning Star IV Volume One: From Fear Through The Eyes Of Madness (damn, that's a long album title!). One thing I have always thought was cool about these guys was guitarist and frontman Claudio Sanchez's hair. Half the time when he's playing you can't even see his face. He looks like Cousin It with a 'fro. A great performance by this band! They'll be back out on the road again after the conclusion of the Uproar festival, so check them out if they come to your town!

Setlist:
"Sentry The Defiant"
"A Favor House Atlantic"
"Goodnight, Fair Lady"
"Number City"
"Gravity's Union"
"Ten Speed (Of God's Blood And Burial)"
"Vic The Butcher"
"Welcome Home"
After another quick stage switchout it was JANE'S ADDICTION time to shine. This is another band that I was familiar with, but only to the point of their tunes I had heard on radio and, again, did not consider myself to be a very big fan. But when Perry Farrell, Dave Navarro and company took the stage to "Underground", from 2011's The Great Escape Artist album, the band's first in 2 decades, I was quite impressed. Vocalist Farrell is quite the entertainer and also kinda creepy at the same time. You would certainly get the willys if this guy was following you home late at night! I thought I was only familiar with a song or two of theirs, but as the show went on I realized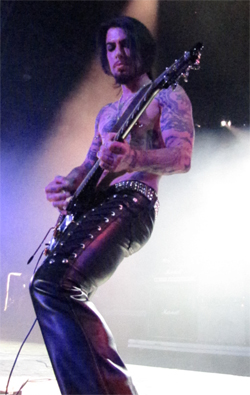 that there were several others I had heard at some point in time and just didn't put it together as being JANE'S ADDICTION material. As they plowed through their performance with "Mountain Song", "Been Caught Stealing", "Three Days" and "Stop!", something hit me: Guitarist Dave Navarro can fucking play! You don't get to appreciate his abilities much when you listen to the radio friendly tracks, but catch them in concert and it's a whole other ballgame. I was amazed by his talents on quite a few of those numbers.

Probably the most bizarre thing I had ever seen at a concert occurred during their song "Chip Away". The band had onstage two small video screens, one set on either side of the drum riser and amps that would occassionally show different video clips during their songs, most of which left you wondering WTF it had to do with the song being played. Before starting "Chip Away", the video screens showed clips of a female's back being pierced with metal rods, one through the skin by each shoulder blade. It made my skin crawl a bit to watch it, until I realized that the females in the clip had actually been standing off the side of the stage. They were brought out for this song and harnessed to cables from the lighting rig that were hooked to the rods through their backs. For the duration of the song, they wer suspended above the stage, swinging and kicking around as the band played. As the video screens at the Pavilion zoomed in on these 'acrobats', you could see a little blood coming from one of the females' rod insertion points (certainly no pun intended there). Again, my shoulders hurt just thinking about it and wondering what would happen if the skin ever tore while they were up there. The band closed out there hour long set with the classic radio hit "Jane Says". A nice production for a band that was never one of my favorites.

Setlist:
"Underground"
"Mountain Song"
"Just Because"
"Been Caught Stealing"
"Another Soulmate"
"Three Days"
"Ocean Size"
"Stop!"
"Chip Away"
"Jane Says"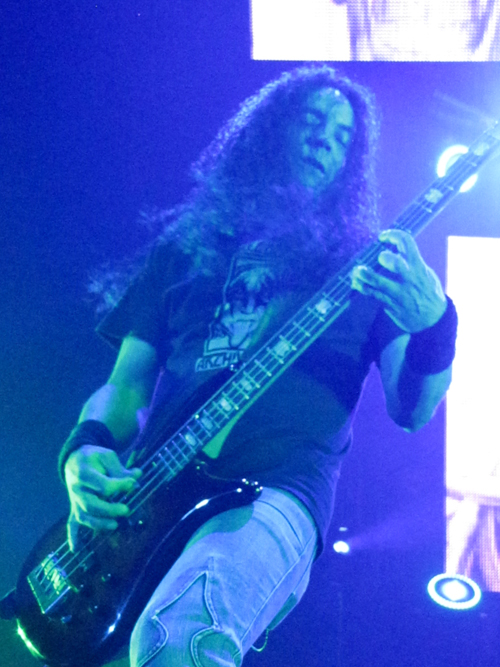 Following the last stage changeover came ALICE IN CHAINS, another band that I would have liked to have seen back in their heyday with Layne Staley upfront, but alas, the cards were not in my favor for that quest. So this had to be the next best thing, right? Correct! The Uproar headliners gave an incredible performance, playing almost 75 minutes. The crowd by this point had swelled considerably and even though the lawn area was hardly speckled with revellers, the reserved seating area which makes up the bulk of the venue was quite full. If I had to guess, there were probably about 10,000 people that eventually made there way to the show. AIC kicked things off with "Them Bones", then just kept the momentum going throughout the 13 songs they played. All the classic AIC hits like "Down In A Hole", "Would?" and "Man In The Box" were played, along with a couple of tracks from their newest album, The Devil Put Dinosaurs Here, "Hollow" and "Stone". I'll have to admit that I did have a bit of trepidation as to how new vocalist William DuVall would sound, especially on the band's early material, but the man (who I think looks a bit like Lenny Kravitz) not only pulled it off, he was pretty damn spot-on with his performance. You probably could have closed your eyes during their set and would not have known that the late Staley was not singing. And he plays a mean guitar to boot so there's major points there. The band finished up their great show with the epic war song, "Rooster", from the 1992 release, Dirt. Even though what Houston got was not the full Uproar festival, there was still plenty of good music to make the skeptics happy. Definitely check out ALICE IN CHAINS if they come to your town!

Setlist
"Them Bones"
"Hollow"
"Check My Brain"
"Again"
"Man In The Box"
"Got Me Wrong"
"Last Of My Kind"
"We Die Young"
"Stone"
"Down In A Hole"
"It Ain't Like That"
"Would?"
"Rooster"




Please log in to view RANTS

If you don't have a username, click here to create an account!






MASSACRE Resurgence

DREAM THEATER A View From The Top Of The World

JAY JAY FRENCH Twisted Business: Lessons from My Life in Rock 'N' Roll

BLACK LABEL SOCIETY, PRONG And OBITUARY In Portland, OR With Photos!

GEMINI SYNDROME 3rd Degree - The Raising

DORO/WARLOCK Triumph And Agony Live

BETWEEN WORLDS Between Worlds

ALCATRAZZ V

BEHEMOTH Sventevith (Storming Near the Baltic) Reissue

ALICE COOPER, ACE FREHLEY In Nashville, TN With Photos!

CARNIFEX Graveside Confessions

BLOOD RED THRONE Imperial Congregation

GUS G. Quantum Leap

BILLY IDOL The Roadside EP

AVATAR, MAGIC SWORD In Houston, TX With Photos!

APRIL WINE, MONKEYJUNK At The Ottawa Bluesfest

MINISTRY Moral Hygiene

CRYPTA Echoes Of The Soul

SKILLET In Houston, TX With Photos!

Immortal Axes: Guitars That Rock Book

IRON MAIDEN Senjutsu

GRINDER BLUES El Dos

GEORGE LYNCH Seamless Review #2

IN THIS MOMENT, BLACK VEIL BRIDES In Houston, TX With Photos!

WARLANDO Festival 2021 Photo Gallery

KISS In Ridgefield, WA With Photos!

LAURENNE/LOUHIMO The Reckoning

TREMONTI Marching In Time

ROCKLAHOMA 2021 Day 3 Photo Gallery

ROCKLAHOMA 2021 Day 2 Photo Gallery

ROCKLAHOMA 2021 Day 1 Photo Gallery

CARCASS Torn Arteries

SETH La Morsure de Christ

GEORGE LYNCH Seamless