ANNIHILATOR
Feast
EMI/UDR



Canada. Our neighbors to the north have spawned some legendary bands throughout the history of Hard Rock / Metal. From RUSH, MAX WEBSTER & MAHOGANY RUSH in the 70's to ANVIL, EXCITER & PILEDRIVER in the early 80's to Thrash titans SACRIFICE, INFERNAL MAJESTY & ANNIHILATOR. The Great White North puts out some great bands.

The latest offering from guitarist & leader Jeff Waters and ANNIHILATOR is Feast. If you're lucky enough to grab yourself the digipak w/bonus cd, the first thing to catch your eye is the artwork. Zombie lovers & Walking Dead fans will love the 3-D cover of a lovely zombie-girl munching on someone's vital organ. Very cool indeed! But what about the music you ask?

"Deadlock" starts with a pummeling Speed Metal riff before kicking into some fine Thrash! Throw in some fine soloing from Mr. Waters and you have a great way to kickoff this cd.

"No Way Out" starts off with a bit of Thrash before slowing down a bit, but never losing that intensity from the opening track.

"Smear Campaign" has a killer groove before mid-song kicking it up a notch with some raging speed riffing and Thrash. An outstanding track from top to bottom.

"No Surrender" starts off funky like FAITH NO MORE or RED HOT CHILI PEPPERS very much catching you off guard considering the earlier onslaught. But fear not friends, as a pummeling riff soon hits along with a great chorus to boot. Even a little nod to BLACK SABBATH in the middle where it slows down, see if you catch it!! A different track for these boys but it's still heavy as hell and I dig it.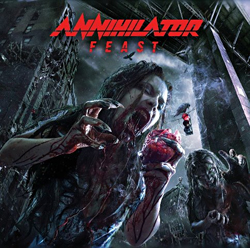 "Wrapped" is a mid-paced number with lyrics & vocal from fellow Canuck, the Mango Kid himself, Mr. Danko Jones. A very memorable chorus and Danko's usual lyrical take on life makes this a fun track to jam.
"Perfect Angel Eyes" is surprisingly a straight up ballad. No sneaky riffs, just a lighters-in-the-air arena love song. Not that there's anything wrong with that.
"Demon Code" has a haunting beginning before turning into classic ANNIHILATOR. A savage Thrash section makes you forget the ballad rather quickly as this tune shifts back & forth from mid-tempo to balls out. Even has a little fist-in-the-air riff thrown in there for good measure. Not a by the book song by any stretch.
"Fight the World" starts off acoustically and has you wondering 'another ballad'?? Not freekin' hardly. This kicks into some of Jeff's speediest riffs ever and some solid Thrash before slowing down to be a mid-paced pounder. Some aggressive singing from long-time vocalist (a decade now fronting ANNIHILATOR) Dave Padden and more then a few tempo changes makes this a standout track. Dave's singing throughout the album is a plus, aggressive but easily understandable.
"One Falls, Two Rise", the album closer finds an electric acoustic song, or so you think. The longest track on the album at over 8 minutes kicks into some more frantic Thrash just in case you thought Jeff & company were getting soft. Plenty of tempo changes keep you guessing as to where the song will go next. A fine way to close the cd.
All in all an excellent effort. Never boring or too predicable, good production and solid musicianship make this a headbangers delight. And if you pick-up that digipak, included is Re-Kill, where Jeff and his band now (Dave, drummer Mike Harshaw, who does some serious pounding on those skins, and bassist Alberto Campuzano) go back and perform classic ANNIHILATOR tunes from the past. Or if your new to ANNIHILATOR, this gives you a taster of the back catalog played by the current band to pique your interest. Either way you slice it, two cd's for the price of 1 is good bang for the buck. And for my Vinyl loving Brothers & Sisters out there, Feast is available on Vinyl. Seek it out!!
**** 1/2 Out Of 5! Thrash it up!!