Review by: George Mihalovich, Pittsburgh, PA

American Punishment Tour 2013
Date: Friday, September 27, 2013
Venue: Ripper's Rock House (Akron, Ohio)

DIVINITY COMPROMISED: Progressive power metal from Chicago. Unfortunately, I arrived too late to catch them, but the word is that they sounded great. I noticed several fans carrying around new copies of their 2013 debut CD A World Torn Ė itís definitely worth a listen.

VINDICATOR: Four-piece modern retro-thrash band from Cleveland. This was their last night on the tour, and they played an energetic set of songs in what I describe as a hybrid METALLICA/MEGADETH style with a technical edge. Check out these "Bastards of Noise and Aggression" on their latest release, United We Fall (2012).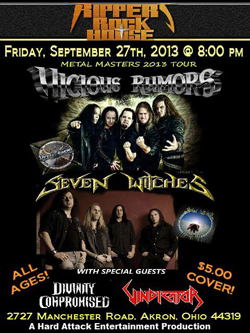 SEVEN WITCHES: Solid performance from the respected New Jersey power/classic metal veterans, featuring bandleader and guitarist Jack Frost. Michael LePond of SYMPHONY X was in the bass slotand reported that he was helping out for the first ten dates until bassist Ronnie Parkes could join the tour. New vocalist Johnny Kelly is a good fit, and their set featured several tunes from their 2013 CD, Rebirth, including "Claustrophobic". The anthemic "Metal Tyrant" was a definite highlight.
VICIOUS RUMORS: The American power metal legends were in fine form, and blazed through an excellent cross-section of their classic tracks, focusing heavily on the first four discs. The set list included opener "Digital Dictators", along with "Soldiers of the Night", "Lady Took a Chance", and "Donít Wait for Me". VR also touched upon their last two releases featuring vocalist Brian Allen with renditions of "Murderball" and "I Am the Gun".
Check out a video clip of "Digital Dictators"
The entire band was rock solid, but the stars of the show were drummer Larry Howe (incredible groove, taste and chops) and 21-year-old Dutch vocalist Nick Holleman. For most VR fans, Carl Albert was their definitive frontman, and is arguably one of the greatest American power metal vocalists. Carl had an amazing range, with a voice tonally reminiscent of both Geoff Tate and Ronnie James Dio. This probably sounds like an odd combination, but he had the balls and power of RJD, with the ever-so-slightlyhigher upper range of Tate. Keep in mind that this is all academic, because no matter how you describe him, he was a monster.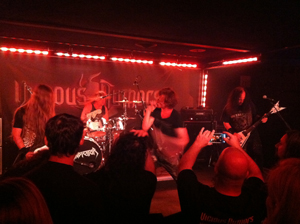 Nick covered the all of the material amazingly well Ė particularly the Carl Albert era Ė and nailed the melodies with all of the energy and abandon that you could imagine from a young metal singer trying to make his mark. His tone tended more towards the Tate/Midnight (CRIMSON GLORY) end of the spectrum, but I donít think you could have asked for anyone to step in and do a better job.
Unfortunately, this gig is also the one that made Brian Allen aware of the U.S. tour and replacement singer. No matter how things eventually play out, I feel that he helped put VICIOUS RUMORS on the upswing and to add two worthy CDs to their catalog.
Finally, hats off to Tim "Ripper" Owens and his partner for putting together an upscale sports bar/concert venue. They are still working out some of the kinks, but itís in a nice location right off the highway and is perfect for local and smaller national shows. Also, the food was great Ė try the sauerkraut balls and K.K. Downing cheesesteak!