Till Death: A Guide to Love and Loss


By David Kemp, Midwest Contributor
Sunday, October 13, 2013 @ 12:48 AM


| | | |
| --- | --- | --- |
| | | By Jeremy Saffer & Ash Costello |
I was uniquely intrigued by the premise of this book and I was very interested on doing a review of this piece. I have been doing photography since 1983 and have studied some of the masters in my formal education and my personal endeavors. However, like all arts, sometimes a need arises for fresh concepts and ideas and to see what a fresh set of eyes brings to the table.

Well, I can honestly tell you that Jeremy Saffer is one talented artist. He combines traditional photography with graphic design along with some very talented make up artists to create a macabre and humorous story. The subjects of Jeremy's talents are Ash Costello ( who also co-wrote the text) of the band NEW YEAR'S DAY and Kris DK of the bands GENITORTURERS and DEADSTAR ASSEMBLY.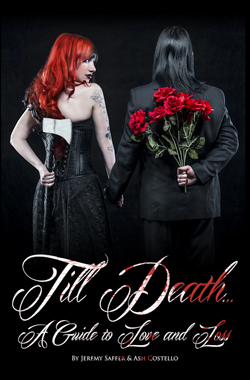 I had the fortunate opportunity to see NEW YEAR'S DAY this last year at Warped Tour so I was looking forward to seeing her modeling talents as well. Jeremy has captured the secret of portrait photography. Any one can learn the science and math in school. We can be taught shutter speed, aperture, ISO settings and the use of the lights. However, what can't be taught and what separates is the ability to have that eye and the ability to bring the most out of our subjects.
Jeremy has done that in a funny and fascinating way. This book is basically what would a boy have to go through to date a Goth Diva, like Mortcia Addams and Lilly Munster and this book gives a visual representation of the different scenarios a would be suitor would have to endure. I really like the cute names of the sets like "Trying For Second Base" and the such. The unclose portraiture is extremely flattering and his use of a ring light really helps bring out the catch light in the eyes. We may just have a future Annie Leibovitz in the making.
It is available at http://www.jeremysaffer.com/tilldeath. The book is a 70 page 8.5 x 5.5 full color book with over 50 full page images.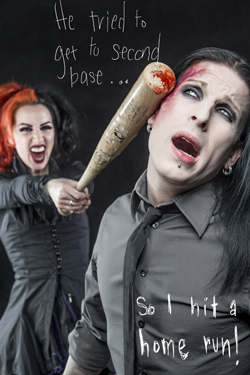 Please log in to view RANTS

If you don't have a username, click here to create an account!






WARRIOR SOUL Rock 'N Roll Disease

WHITESNAKE Flesh & Blood

CHEAP TRICK In Houston Photo Gallery

MICHAEL SCHENKER FEST In Worcester, MA

SLAYER, LAMB OF GOD, AMON AMARTH & CANNIBAL CORPSE In Columbia, MD

SUNN0))) Life Metal

Head Bangin' Radio Book

VENOM INC. In Ottawa, Canada

VIXEN In New Bedford, MA

ARCH/MATHEOS Winter Ethereal

A NEW REVENGE Enemies & Lovers

RINGWORM "Death Becomes My Voice"

AMON AMARTH Berserker

SOTO Origami

OVERKILL, DEATH ANGEL, MOTHERSHIP In Cleveland, OH With Photos!

POSSESSED Revelations Of Oblivion

STEEL PROPHET The God Machine

THE DAMNED THINGS High Crimes

CRADLE OF FILTH In Dallas, TX

ANTHEM Nucleus

DIAMOND HEAD The Coffin Train

MIKE TRAMP Stray From The Flock

HALESTORM In Salt Lake City, UT With Photos!

ALLEGAEON Apoptosis

FALLUJAH Undying Light

JOHN 5, JARED JAMES NICHOLS In Anaheim, CA With Photos!

L.A. GUNS In New Bedford, MA

...AND JUSTICE FOR ART – Stories About Heavy Metal Album Covers – Volume 2

THE END MACHINE In Los Angeles Photo Gallery

TRUTH CORRODED Bloodlands