The Dream Calls for Blood: An Exclusive Interview With Ted Aguilar Of DEATH ANGEL


By Wendy Jasper, Black Metal Aficionado
Friday, November 15, 2013 @ 3:06 PM


| | | |
| --- | --- | --- |
| | | "We wanted to put out the best songs that we could and then bring it out to the fans who have always been there for us." |
The name DEATH ANGEL instantly takes me back to the days of my youth and makes me long for the heavy anthems that got me through my teen years. The release of The Ultra-Violence in 1987 was a defining moment for thrash fans as it brought something new to the table, and many of us could identify with the band because they were our age! One of the youngest bands on the scene at the time, they soon became one of the most influential bands of the genre.

The band went on to release the critically acclaimed Frolic Through the Park in 1988, and the top selling Act III in 1990.

The bandís swift rise to the top of the thrash genre was cut tragically short following a bus accident in Arizona in 1990. Drummer Andy Galeon was severely injured and the band ended up parting ways following the event. However, fan demand remained so strong for so many years, that the band would eventually come back together in the early 2000ís. In 2004, the band released a fourth full-length studio album, The Art of Dying, and their path was set for a spectacular return to the thrash scene.
Now, in 2013, the band has released The Dream Calls for Blood and they have embarked on a touring schedule that will allow fans worldwide to see them again in top form. The current line-up includes vocalist Mark Osegueda, guitarist Rob Cavestany, guitarist Ted Aguilar, bassist Damien Sisson and drummer Will Carroll.
"Right now we have a schedule that will keep us out on the road until the end of summer 2014," Aguilar said during the bandís stop in Dallas, Texas for the acclaimed South by So What Festival.
"We have several weeks on a domestic run, then we head to Europe. We will get to come home for the holidays, but then we head back out," he said. "We will also be featured on the 70,000 Tons Of Metal Cruise, and then even more dates after that."
Aguilar is optimistic about the bandís touring plans and exposure for the new record. It has been recently announced that the band will join CHILDREN OF BODOM during their North American dates in early 2014 before heading to Europe for the summer festival circuit.
"We always head to Europe for the festivals. That is essential for us. We canít skip those," he said. "We have had such a long career. I donít think the band originally thought that we would be doing this for so long, but when Thrash of the Titans was put together as a benefit for Chuck Billy (TESTAMENT), it was apparent that there was demand. Thrash of the Titans was supposed to be a one-off, but we didnít realize how much of an impact there would be on the band and from that moment, we were constantly getting calls to come do specialized shows and by that time, there was no going back."
The band has been proud of how the new CD has been received by the fans and Aguilar maintains that so much thought was put into the process for the release.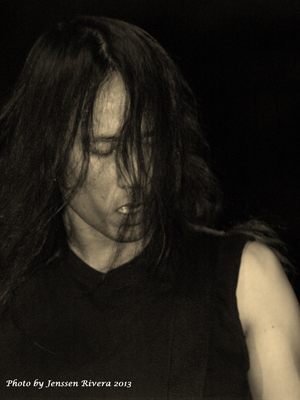 "This was an opportunity for the band to come together and release great music," he said. "The songs on this album are heavy, brutal and driven. We wanted to put out the best songs that we could and then bring it out to the fans who have always been there for us. It is a great feeling that so many people still want to see us so we are looking forward to seeing as many people and getting to as many places as we can on this tour. We are reaching a wider audience and it is just amazing."
Songs like the title track, "Left for Dead", "Detonate", and "Fallen" will resonate with old and new fans and are the epitome of what a good thrash record should sound like.
Be sure to check the band out when they come through your area over the next year. The below dates have been recently released for the CHILDREN OF BODOM, DEATH ANGEL and TYR touring package starting in February 2014.
02/14 Quebec City, QC - Imperial
02/15 Montreal, QC - Metropolis
02/16 Toronto, ON - Sound Academy
02/18 Thunder Bay, ON - Crocks
02/20 Winnipeg, MB - Garrick Centre
02/21 Saskatoon, SK - Louis Pub
02/22 Edmonton, AB - Union Hall
02/23 Calgary, AB - MacEwan Ballroom
02/25 Vancouver, BC - Commodore Ballroom
02/26 Seattle, WA - El Corazon
02/28 San Francisco, CA - The Fillmore
03/01 Hollywood, CA - House of Blues
03/02 Santa Ana, CA - The Observatory
03/03 Tempe, AZ - Club Red
03/05 Murray, UT - Murray Theater
03/06 Denver, CO - Summit Music Hall
03/07 Albuquerque, NM - Sunshine Theater
03/08 El Paso, TX - Tricky Falls
03/10 San Antonio, TX - Backstage Live
03/11 Dallas, TX - House Of Blues
03/12 Houston, TX - House Of Blues
03/14 Atlanta, GA - Masquerade
03/15 Ft. Lauderdale, FL - Revolution Live
03/16 Tampa, FL - The Ritz Ybor
03/18 Asheville, FL - Orange Peel
03/19 Charlotte, NC - The Fillmore
03/21 Silver Spring, MD - The Fillmore
03/22 Philadelphia, PA - TLA
03/23 Cleveland, OH - House Of Blues
03/24 Detroit, MI - St. Andrews Hall
03/25 Chicago, IL - House Of Blues
03/27 Boston, MA - Paradise
03/28 New York, NY - Irving Plaza
03/29 New York, NY - Irving Plaza
Photos By Jenssen Rivera And Wendy Jasper-Martinez




Please log in to view RANTS

If you don't have a username, click here to create an account!