For the last two years animators Myke Chillian and Tommy Meehan have been working with the members of GWAR to create a "GWARtoon" that was appropriately disgusting and objectionable enough to most accurately represent the most dangerous band in rock and roll history. After all this long and hard work, today Funny or Die finally premieres "The Animated Tales of GWAR". Check it out HERE.

Animator Myke Chillian described "The Animated Tales of GWAR":

"Lead singer Oderus Urungus loses his murderous-mojo prompting the rest of the band to embark on an Antarctic quest for the cure. Weird Al Yankovic guest stars."

Brutal front-fiend Oderus Urungus had this to say about the project--"I hate cartoons...cartoons are for kids, and kids are strictly for eating. But I just might have to back up a little and say that this is the greatest cartoon ever, even if I still hate it, just because it's about US."

GWAR will wrap up the first leg of the "Madness at the Core of Time" tour this weekend in Washington, DC. This has been described as GWAR's best tour to date (but aren't they all?) The tour features deathcore heavyweights and label-mates WHITECHAPEL, Richmond, VA thrashers IRON REAGAN (featuring MUNICIPAL WASTE members Tony Foresta and Land Phil as well as Ryan Parrish on drums) and A BAND OF ORCS (who are actually a band of Orcs).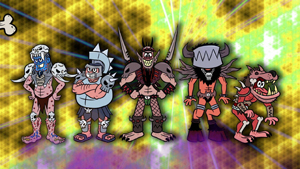 Following a short Antarctic slumber GWAR will return to the road with three shows around the holidays (December 27th - 29th) with BATTLECROSS and IRON REAGAN providing support. Then it's off to Antarctica again before heading "down under" for their appearance on the 2014 "Soundwave Festival".
Oderus continued--"This first leg of the Madness tour has been everything I thought it would be and more. I feel we have paid tribute to Flattus, as we will for eternity, and moved into an exciting new chapter of GWAR behind the blistering fury of our new guitar player Pustulus...now I must get back to eating babies."
GWAR Live:
"Madness at the Core of Time" Tour With WHITECHAPEL, IRON REAGAN and BAND OF ORCS:
11/15: Worcester, MA @ The Palladium
11/16: Reading, PA @ Reverb
11/17: Washington, DC @ 9:30 Club
GWAR Holiday Dates With BATTLECROSS and IRON REAGAN:
12/27: New York, NY @ Irving Plaza
12/28: New Haven, CT @ Toad's Place
12/29: Richmond, VA @ The National
SOUNDWAVE FESTIVAL 2014
2/22/14: Soundwave Festival Brisbane
2/23/14: Soundwave Festival Sydney
2/28/14: Soundwave Festival Melbourne
3/1/14: Soundwave Festival Adelaide
3/3/14: Soundwave Festival Perth
Check Out GWAR on the web:

http://www.gwar.net
http://www.gwarbq.com
http://www.youtube.com/gwar
http://www.metalblade.tv/tv
http://www.facebook.com/gwar
http://www.gwarjapan.net

ODERUS: http://twitter.com/therealoderus
BALSAC: https://twitter.com/BalSacJoD
GWAR OFFICIAL: https://twitter.com/GWARofficial