The Art Of Metal Book


By David Kemp, Midwest Contributor
Monday, November 18, 2013 @ 6:16 PM


| | | |
| --- | --- | --- |
| | | |
Wow is one expression that comes to mind.

I really don't know where to begin because there is so much information and a review is not going to even scratch the surface. Well, where to begin? Hmmmm, let me think. I know how. Let's start here.

Did you ever wonder how the album covers and tour posters you love so much got their start? Well, this book tells you from the humble beginnings of Metal to the modern day Nu Metal and the birth and death of Hair Metal. It's all in there.

The book is divided into sections and explains the origins of the music and the birth of a new art form for metal merchandising. Posters, concert t-shirts, picture discs, its all there. The birth of IRON MAIDEN's Eddie to Vic Rattlehead of MEGADETH to THE ROLLING STONES' iconic lips and tongue logo. They have interviews and facts with the photographers and graphic artists that created the work. Included are several original banned cover art pieces that were pulled from store shelves because of controversy.

This is a beautiful hard cover coffee table book that would be proud to displayed on any metal head's desk. I know one thing is for sure, the amount of red tape to have the rights to reproduce the art work must have been staggering. With every band, label and artist I cannot image all the work involved. I was surprised by some of the bands left out, noticeably LIZZY BORDEN who has had some great covers over the years. I was also a little shocked that OVERKILL's "Chaley" was also not included in the book as well, but alas you cannot have everything and you never know what happened behind the scenes as well.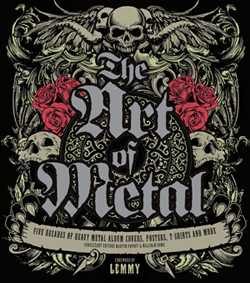 The book is divided into categories by the type of metal and the band involved. They cover The Origins of Metal, New Wave of British Heavy Metal, Hair Metal, Doom & Stoner Metal, Nu Metal, Black Metal, Thrash and Death Metal and Prog Metal. The various authors are a who's who of the music industry and include Geoff Barton, Louise Brown, Malcolm Dome, Dom Lawson, Kylie Olsson, Martin Popoff, Raziq Rauf and Bryan Reesman. I would proudly recommend it to anyone. It is available now and would make a great holiday gift for the music lover in your life.
The Art Of Metal: Five Decades of Heavy Metal Album Covers, Posters, T-Shirts & More. © 2013 Voyageur Press
224 Pages with 400 color images.
ISBN: 9780760344934
Item: 211634 $40.00 US $44.00 CAN




Please log in to view RANTS

If you don't have a username, click here to create an account!