From the creators of Bonzo Bash (the celebration show for LED ZEPPELIN's John Bonham) Brian Tichy and Joe Sutton bring you yet another celebration for an icon!

Tichy and Sutton, in conjunction with Randy Rhoads' brother Kelle Rhoads, the Rhoads family, Bonzo Bash guitarist/former student of Randy's, Brent Woods, as well as one of Rhoads' dearest friends; rock bass legend Rudy Sarzo, have come together to put on the ultimate tribute celebration in honor of one of the the most influential and brightest stars the world of rock guitar has ever seen; Randy Rhoads, the legendary guitarist who revived OZZY OSBOURNE's career with two iconic records! Sadly, Randy's future was cut short on March 19th, 1982 when he died in a plane crash. He was only 25 years old. His songwriting, solos, technique and tone on the albums Blizzard Of Ozz and Diary Of A Madman permanently placed him at the top of rock's most influential guitarists polls.

The idea to give Randy a night of honor came together within the hundreds of hours of Bonzo Bash preparation and phone conversations between Brian Tichy and Joe Sutton. The two would often talk about other musicians that had made a huge impact on them growing up. The name that would come up and excite them the most was always Randy Rhoads.

Sometime in 2013, Tichy threw this idea at Brent Woods, a student of Rhoads' from the pre-Ozzy era, when Randy was not only the most popular local guitarist at the time, but an extremely popular teacher at Musonia, his mother Delores Rhoads' (Dee) music school. Brent has stayed very close with the Rhoads family as well as producing Kelle's classical music. Brent ran this idea by Kelle Rhoads who had already been to a Bonzo Bash. Kelle expressed interest in this and soon after, Woods and Tichy met with Kelle at Musonia. After a tour of the school and hours of hanging, Kelle gave the show his blessing and preparation began!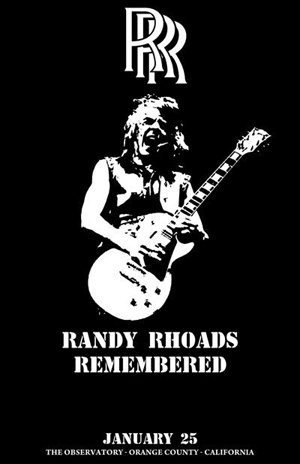 Tichy contacted legendary bassist Rudy Sarzo; his friend and bandmate from the recent GEOFF TATE's QUEENSRYCHE tour they did together. Sarzo, bassist for QUIET RIOT, Ozzy Osbourne and WHITESNAKE, also gave his blessing and agreed to play bass alongside Tichy, making up the night's rhythm section! Sarzo, one of the few people that had so much history alongside Rhoads and watched this amazing talent take over the world of rock guitar first hand, said, "Randy Rhoads Remembered is a unique celebration of his compositions and trail blazing guitar techniques. I'm extremely honored and excited to be a part of this significant event honoring my dear friend and bandmate featuring his musical contributions with Ozzy Osbourne and rarely performed compositions from his QUIET RIOT years."
RRR is going to include an array of the world's best guitarists as well as special guests all coming together to honor the man that we all wish was still here writing and performing! Updates will be frequent as invites and schedules are just being put together!
Tichy (ex-drummer for WHITESNAKE, FOREIGNER, Billy Idol and Ozzy Osbourne, as well as guitarist for S.U.N.) says, "I am so psyched to get this show together! Randy's playing, and the music on those 2 Ozzy records were huge to me! I am a drummer but I also started putting a lot of time into guitar at the same time Randy came out. I heard Ozzy being interviewed on the radio when Blizzard Of Ozz was released. They played "I Don't Know" and when the guitar kicked in I was floored and I was an instant fan! I spent countless hours trying to learn Randy's songs, riffs and solos while I was also just a beginner on guitar. I tried to learn Randy's live solo note for note! I had Randy's posters on my basement walls! I still have those posters framed in my home studio right now! Brent and I even shared a bottle of Randy Rhoads wine when it first came out!
I went on to play with the amazing Zakk Wylde in PRIDE & GLORY and then had the honor to play with Ozzy himself on the 2000 Ozzfest tour with another student of Randy Rhoads; Joe Holmes; an awesome guitarist in his own right! Not to mention that just this year, while playing guitar with my band S.U.N. in Las Vegas, Rhoads' replacement in the Osbourne band, Jake E. Lee, came up on stage and jammed with us! But I think this next story may take the cake...
Kelle Rhoads, who will be a guest vocalist at RRR stated, "I am excited that a tribute concert with this caliber of talent is being staged for Randy. I have attended and participated in memorial shows in the past, but nothing has been staged along this scale before now. The Rhoads Family is touched and extremely grateful to Brian Tichy, Joe Sutton and Brent Woods for their vision and commitment to this special remembrance for Randy."
With this group of friends, family and talent joining together to honor their brother, bandmate, friend, teacher and hero, there is no doubt this is going to be a special occasion! Every song from Blizzard Of Ozz and Diary Of A Madman will be performed; each song by a different guitarist! Some guitarists will tie into Randy's history, others are icons that were hugely influenced by Randy Rhoads themselves! Guitar gods will be announced shortly!
This is a show that was due to happen somewhere down the Rhoads! Tichy and Sutton are stoked that the gears are in motion and this night will become a reality and Randy Rhoads will be acknowledged in the most respectful way possible!! See you there!
Tickets on sale now at this location: http://www.observatoryoc.com/tickets
VIP packages for RRR can be found here: http://californiamusicfest.com/
For updates watch the Randy Rhoads Remembered Facebook page: https://www.facebook.com/RandyRhoadsRemembered