CREMATORY no longer need to fear comparison with the international competition, Germany's most popular Gothic Metal Band having earned itself an excellent reputation at home and abroad over the past 23 years. One reason for this is the great recognition value of their songs, along with the band's characteristic style and their unconditional determination to continue to grow as artists. None of their albums so far are a copy of any of their predecessors; each of them is an independent recording with unique features and fresh ideas.

So if CREMATORY has decided to pick up the electronic elements from Revolution (2004) on their latest album Antiserum, they do so with different parameters and future-oriented visions. "Our fans can look forward to Antiserum, on which we have gone one step further than we did on our comeback album Revolution in terms of electronic influences," drummer Markus Jüllich explains. "In collaboration with Elmar Schmidt of Hamburg EBM act Centhron, we have come up with a haunting mix of metal riffs and EBM keyboards. That's why I'd refer to Antiserum's musical direction as 'EBM-Metal'."

As homogeneous as the final result may sound, a great deal of concentration was invested throughout to produce the desired result. Markus Jüllich confesses: "In the beginning it was more difficult than we'd thought. The sounds and samples that Elmar brought us had no really song structures, that's why we didn't have a central theme to start off with. It took us two or three songs to get in to the groove, but from that point on it was an extremely exciting process to work on the new material."

The CREMATORY drummer is referring to tracks such as "Virus" with its pulsating EBM flair, "Inside Your Eyes", which consistently and unashamedly professes the desired EBM elements, and the first single release "Shadowmaker", a veritable anthem which continues the long-standing CREMATORY tradition of including at least one real hit on each album. Markus Jüllich: "Even before the whole record was finalized we knew that "Shadowmaker" had absolute hit potential. We never had a moment's doubt that we had come up with the new CREMATORY anthem."

Along with this purposely-experimental direction, Antiserum also features a number of tracks, which see CREMATORY relying on their traditional strengths and familiar characteristics. The title song is a perfect example of typical CREMATORY ingredients, just like "Back From The Dead" and "If You Believe", which could also have featured on either of the two predecessor albums Pray (2008) and Infinity (2010).

In view of the convincing result spawned by this 'Gothic Metal meets EBM' liaison, we can attest CREMATORY an even more homogeneous mélange of supposedly opposing musical directions than on Revolution. "We were even bolder this time than we were in 2004. We played even more with different sounds and have - in my opinion - cleverly combined real drum parts with electronic patterns. For me as the band's drummer, it will be really exciting to see how we are going to translate this in a live context. But since it works so well on Antiserum, I'm confident that it will be a really good mix live, too."

By the way: CREMATORY fans will be able to mark the new live dates in their diary soon. "We've had loads of enquiries," Markus Jüllich enthuses. "So we will go out and tour as much as possible again to give our fans the right antiserum against frustration and tedium."

Antiserum will be released as a deluxe box set (includling flag, patch, poster, sticker, postcard), Digipak Version featuring 2 bonus tracks, 2LP gatefold colored vinyl version including 2 bonus tracks, standard version and digital download.

Release dates are: March 4th in the USA. February 21st in Germany and February 24th in Europe.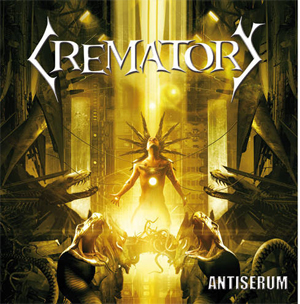 Tracklisting:
Antiserum Jewel Case CD:
"Apocalyptic Vision"
"Until The End"
"Shadowmaker"
"If You Believe"
"Inside Your Eyes"
"Kommt Näher"
"Irony Of Fate"
"Virus"
"Back From The Dead"
"Welcome"
"Antiserum"
Antiserum DigiPak Version:
"Apocalyptic Vision"
"Until The End"
"Shadowmaker"
"If You Believe"
"Inside Your Eyes"
"Kommt Näher"
"Irony Of Fate"
"Virus"
"Back From The Dead"
"Welcome"
"Antiserum"
"Shadowmaker" - Elektro Mix (bonus track)
"Shadowmaker" - Centhron Mix (bonus track)
Antiserum 2 LP Version:

LP1 Side 1
"Apocalyptic Vision"
"Until The End"
"Shadowmaker"
"If You Believe"
LP 1 Side 2
"Inside Your Eyes"
"Kommt Näher"
"Irony Of Fate"
LP 2 Side 1
"Virus"
"Back From The Dead"
"Welcome"
LP 2 Side 2
"Antiserum"
"Shadowmaker" - Elektro Mix (bonus track)
"Shadowmaker" - Centhron Mix (bonus track)
CREMATORY live 2014
22.02. D - Forst - Manitu
01.03. D - Karlsruhe - Substage
04.04. D - Siegburg - Kubana
16.05. D - Glauchau - Alte Spinnerei
05.07. D - Mühlheim - Castle Rock
02.08. D - Wacken - Wacken Open Air
25.10. D - Alsfeld - Feuer & Eis Festival
- more dates will be added soon -

Check out the video for "Shadowmaker" right HERE

For More Info Visit:
www.crematory.de
www.spv.de