When former LOVE/HATE guitarist Jon E. Love caught wind of the impending release by Jizzy Pearl, he took to Facebook and posted the following:

"This is not a LOVE/HATE record...Jizzy has taken it upon himself to release his solo shit and call it LOVE/HATE...None of the original members are on it..How do I know this..Because the idiot insulted me when asking me to perform on it. Any true L/H fan will immediately know it's not the real band..Stay tuned. More to follow as I proceed to sue him. Jon E"

Jizzy Pearl had this to say:

"Why did I change the LOVE/HATE record to a Jizzy Pearl record?

Simply put, because dealing with ex-members isn't worth the hassle. I don't want to spend thousands fighting over a band that makes hundreds. This isn't QUEENSRYCHE, or GREAT WHITE, we're not talking about a band that makes $12,000.00 or $20,000.00 a night. You know why the 2 L.A. GUNS didn't sue each other? It wasn't worth the money to sue each other, period. Now cut that money in half and you get LOVE/HATE. But there are some people out there who still think LOVE/HATE is the "Golden Goose". Some people think that LOVE/HATE sells T-shirts like IRON MAIDEN or MOTORHEAD. Some people still think MTV plays videos…unless you've gassed up the van and done the tours BANG-TANGO style like I have then I guess you don't really know.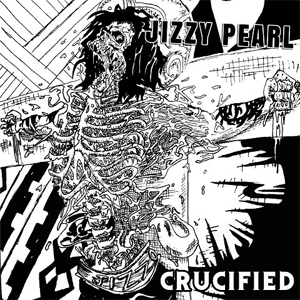 So here's the deal–I'll do this last and final tour as Jizzy Pearl's LOVE/HATE or Jizzy Pearl of LOVE/HATE, whatever fits, the fans will know who is and who isn't in the band. After that we'll put the whole thing to bed and I'll never play with any of these ex-members again. And to prove how lucrative it is touring in a van I invite all the LOVE/HATE ex-members to form their own LOVE/HATE's, why should I have all the fun eating at Waffle House breakfast lunch and dinner, driving for hours every day hung over and getting ripped off by promoters? C'mon get off the couch, put on those old leather pants from the "Blackout" video and come 'Live the Dream'.
If there can be two GREAT WHITEs and two QUEENSRYCHEs why can't there be four versions of LOVE/HATE! It'll be like the four KISS records.
As for me I look forward to a great 2014 with a great new band, great guys, great stages, great production and food that doesn't come out of a tube.
I love LOVE/HATE–The fans are great, the music was superb but in the end ex-members just aren't worth the hassle…"
Jizzy Pearl