JUDAS PRIEST checked in with the following message:

"We wish all of our fans a great Christmas and a very metal New Year! We will be releasing a new album sometime in 2014 so stay tuned!"

Recently, Billboard's Gary Graff spoke to fronman Rob Halford about the band's new album and their participation in the Rock N' Roll Fantasy Camp for 2014. An excerpt from the conversation is below:

"The writing process is complete," he says. "Now it's the painstaking work of making sure that you get every single note, every single nuance of the vocal, every tiny aspect...right. We're still tracking (instruments). It's just a very laborious but enjoyable part of making the record.

It's heavy. It's something we think our Priest fans will be thrilled with. We know we have a reputation to maintain, and we know we have to deliver something really strong and solid. The album is going to be full of all the great things you love about JUDAS PRIEST -- I don't think I can say anything more than that without being hung, drawn and quartered."

You can check out the rest of the interview HERE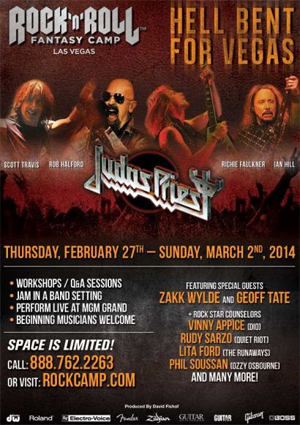 The Rock 'N' Roll Fantasy Camp runs February 27 - March 2 at the MGM Grand Hotel & Casino. Serving as counselors will be BLACK LABEL SOCIETY mainman Zakk Wylde (ex-OZZY OSBOURNE), former QUEENSRŸCHE singer Geoff Tate, Lita Ford, Rudy Sarzo (ANIMETAL USA, DIO'S DISCIPLES, ex-OZZY OSBOURNE, WHITESNAKE, QUIET RIOT, DIO, BLUE ÖYSTER CULT), Vinny Appice (DIO, BLACK SABBATH, HEAVEN & HELL) and Phil Soussan (Ozzy Osbourne).
Rob Halford, Ian Hill, Richie Faulkner and Scott Travis will be taking part in the Rock 'N' Roll Fantasy Camp. Guitarist Glenn Tipton will be busy mixing Priest's next album and won't be able to attend.
Further details at Rockcamp.com.