SCYTHIA ....Of Conquest


By Becky Dorsett, Houston Contributor
Wednesday, January 8, 2014 @ 4:59 PM


| | | |
| --- | --- | --- |
| | | |
SCYTHIA
....Of Conquest
Self Released





Every day I receive dozens of links to promo albums from record companies and PR firms. When I received this one for SCYTHIA I got excited. I love metal bands that delve into the folklore and have the balls to write stories for songs instead of just a song. The band was formed in 2008 and hails from Vancouver, British Columbia. Their name is from the ancient Greeks, who gave the name Scythia (or Great Scythia) to all the lands north-east of Europe and the northern coast of the Black Sea. If I were to describe SCYTHIAís sound I would have to say power metal with elements of progressive metal and folk metal.

SCYTHIA is not on a label, they released their music themselves and more power to them for doing this. It is their fourth CD not counting the remix of Ö.Of Exile. Ö.Of Conquest is an outstanding piece of genius!

Leading the charge is "Fanfare 1516", a rousing, bombastic metal anthem with over the top dramatic vocals. The thunderous drums of Celine Derval kick off the epic story of the Merchant of Sin. The song covers the gamut of symphonic, folk, black, and power metal. Lead vocalist Dave Khan has a tad bit of the sound of SYSTEM OF A DOWNís vocalist. Itís not exactly like the way he sings itís more the tone and accent more than anything else. His strength lies in his ability to get the story across in a passionate and powerful fashion not to mention his lead guitar skills. Dervalís double bass drum work is spectacular and adds power and energy.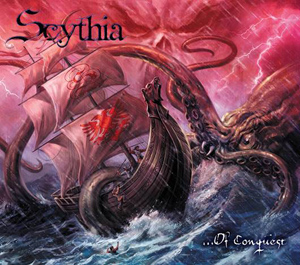 The albumís first single/video is for "Bear Claw Tavern", a fun, rousing metal drinking song with lots of folk metal influence and a great sing-a-long chorus! This song will have you singing and raising a mug in celebration of all things metal! Check out the video right HERE. An accordion intro begins "Sailorís Accolade", another metal gem with a triumphant chorus. The breakdown on this song is a true head bangerís delight. Listening to this song you can just imagine being on a Viking ship headed out to sea. Drummer Derval steps in front of the microphone for the beginning vocal lines of "Reflections". Not only does she possess immense talent behind the kit, the lady can sing very well.
"Rise of the Kraken" is a thrashing whirlwind of majesty and glory about the hunt for the mighty Kraken. Symphonic metal elements permeate in "Into the Storm". Chugging guitar rhythms and harsh vocals add an element of black metal without sacrificing melody. "Land of Scythia" has the band in full traditional folk metal mode. The song is epic in scope with great storytelling lyrics, and great harmony guitar section. "Wrath of the Ancients" has some excellent drum work by Derval and some excellent harmony guitar solos. "Army of the Bear" is a ferocious fist-pumping anthem loaded with excellent guitar harmonies and melodic and black metal vocal styles blended together perfectly. The albums lengthiest track, "Path Through The Labyrinth" clocks in at over 12 minutes and has melodic elements of IRON MAIDEN and the thrashy aspect of vintage METALLICA while staying true to their own sound. Khan and Derval trade vocal lines quite effectively, weaving in and out from melodic clean vocals and black metal guttural screams. The band weaves a tapestry of progressive time changes, cinematic orchestral sections, and straight up old school head banging metal. The album closes with "Departure", which has a fusion of straight ahead MAIDEN-esque metal and folk metal melodies and guitar harmonies. The vocals transition from melodic or "clean" vocals and harsh black metal vocals.
I can say that SCYTHIAís ÖOf Conquest is a very welcome surprise, an album that is loaded with abundant musicianship, catchy songs, and most importantly, itís different and awesome to listen to!
Right now the album is awaiting a February 2014 release and the band is planning on hitting the road in North America and beyond soon after. Once ÖOf Conquest is unleashed on the metal masses, expect to hear this bandís name over and over again. Hail SCYTHIA!
5.0 Out Of 5.0




Please log in to view RANTS

If you don't have a username, click here to create an account!






CATTLE DECAPITATION Medium Rarities

ARIA Proklyate Morey (Curse of the Seas)

BRITISH LION, CONEY HATCH In Ottawa, Canada

SUNFLOWER DEAD C O M A

SURF CITY BLITZ In California Photo Gallery

TRIVIUM, AVATAR, LIGHT THE TORCH In Portland, OR Photo Gallery

DEVILDRIVER, JINJER In Cleveland, OH With Photos!

CORROSION OF CONFORMITY In Dublin, Ireland

CAULDRON New Gods

STEVE GRIMMETT'S GRIM REAPER In Ottawa, Canada

JUDAS PRIEST, KREATOR In Quito, Ecuador

CAL JAM '18 Photo Gallery

BLOODBATH The Arrow of Satan Is Drawn

STRIKER Play To Win

NIGHT RANGER "Dawn Of Madness" Show In Waukegan, IL

BUTCHER BABIES, KOBRA AND THE LOTUS, SKARLETT RIOT, IGNEA, MAERTYRIUM, In Siegburg, Germany

HOUSE OF LORDS In New Bedford, MA

GRETA VAN FLEET Anthem Of The Peaceful Army

IMPELLITTERI The Nature Of The Beast

ALICE COOPER In Houston Photo Gallery

ICARUS WITCH Goodbye Cruel World

TARJA, STRATOVARIUS, SERPENTYNE In Cologne, Germany

CLUTCH, SEVENDUST, TYLER BRYANT & THE SHAKEDOWN In Portland, OR With Photos!

ACCEPT In Houston, TX With Photos!

U.D.O. Steelfactory

SKULL FIST Way Of The Road

SOULFLY Ritual

ANTHRAX State of Euphoria 30th Anniversary Deluxe Edition

FIFTH ANGEL The Third Secret

STEVE GRIMMETT'S GRIM REAPER In New Bedford, MA

ANAAL NATHRAKH A New Kind of Horror

PRIMAL FEAR Apocalypse

BEHEMOTH I Loved You At Your Darkest

DORO Forever Warriors, Forever United

SLASH FEATURING MYLES KENNEDY AND THE CONSPIRATORS In Houston, TX Photo Gallery

BILLY MORRIS AND THE SUNSET STRIP Holdiní All The Aces

VINCE NEIL In Houston, TX Photo Gallery

DEE SNIDER For The Love Of Metal

UNLEASH THE ARCHERS, STRIKER, HELION PRIME In Houston, TX W/Photos!

DREAM CHILD Until Death Do We Meet Again

SCORPIONS, QUEENSRYCHE In Tampa, FL With Photos!