NEW ENGLAND METAL & HARDCORE FESTIVAL Add More Bands, Announce Tour


By Larry Petro, News Monkey
Saturday, January 11, 2014 @ 11:13 AM


| | | |
| --- | --- | --- |
| | | Taking Place April 17, 18 & 19, 2014 |
NEW ENGLAND METAL & HARDCORE FESTIVAL continues to expand with the newest additions of: 1349, BATTLECROSS, BLACK CROWN INITIATE, CARNIFEX, ERRA, FALLUJAH, GOATWHORE, I DECLARE WAR, INQUISITION, RIVERS OF NIHIL, SWORN IN, BROKEN HOPE and THE ACAICA STRAIN! Get ready to rage! The latest adds will unite with the likes of ALL THAT REMAINS, ICED EARTH, NILE, SLAPSHOT, the final East Coast appearance of BLEEDING THROUGH, NAILS, ALL OUT WAR, the yet-to-be-revealed 2014 Metal Alliance Tour, and many more acts still to be announced.

Slated to take place April 17th, 18th, and 19th, the sixteenth edition of the iconic two-staged event continues to drive dozens of bands and thousands of fans to the legendary Worcester Palladium. Tickets for the festival are on sale now and available for purchase at THIS LOCATION. Special VIP packages are also available and include:

ONE DAY VIP TICKET: $85 Thursday/Friday and $90 Saturday
Exclusive T-Shirt
VIP Laminate w/ Lanyard
18" x 24" NEMHF Poster
NEMHF Guitar Picks
Exclusive Meet and Greets
Free Monster All Day
NEMHF Koozie
Pin Pack
Refrigerator Magnet
THREE DAY VIP TICKET: $195
Exclusive T-Shirt
VIP Laminate w/ Lanyard
18" x 24" NEMHF Poster
NEMHF Guitar Picks
Exclusive Meet and Greets
Free Monster All Day
NEMHF Koozie
Pin Pack
Refrigerator Magnet
Early Entrance/In-and-Out Privileges
Chance to Win Ibanez Guitar
NEMHF Key Chain
For VIP purchases, point your browser HERE.

Additionally, today the fourth annual Mission Quest to Metalfest lineup is officially unveiled. A trek launched by MassConcerts in an effort to help bands make their way to Worcester, this year the expedition joins CRUEL HAND, ALPHA & OMEGA, NAYSAYER, BENT LIFE, BARRIER, MALFUNCTION and WILL TO DIE on a massive, thirty-seven-date North American assault set to commence at SXSW in Austin, Texas. Comments NEMHF founding father/bearded wonder Scott Lee: "We are very excited to launch the fourth edition of Mission Quest to Metal Fest and have this tour as part of the festival. I think it's a great mix of hardcore and if this tour comes to your city make sure to be there! Also make sure to check out CRUEL HAND's new 7" ("Born Into Debt", "We All Owe A Death") released through Closed Casket Activities and ALPHA & OMEGA's new CD (No Rest, No Peace) released from Bridge 9."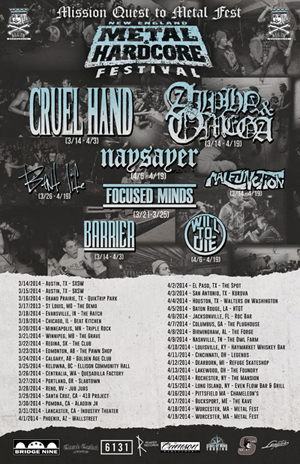 Mission Quest To Metal Fest 2014: CRUEL HAND, ALPHA & OMEGA, MALFUNCTION, BARRIER
3/14/2014 SXSW - Austin, TX
3/15/2014 SXSW - Austin, TX
3/16/2014 QuikTrip Park - Grand Prairie, TX
3/17/2013 The Demo - St Louis, MO
3/18/2014 The Hatch - Evansville, IN
3/19/2014 Beat Kitchen - Chicago, IL
3/20/2014 Triple Rock - Minneapolis, MN
CRUEL HAND, MALFUNCTION, BARRIER
3/21/2014 The Grave - Winnipeg, MB
3/22/2014 The Exchange - Regina, SK
3/23/2014 The Pawn Shop - Edmonton, AB
3/24/2014 Golden Age Club - Calgary, AB
3/25/2014 Ellison Community Hall - Kelowna, BC
CRUEL HAND, ALPHA & OMEGA, BENT LIFE, MALFUNCTION, BARRIER
3/26/2014 Quesadilla Factory - Centralia, WA
3/27/2014 Slabtown - Portland, OR
3/28/2014 Jub Jubs - Reno, NV
3/29/2014 418 Project - Santa Cruz, CA
3/30/2014 Aladdin Jr - Pomona, CA
3/31/2014 Industry Theater - Lancaster, CA
4/01/2014 Wallstreet - Phoenix, AZ
4/02/2014 The Spot - El Paso, TX
4/03/2014 Korova - San Antonio, TX
ALPHA & OMEGA, BENT LIFE, MALFUNCTION
4/04/2014 Walters on Washington - Houston, TX
4/05/2014 HTGT - Baton Rouge, LA
ALPHA & OMEGA, NAYSAYER, MALFUNCTION, BENT LIFE, WILL TO DIE
4/06/2014 Roc Bar - Jacksonville, FL
4/07/2014 The Plughouse - Columbus, GA
4/08/2014 The Forge - Birmingham, AL
4/09/2014 The Owl Farm - Nashville, TN
4/10/2014 Haymarket Whiskey Bar- Louisville, KY
4/11/2014 Legends - Cincinnati, OH
4/12/2014 Refuge Skateshop - Dearborn, MI
4/13/2014 The Foundry - Lakewood, OH
4/14/2014 The Mansion - Rochester, NY
4/15/2014 Even Flow Bar & Grill - Long Island, NY
4/16/2014 Chameleon's - Pittsfield, MA
4/17/2014 The Kave - Bucksport, ME
4/18/2014 The Palladium - Worcester, MA
4/19/2014 The Palladium - Worcester, MA
In related news, Break Thru Music is preparing to kick off the Battle for Metal Fest competition. Beginning January 18th, local bands will have the opportunity to compete for a chance to perform live at this year's massacre. Performances will take place January - March at the Worcester Palladium and Webster Theater in Hartford, Connecticut. Spots are booking up fast so if your band is interested in the chance to earn a spot on the Main Stage, email booking@breakthrumusic.net now!

Break Thru Music Presents: The Battle For Metal Fest 2014
1/18/2014: Round 1 Palladium Upstairs
1/24/2014: Round 1 Webster Underground
2/07/2014: Round 2 Webster Underground
2/07/2014: Round 2 Palladium Upstairs
2/21/2014: Round 3 Palladium Upstairs
2/21/2014: Round 3 Webster Underground
3/07/2014: Round 4 Palladium Upstairs
3/08/2014: Round 4 Webster Underground
3/22/2014: Finals Palladium Upstairs
3/22/2014: Finals Webster Underground
Doors: 6:00pm
All Ages
Tickets $12

NEW ENGLAND METAL & HARDCORE FESTIVAL 2014 Confirmed Lineup:
1349
THE ACACIA STRAIN
ALL OUT WAR
ALL THAT REMAINS
ALPHA & OMEGA
BARRIER
BATTLECROSS
BENT LIFE
BLEEDING THROUGH "Final East Coast Appearance"
BLACKC CROWN INITIATE
BORN LOW
BROKEN HOPE
CARNIFAX
COLIN OF ARABIA
COUNTERPARTS
CRUEL HAND
DISCOURSE
EMMURE
ERRA
FALLUJAH
FIRE AND ICE
FIT FOR AN AUTOPSY
GIDEON
GOATWHORE
HARM'S WAY
I DECLARE WAR
ICED EARTH
INDIRECTIONS
INQUISITION
KING NINE
KUBLAI KHAN
LIONHEART
LOYAL TO THE GRAVE
MALFUNCTION
NAILS
NAYSAYER
NILE
RAMALLAH
REIGN SUPREME
REVAMP
RIVERS OF NIHIL
SABATON
SCALE THE SUMMIT
SCARS OF TOMORROW
SLAPSHOT
SUBURBAN SCUM
SWORN IN
SYLAR
THE MONGOLOIDS
THY ART IS MURDER
TWITCHING TONGUES
WARHOUND
WHITECHAPEL
WILL TO DIE
WITHIN THE RUINS




Please log in to view RANTS

If you don't have a username, click here to create an account!