ADRENALINE MOB Men of Honor


By Damian J. Cousins aka "The Maestro", Dallas Contributor
Saturday, February 15, 2014 @ 11:55 AM


| | | |
| --- | --- | --- |
| | | |
ADRENALINE MOB
Men Of Honor
Century Media Records





Here we are once again with ADRENALINE MOB, and it's confession time. I was NOT that hot on debut record Omertá to be honest. I liked it well enough, but I just felt like something was missing, a wow factor perhaps. Then came Covertà, an EP of cover songs that knocked my socks off and renewed my faith in what this band was capable of. Fast forward to (surprise, surprise) Mike Portnoy leaving and here we are with new album Men of Honor, the first with new drummer A.J. Pero (TWISTED SISTER) and in my anything but humble opinion a marked improvement over their debut. And that really has nothing to do with who is or isn't playing on this record, I just feel that the songwriting is better and the ebb and flow is smoother.

Making a bold statement with opener "Mob Is Back", the band wastes no time getting into it. Russell Allen's vocals and Mike Orlando's guitar take us on a rip-roarin' ride with bassist John Moyer and Pero anchoring the bottom end every step of the way. Leadoff single "Come On Get Up" is a tune that knows how to deliver a punch and Allen's gruffness seems to be reined in just a bit, much to my relief. Next is one of my favorites, "Dearly Departed", with Orlando's guitar work serving up the perfect song to run or lift to, if I did either of those things. I personally enjoy driving to it. The guys slow things down for the first of two ballads in "Behind These Eyes", a very smartly written song that is nicely sandwiched between rockers, giving the listener a chance to breathe.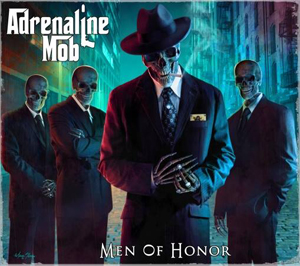 "Let It Go" brings back the harder edge and has one of the album's best riffs and grooves with Allen spewing vitriol throughout. With "Feel The Adrenaline" you'll do just that; it's hard not to with everyone off on a tear. Again, this is another tailor-made gym song. I also love the way title track "Men Of Honor" starts out one way then takes a sharp left into the city of Aggresionville, all four members baring their teeth like junkyard dogs until Allen employs a more melodic touch on the hooks. Orlando's solo here is truly the best on the record, too. After this sonic attack we slow down once more for "Crystal Clear", with Allen singing beautifully over some acoustic strumming. Hills and valleys, people. That's what makes an album good enough to play from start to finish without skipping any of the tracks.
And as soon as that's over "House of Lies" yanks you out of your seat by the goddamn throat and shakes the shit out of you from start to finish! Chunky Riff-style Soup is the flavor for "Judgment Day" and is one they absolutely MUST play live from here on out. The album elects not to sprint home but take its time walking to the finish line with "Fallin' to Pieces", effects-laden guitars meeting acoustic in the middle and making for a nice blend. Overall, I feel ADRENALINE MOB did a much better job this time out with Men of Honor, making it a more complete package. And as I stated earlier, six listens in, I'm not skipping over any tracks, and several are getting repeat spins. Men of Honor will be out on February 18 via Century Media Records. Pick it up, you won't be sorry.
STANDOUT TRACKS: "House of Lies", "Dearly Departed", "Crystal Clear", "Judgment Day", "Let It Go"
4.0 Out Of 5.0
Check out Damian's website at www.ampsandgreenscreens.com!




Please log in to view RANTS

If you don't have a username, click here to create an account!