KISS vocalist/rhythm guitarist PAUL STANLEY will publish his autobiography , Face The Music: A Life Exposed via HarperOne on April 8th. According to an update from the KISS camp, the book has landed on the Publishers Weekly Top 10 Most Anticipated Music Books list.

Stanley will be signing copies of the autobiography at the following locations:

Monday, April 7 – New York - 6:00 pm
Barnes & Noble Tribeca
97 Warren Street
New York, NY 10007

Tuesday, April 8 – New York - 7:00 pm
Barnes & Noble
2245 Richmond Avenue
Staten Island, NY

Wednesday, April 9 – New Jersey - 6:00 pm
Bookends
211 E. Ridgewood Avenue
Ridgewood, NJ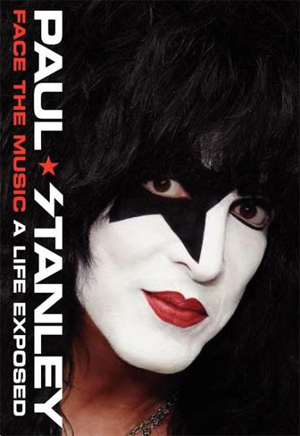 Wednesday, April 16 – Los Angeles - 7:00 pm
Barnes & Noble
The Grove
189 The Grove Drive
Los Angeles, CA 90036
Thursday, April 17 – San Diego - 7:00 pm
Warwick's
7812 Girard Avenue
La Jolla, CA 92037
Friday, April 25 – San Francisco - 7:00 pm
Jewish Community Center
3200 California Street
San Francisco, CA 94118
(Q & A and Signing)
Stanley also revealed that he is recording an audio book version of Face The Music: A Life Exposed. He took to Twitter on February 5th to give this update:
"Recording spoken word version of my autobiography Face The Music. 180 pages done and 230 left to go!"
Face The Music: A Life Exposed will feature rare photographs of the singer and detail his hard-partying lifestyle as one of the co-founders of the heavy rock band who has sold over eighty million albums and performed more than two thousand shows around the world.