CATTLE DECAPITATION Limited Edition Vinyl On Tap For 2014 Release


By Larry Petro, News Monkey
Friday, March 7, 2014 @ 4:14 PM


| | | |
| --- | --- | --- |
| | | Bands Entire Metal Blade Catalog Thus Far |
San Diego, CA's finest purveyors of extreme metal, CATTLE DECAPITATION, are planning a series of limited edition vinyl releases for 2014 under the banner Decade of Decapitation, to celebrate 10 years of releases on Metal Blade Records. The band's entire Metal Blade discography: To Serve Man (2002), Humanure (2004), Karma.Bloody.Karma (2006), The Harvest Floor (2009), and Monolith of Inhumanity (2012) are all being prepared in lavish gatefolds for release. The colors, handpicked by the band, reflect the concept or color scheme behind each album. Fans will also have the opportunity to pick up a collectable box that comes with an exclusive T-shirt, both with brand new art from longtime CATTLE DECAPITATION cover artist Wes Benscoter. Additionally, To Serve Man, the band's debut full-length, and their sophomore effort Humanure have been remastered specially for this release. Each vinyl will be released separately in the coming months. Pre-orders for To Serve Man are available now at indiemerch.com/metalbladerecords.

Pre-order bundles:
To Serve Man vinyl
To Serve Man deluxe bundle (vinyl w/ Decade of Decapitation collector's box)
To Serve Man collector's bundle (vinyl, Decade of Decapitation collector's box, exclusive t-shirt)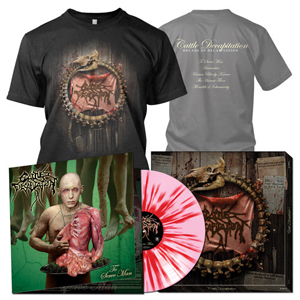 CATTLE DECAPITATION's Travis Ryan adds: "We are very excited to announce the Decade of Decapitation reissues! All of our Metal Blade discography has been out of print since right after each release and we're glad we will finally be able to meet some of the demands of the fans with these cool reissues! I've had rare items in my personal collection that came with an empty spot for other items that had to be hunted down in order to be complete, I always thought that was fun and so now we pass the hunt on to our fans! The box art is another quality piece from the great Wes Benscoter which reveals the inside living space of a psychopath hellbent on revenge, the same point of view from which the majority of our lyrics come from."

CATTLE DECAPITATION vinyl colors:
To Serve Man - (Longpig Slaughter colored vinyl - red splattered on pink)
Humanure - (Bloody Stool colored vinyl - red splattered on brown)
Karma.Bloody.Karma - (Blood On Blood colored vinyl - red splattered on blood red)
The Harvest Floor - (Bloody Steel colored vinyl - red splattered on silver)
Monolith of Inhumanity (Golden Landfill colored vinyl - confetti multi color splattered on gold)
Monolith Of Inhumanity, the most recent slab of sonic annihilation CATTLE DECAPITATION, landed at #32 on the Billboard Top Independent Album Chart, #23 on the Billboard Top Hard Music Albums chart, #6 on the Billboard New Artist Chart and #177 Billboard Top Current Albums Chart upon its first week of release in May 2012. In Canada, the record ranked in at #41 on the Hard Music Chart as well as #4 in the metal category and #71 in the rock category on iTunes.

CATTLE DECAPITATION Tour w/ KING PARROT
03/07 Fresno, CA The Star Palace
03/08 West Hollywood, CA The Whisky w/ NAUSEA
03/09 La Jolla, CA Porter's Pub
http://www.cattledecapitation.com
http://www.facebook.com/cattledecapitation
http://twitter.com/cattledecap
http://www.metalblade.com/cattledecapitation




Please log in to view RANTS

If you don't have a username, click here to create an account!