LACUNA COIL Live In Houston, Texas


By Becky Dorsett, Houston Contributor
Wednesday, March 19, 2014 @ 4:51 PM


| | | |
| --- | --- | --- |
| | | Hottest Chicks In Hard Rock Tour Hits H-Town At Scout Bar |
It started off that I wasn't going to be able to cover the show at Scout Bar in Houston, TX as some issues had arisen with getting set up for the show. Sometimes when a PR company gets dropped from a tour they forget to pass along the requests they had already gotten in. So, at the last minute our fine friends at Century Media pulled it off and away I went to review and shoot pictures for this amazing show.

Pulling in to the parking lot was a feat of its own as it was so packed that we had to park down in the shopping strip center area and hike it up to the venue. It was obvious that everyone knew that if you wanted to see Houston's winner of the Hottest Chicks of Hard Rock, VANILLA SUGAR, you needed to be there before 6:30 pm as they started at exactly 6:30. The girls, as always, were on their A game! The energy that they tossed off that stage into the crowd only made the energy from the crowd that much more intense. It was damn close to a packed house by 6:45. They gave it their all in that 30 minutes and I have to say if someone doesn't sign them it would be a sad loss for the industry. The synth work of both Jessica and Nortni is exciting while the guitar work and drums gave it what it needed to keep it not too electronic.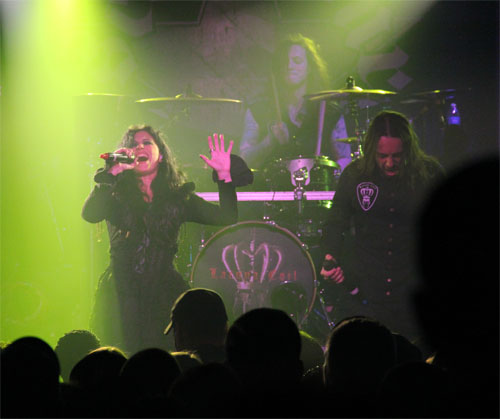 While CILVER, EYES SET TO KILL and SICK PUPPIES were all quite good my favorite of the night, aside from our local girls, was LACUNA COIL. As always they were on their A game even though it seemed like the venue had a DB meter set to their volume. The crowd was so tight that it was almost impossible to get pictures. Now mind you the Scout Bar does not have a photo pit area set up at the front of the stage so it makes it a bit of an interesting task to shoot pictures. The few that I was able to get were lucky shots. Why were they lucky you ask? Because there were so many people at the show that I would have to say that the venue was at capacity that night. There were feet on every bit of space available including the hall way to the bathrooms.
Even though Cris Migliore and Cristiano Mozzati left the band there was a bright side to it all. Ryan Folder joined them on drums for this tour. Now the great thing about this night (and maybe he is doing it every night) is that Ryan did his own drum tech work and was incognito by wearing his hair in a hat and a fake beard and mustache. It was quite amusing really.
The set list was mostly new songs from the upcoming CD Broken Crown Halo, which I was extremely impressed with. The screaming guitars and thumping rhythm section drove the songs under those amazing voices. Without avail they wooed the crowd and kept them wanting more. I have to say I think LACUNA COIL should have been the ones on the top of the bill for the night. Never a dull moment and not even a "bathroom" song on the list. (For those of you that don't know what a bathroom song is - it's a song in the set that is not as interesting as the rest and it gives the concert goer a chance to run to the bathroom during that song so they can get back during the songs that they like).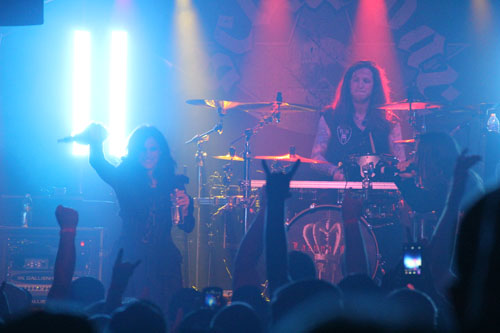 I've always been a fan of Cristina and the boys but I must say they are taking it to the next level with the new songs. Some fans were heard in the crowd wishing for more of the older songs. Overall everyone seemed very happy with the entire show and like I said it was hard to get anywhere because there were so many happy fans wanting to be as close to the stage as possible.
Set list:
"Trip The Darkness"
"Kill The Light"
"Intoxicated"
"Fragments Of Faith"
"Die & Rise"
"I Don't Believe In Tomorrow"
"Spellbound"
"Upsidedown"
"Nothing Stands In Our Way"
"Our Truth"




Please log in to view RANTS

If you don't have a username, click here to create an account!






CHEAP TRICK In Houston Photo Gallery

MICHAEL SCHENKER FEST In Worcester, MA

SLAYER, LAMB OF GOD, AMON AMARTH & CANNIBAL CORPSE In Columbia, MD

SUNN0))) Life Metal

Head Bangin' Radio Book

VENOM INC. In Ottawa, Canada

VIXEN In New Bedford, MA

ARCH/MATHEOS Winter Ethereal

A NEW REVENGE Enemies & Lovers

RINGWORM "Death Becomes My Voice"

AMON AMARTH Berserker

SOTO Origami

OVERKILL, DEATH ANGEL, MOTHERSHIP In Cleveland, OH With Photos!

POSSESSED Revelations Of Oblivion

STEEL PROPHET The God Machine

THE DAMNED THINGS High Crimes

CRADLE OF FILTH In Dallas, TX

ANTHEM Nucleus

DIAMOND HEAD The Coffin Train

MIKE TRAMP Stray From The Flock

HALESTORM In Salt Lake City, UT With Photos!

ALLEGAEON Apoptosis

FALLUJAH Undying Light

JOHN 5, JARED JAMES NICHOLS In Anaheim, CA With Photos!

L.A. GUNS In New Bedford, MA

...AND JUSTICE FOR ART – Stories About Heavy Metal Album Covers – Volume 2

THE END MACHINE In Los Angeles Photo Gallery

TRUTH CORRODED Bloodlands

THE IRON MAIDENS In Houston, TX Photo Gallery

THE RAVEN AGE In Paris, France With Photos!

ENFORCER Zenith