The Spanish masters of Symphonic Metal DIABULUS IN MUSICA will finally release their third album Argia April 15th in North America via Napalm Records. Argia is available for pre-order on HERE.

The band has posted a YouTube clip featuring samples from every song on the new record. It can be viewed below.

The first video from Argia for the song "Inner Force" can be viewed HERE.

Mikel Larequi directed the video and Manuel Toro was in charge of the photography direction. The video was recorded in two different locations. The first locale is a bunker hidden inside the mountains of the Navarrese Pirinées. Franco obliged to build a lot in the border just after the Spanish civil war and the 2nd World War because he was afraid of an invasion by the Allies, but (fortunately) they were never used. The second place is a beautiful beach of stone surrounded by cliffs in Bizkaia (Basque Country).

The female vocalist Zuberoa Aznárez and her band members combine heavy metal riffs and a pounding rhythm section with passionate and symphonic elements. The compositions are crowned by wonderful refrains, which will grab the listener's attention at the first spin of the record. Argia is a testament to DIABULUS IN MUSICA's ability to merge metallic heaviness with symphonic catchiness.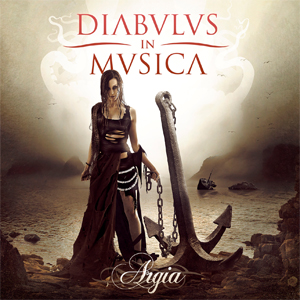 Argia Track Listing:
"Et Resurrexit (Libera Me)"
"From The Embers"
"Inner Force"
"Furia De Libertad" (feat. Ailyn Giménez)
"Maitagarri"
"Sed Diabolus"
"Spoilt Vampire"
"Eternal Breeze"
"Mechanical Ethos"
"Encounter At Chronos' Maze" (feat. Thomas Vikström)
"Indigo"
"Healing"
"Horizons"
For More Info Visit:

http://diabulusinmusica.com
https://www.facebook.com/diabulusinmusicaofficial
http://www.napalmrecords.com