THE RASKINS Confirm More Tour Dates


By Larry Petro, News Monkey
Friday, April 18, 2014 @ 9:18 AM


| | | |
| --- | --- | --- |
| | | Debut Album To Arrive In May |
It is certainly an exciting time for the fast-rising brother rock band, THE RASKINS. Not only can you still pick up their killer new single, "We Had It All", as a download for a cool 69 cents on Amazon, but their self- titled full-length debut will drop on May 13th (via MIRAL Records distributed by BDG/RED Distribution, LLC - a division of SONY Music Entertainment), and have lined up two prime opening slots, supporting tours for Scott Weiland (April 27th to May 11th) in the spring and SAVING ABEL (June 27th to July 26th) in the summer (as well as headlining their own set of dates leading up to it).

As Logan Raskin explains, "Can't tell you how excited THE RASKINS are about having the opportunity to tour with such amazing artist as Scott Weiland and a band like SAVING ABEL. Aside from being fans of their music, having the opportunity to tour with professionals such as them is truly an honor."

The musical union between the Raskin brothers (Logan and Roger) originally began as a writing project for producer Greg Ladanyi. But after several demos were cut and Roger and Logan realized they were on to something, it became a permanent proposition, and THE RASKINS were born - which has resulted in the forthcoming release of their self- titled debut, which drops May 13, 2014 (via MIRAL Records distributed by BDG/RED Distribution, LLC - a division of SONY Music Entertainment).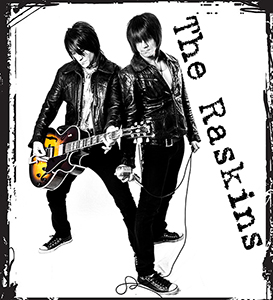 And for fans who can't wait to experience the full album, "We Had It All" will come in quite handy:
http://www.amazon.com/We-Had-It-All/dp/B00I4D1Q94/ref=sr_1_cc_1?s=aps&ie=UTF8&qid=1393899847&sr=1-1- catcorr&keywords=B00I4D1Q94
Confirmed Tour Dates with Scott Weiland and SAVING ABEL [dates marked *** are RASKINS headlining dates and will not include SAVING ABEL:
Additional dates to be confirmed.
With Scott Weiland
4/27/2014 - Austin, TX - The Belmont
4/29/2014 - Monroe, LA - Live Oaks Bar and Ballroom
4/30/2014 - Dallas, TX - Trees
5/2/2014 - Houston, TX - Warehouse Live Ballroom
5/3/2014 - Little Rock, AR - Juanita's
5/5/2014 - Madison, WI - Majestic Theatre
5/7/2014 - Fargo, ND - The Venue @ The Hub
5/8/2014 - Eau Claire, WI - State Theatre
5/10/2014 - Arlington Heights, IL - Home
5/11/2014 - Lexington, KY - Buster's
THE RASKINS Headline
5/23/2014 - Hollywood, CA - The Viper Room ***
5/29/2014 - Salt Lake City, UT - Bar Deluxe ***
5/31/ 2014 - Denver, CO - Bushwackers Saloon ***
6/3/2014 - Iowa City, Iowa - Gabes ***
6/5/2014 - Jefferson, WI - Rox Sports Bar ***
6/7/ 2014 - Indianapolis, IN - The Rathskeller ***
6/8/2014 - Fostorio, OH - The New Nest ***
6/11/2014 - Philadelphia, PA - The Fire ***
6/12/2014 - Long Branch, NJ - The Brighton Bar ***
6/13/2014 - NYC, NY - Webster Hall ***
6/15/2014 - Bristol, CT - Bleacher's Bar ***
6/20/2014 - Columbus, GA - Soho Bar and Grill ***
With SAVING ABEL
6/27/2014 - Flint MI - Machine Shop
6/28/2014 - Traverse City MI - Ground Zero
6/29/2014 - Joliet, IL - Mojoes
7/1/2014 - St Louis MO - Mad Magician
7/2/2014 - Springfield MO - Outland Ballroom
7/3/2014 - Omaha, NE - Shamrocks
7/4/2014 - Cedar Township, IA - Blitzcreek
7/9/2014 - Billings MT - Railyard
7/11/2014 - Spokane WA - The Hop
7/12/2014 - Yakima WA - Speakeasy
7/14/2014 - Seattle WA - El Corazon
7/17/2014 - Grants Pass OR - The Rogue
7/22/2014 - Las Vegas NV - LV Country Saloon
7/26/2014 - Roswell NM - Way Out West
THE RASKINS (self titled album):
"We Had It All"
"Need Another Hero"
"Lost In The Dark"
"Open Our Eyes"
"Scream Out Loud"
"On The Radio"
"Save Me Now"
"Where Do We Go From Here"
"We Keep Fighting"
"Find My Way Home"
"Stand Up"
"Reach"
FOR MORE INFO, VISIT:

TheRaskins.com
facebook.com/TheRaskins
twitter.com/TheRaskinTwins
youtube.com/theraskinbrothers




Please log in to view RANTS

If you don't have a username, click here to create an account!