Comic books and rock n' roll are nothing new. KISS and ALICE COOPER are just a couple of examples of bands that have participated in the venture.

Now, extreme metallers CRADLE OF FILTH can add their name to the list with The Curse Of Venus Aversa. Called an "adult graphic novel", the 72-page book features a story by singer Dani Filth and New Orleans cult comic book author Kurt Amacker, who wrote the final script. It tells the story of a salacious Victorian poet who faces down authorities, hoards of vampires, an ancient goddess, and his own demons - all that, after the suicide of his lover Gabrielle.

The band issued the following statement with regards to the release:

"The proof is back from the printer and we're finalizing all of the details. Ladies and gentlemen, succubi and incubi, CRADLE OF FILTH: The Curse Of Venus Aversa is going to press!

Thank you all for your generous support of our Kickstarter campaign. Rewards will be going out a few weeks from now when the books (finally) come in. In the meantime, if you missed out you can still order The Curse Of Venus Aversa graphic novel and other merch at writer Kurt Amacker's webstore HERE."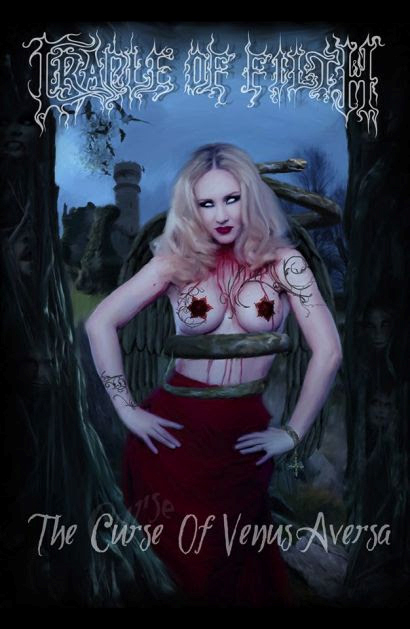 The graphic novel is inspired by key selections from the Filth's extensive discography and authors of the Victorian era, including Lewis Carroll, Bram Stoker and Oscar Wilde, who appears as a supporting character and friend to the book's beleaguered poet. Montgomery Borror (Quarantine) provides stunning black and white art for the book's interior, with a cover by DEVILMENT album artist Jamie Huntley.
Fans of both music and horror comics can support the project at Kickstarter, and pledge for a variety of exclusive and limited collectibles. While the book will be available following the campaign, early pledgers will receive an exclusive cover printed only for the first edition, along with a limited edition print, t-shirt, and Dani Filth voodoo doll from Quarter Kids Handmade Dolls.
The graphic novel's title is a play on the CRADLE OF FILTH track "The Cult Of Venus Aversa", and it reflects the story's use of the band's songs as a starting point - but not as a script to follow to the letter.
Singer Dani Filth stated, "Early on, we played with the idea of following a few songs beat by beat, but this initial idea didn't flow particularly well. We then decided to just play in a world inspired by the lyrics, but not wholly derivative of them. What we've got now is an exploration of a Victorian horrorverse where all the songs are true!"
Amacker is equally excited about the project, stating, "CRADLE OF FILTH literally inspired me to write about ten years ago. I love music as much as comics, and they're one of the few bands that has truly influenced me. This is a dream project. I'm not a musician, so it's an honor to contribute something to their legacy. His first miniseries, Dead Souls, launched in 2008 from Seraphemera Books, with other miniseries and graphic novels that followed - including the comic tie-in for the Finnish goth n' rollers THE 69 EYES."