We are honored to have so many amazing supporters for ROCK AGAINST MS. The latest being 3 donations – One from a private donor of this amazing Schecter Bass signed by JOHN 5, JERRY CANTRELL, SCOTT IAN, MIKE INEZ, PEARL ADAY and RITA HANEY.

The other two guitars are donated by Schecter Guitars and Daisy Rock Guitars – Both are signed by the artists that performed at the March 26, 2014 Rock Against MS concert at the Whisky A Go-Go featuring ROBBY KRIEGER (THE DOORS), LITA FORD, STEVE STEVENS (BILLY IDOL), CHERIE CURRIE (THE RUNAWAYS), BRUCE KULICK, STEPHEN PERKINS (JANE'S ADDICTION), KENNY ARONOFF, JAMES LOMENZO, GILBY CLARKE (GnR), JACK RUSSELL and a whole lot more.

**CLICK TO BID ON THE BASS: http://r.ebay.com/7loP0x.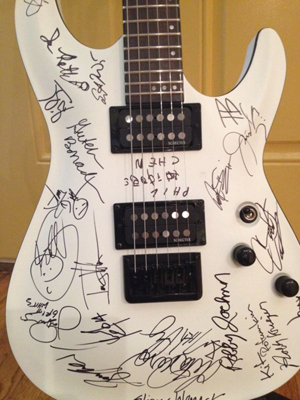 **CLICK TO BID ON THE SCHECTER GUITAR: http://r.ebay.com/Kz4FM9.
**CLICK TO BID ON THE DAISY ROCK GUITAR: http://r.ebay.com/DV3Asd.
**CLICK TO BUY ALL-STAR DRUM HEAD: http://r.ebay.com/uFLeua.
About Multiple Sclerosis
Every hour in the United States, someone is newly diagnosed with MS, an unpredictable, often disabling disease of the central nervous system.
MS interrupts the flow of information from the brain to the body and stops people from moving.
Symptoms range from numbness and tingling to blindness and paralysis. The advancement, severity and specific symptoms of MS in any one person cannot yet be predicted, but advances in research and treatment are moving us closer to a world free of MS.
Most people with MS are diagnosed between the ages of 20 and 50, with more than twice as many women as men being diagnosed with the disease.
MS affects more than 400,000 people in the U.S. and 2.1 million worldwide.
For more information on Rock Against MS Foundation go here:
www.facebook.com/rockagainstMSfoundation