BLACK STONE CHERRY Magic Mountain


By Damian J. Cousins aka "The Maestro", Dallas Contributor
Wednesday, May 7, 2014 @ 9:42 AM


| | | |
| --- | --- | --- |
| | | |
BLACK STONE CHERRY
Magic Mountain
Roadrunner Records





BLACK STONE CHERRY is back in a BIG way!! And with a rawness not seen or felt since album #1. It's almost like they said, "Fuck anyone and everyone's expectations on what we SHOULD do. Let's make an album for US!!" That's the vibe I got from the first song till the very last. I have been a fan since Folklore And Superstition and as much as I liked the last one, Between The Devil And The Deep Blue Sea, I didn't love it. Honestly, I just thought Howard Benson was the wrong producer for them. He's very good at what he does; I just didn't like the pairing.

So here we are with Magic Mountain, out now via Roadrunner Records. Man, this is a rollicking good time from start to finish! As soon as you hear that guitar being plugged in to kick off "Holding On To Letting Go" it is readily apparent that the boys came to kick some asses, drink some beers, and generally fuck shit up. B>Chris Robertson (lead vocals, lead guitar) and Ben Wells (rhythm guitar, backing vocals) are so in sync here it's downright scary. Immediately after this comes "Peace Pipe", a slow, dirty groove-laden number that sounds like something I'll be cranking on my second floor balcony all summer long, with a cooler full of cold ones watching the ladies soaking up the sun by the pool. The deliciousness only continues with "Bad Luck And Hard Love". I swear, it's like these guys just fell into a vat of thick, rich, rock and roll syrup and are spoon-feeding us with every track!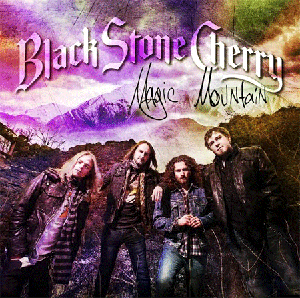 Obvious pot references aside, "Me And Mary Jane" combines the best sounds of the old-time rock with a modern edge. The song also has some serious bite, along with some killer effects. "Runaway" had me thinking it was a ballad at first, and then it too turned into a bit of a rocker. One of the things that separate the good bands from the great ones is the rhythm section. Any music fan worth his salt knows this and ladies and gentlemen, BLACK STONE CHERRY has one hell of a badass team holding down the fort in that regard. Jon Lawhon (bass guitar, backing vocals) and John Fred Young (drums, percussion, piano, backing vocals) have this bitch locked down, most notably on "Magic Mountain". Big fat bottom end coupled with precision hits are the engine of this band, and the guitars are the fuel that makes it run.
Speaking of guitars, "Never Surrender" might just have my favorite riffs and runs on the whole record. It's such a great song that I was hitting the REPEAT button like crazy! "Blow My Mind" has definitely got some Southern feel to it, and I can hear this one comin' out of a jukebox while the working crowd throws back their happy-to-be-off-the-clock shots, heads bobbing approvingly. The simple sweetness coupled with Robertson's emotionally searing vocals make acoustic tune "Sometimes" every bit as powerful as some of Magic Mountain's ballsiest riffs, and another album favorite.
"Fiesta Del Fuego" has some tasty slide going on and "Dance Girl" is a bit devilish on the verses before rocking out on the hooks. Other notable cuts include the LYNYRD SKYNYRD-esque "Hollywood In Kentucky" and somewhat haunted yet anthemic closer "Remember Me". I knew the boys in BLACK STONE CHERRY were onto something 15 seconds into Magic Mountain, but I had no idea just HOW awesome this record would be. Holy shit, y'all need to go get this one with a quickness!!
STANDOUT TRACKS: ALL OF THEM
5.0 Out Of 5.0
Pick up a copy of Magic Mountain in the KNAC.COM More Store right HERE.
Check out Damian's website at www.ampsandgreenscreens.com!




Please log in to view RANTS

If you don't have a username, click here to create an account!