ROCKLAHOMA Band Performance Times Announced


By Larry Petro, News Monkey
Thursday, May 8, 2014 @ 5:02 PM


| | | |
| --- | --- | --- |
| | | May 23-25 In Pryor, OK |
Band performance times have been announced for Rocklahoma, America's biggest Memorial Day Weekend party.

Rocklahoma, presented by Bud Light will rock the Midwest with an all-star lineup featuring KID ROCK, FIVE FINGER DEATH PUNCH, STAIND, TWISTED SISTER, DEFTONES and many more from May 23-25 at "Catch the Fever" Festival Grounds in Pryor, OK. The three-day camping festival features the top current active rock artists and classic bands and is presented by Bud Light.

Band performance times for Rocklahoma are as follows (subject to change):

Thursday, May 22

Pre-Party on the AXiS Campground Stage
6:00 PM - BENNY'S LITTLE WEASEL
6:50 PM - FIGHT THE FADE
7:40 PM - SEVERMIND
8:30 PM - TRIPLE 7
9:20 PM - DIRTY CRUSH
10:10 PM - BLACKWATER REBELLION
11:00 PM - MOTORTRAIN
11:50 PM - DRYVR
12:40 AM - JAMES DOUGLAS SHOW
1:30 AM - OLDMAN
Friday, May 23

Main Stage
4:00 PM - BLACK STONE CHERRY
5:10 PM - SKID ROW
6:20 PM - KILLSWITCH ENGAGE
7:40 PM - SEETHER
9:05 PM - DEFTONES
10:55 PM - FIVE FINGER DEATH PUNCH
Hard Rock Stage
3:30 PM - TRUCKFIGHTERS
4:35 PM - NOTHING MORE
5:45 PM - LACUNA COIL
7:05 PM - THOUSAND FOOT KRUTCH
8:30 PM - THE PRETTY RECKLESS
10:10 PM - HELLYEAH
12:00 AM - Contest Winner TBA
Retrospect Records Stage
3:30 PM - KILLER DWARFS
4:35 PM - LONDON'S DUNGEON
5:45 PM - RUFF JUSTICE
7:05 PM - LOVEBLAST
8:30 PM - FIRSTRYKE
10:10 PM - NASTY HABIT
12:00 AM - CHAOTIC RESEMBLENCE
12:45 AM - DELLACOMA
1:25 AM - SCATTERED HAMLET
AXiS Stage
Noon - ENLSAVED BY FEAR
12:50 PM - NICNOS
1:40 PM - BAD REMEDY
2:30 PM - SNAKEFIST
3:20 PM - FRAMING THE RED
Night performance times are approximate.
11:30 PM - LEEPWALKING HOME
12:20 AM - JET WEST
1:10 AM - THE CHIMPZ
Saturday, May 24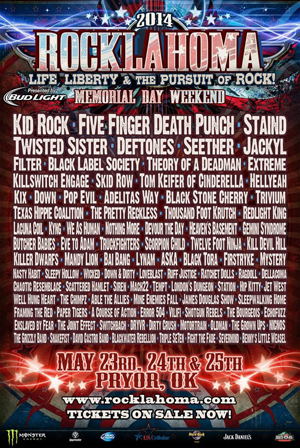 Main Stage
4:00 PM - ADELITAS WAY
5:10 PM - POP EVIL
6:20 PM - FILTER
7:40 PM - JACKYL
9:05 PM - TWISTED SISTER
10:55 PM - STAIND
Hard Rock Stage
3:30 PM - GEMINI SYNDROME
4:35 PM - WE AS HUMAN
5:45 PM - DEVOUR THE DAY
7:05 PM - TEXAS HIPPIE COALITION
8:30 PM - TRIVIUM
10:10 PM - KIX
12:00 AM - KILL DEVIL HILL
Retrospect Records Stage
3:30 PM - RATCHET DOLLS
4:35 PM - WICKED
5:45 PM - BLACK TORA
7:05 PM - BAI BANG
8:30 PM - ASKA
10:10 PM - HELLION
12:00 AM - KILLER DWARFS
12:45 AM - MANDY LION
1:25 AM - SIREN
AXiS Stage
Noon - JOINT EFFECT
12:50 PM - THE GRIZZLY BAND
1:40 PM - DAVID CASTRO BAND
2:30 PM - A COURSE OF ACTION
3:20 PM - VILIFI
Night performance times are approximate.
11:30 PM - WELL HUNG HEART
12:20 AM - HIP KITTY
1:10 AM - MINE ENEMIES FALL
Sunday, May 25

Main Stage
3:50 PM - REDLIGHT KING
4:55 PM - CINDERELLA's Tom Keifer
6:15 PM - BLACK LABEL SOCIETY
7:35 PM - EXTREME
9:00 PM - THEORY OF A DEADMAN
10:40 PM - KID ROCK
Hard Rock Stage
3:30 PM - TWELVE FOOT NINJA
4:25 PM - EVE TO ADAM
5:40 PM - HEAVEN'S BASEMENT
7:00 PM - BUTCHER BABIES
8:25 PM - KYNG
9:55 PM - DOWN
12:00 AM - SCORPION CHILD
Retrospect Records Stage
3:30 PM - SLEEPY HOLLOW
4:25 PM - TEMPT
5:40 PM - STATION
7:00 PM - MYSTERY
8:25 PM - LYNAM
9:55 PM - RAG DOLL
12:00 AM - MACH22
12:45 AM - DOWN & DIRTY
1:25 AM - DIRTEE CIRCUS
AXiS Stage
Noon - THE GROWN UPS
12:50 PM - ABLE THE ALLIES
1:40 PM - PAPER TIGERS
2:30 PM - SWITCHBACH
3:20 PM - SHOTGUN REBELS
Night performance times are approximate.
11:30 PM - ECHOFUZZ
12:20 AM - THE BOURGEOIS
The free Rocklahoma mobile app, which includes the latest lineup and performance times, is available for iPhone and Android phones. The Rocklahoma app--part of the World's Loudest Month app—also features artist bios, site maps, social feeds, pictures, videos, music and much more. Download the app here:

iPhone (http://bit.ly/WLMApp_iTunes)

Android (http://bit.ly/WLMApp_Android)

Rocklahoma fans can save by buying tickets and camping packages in advance, before prices increase on Monday, May 19 at Noon Central Time. The price increase details are as follows:
Weekend GA Ticket– From $159 + fees to $189 + fees
Weekend GA Ticket 4-Pack – From $499 + fees to $599 + fees
Single Day Ticket – From $74 + fees to $84 + fees
Weekend GA Camping – From $75 to $100
Weekend VIP Camping – From $95 to $120
Campers are invited to arrive early and spend up to 9 days at "Catch the Fever" Festival Grounds. Campgrounds open at Noon on Sunday, May 18.

In other news, voting for the Miss Rocklahoma competition ends this Friday, May 9. Vote for your favorite finalist at www.rocklahoma.com and find out who will be crowned this year's Miss Rocklahoma live onstage at Rocklahoma 2014.




Please log in to view RANTS

If you don't have a username, click here to create an account!