METALLICA have issued the following update:

"Can't join us for METALLICA Night at AT&T Park with the San Francisco Giants on May 16? You can still bid on some really cool autographed items here: http://www.sfgiants.com/gcf

Interested in getting your hands on the guitars James and Kirk will be playing that night? Download the proxy bid form here: https://www.facebook.com/littlekidsrock

All items will be available for silent auction at the park on game night. All proceeds from this auction will go to the SF Giants Community Fund and the Bay Area Chapter of Little Kids Rock."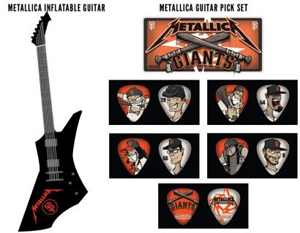 As Previously reported, METALLICA Night at AT&T Park will be on Friday, May 16th at 7:15 PM as the Giants face the Miami Marlins. Get there early as we'll be on hand to do all the fun pre-game rituals... the National Anthem, throwing out the first pitch, and so on. If you're into METALLICA, baseball and, most importantly, the San Francisco Giants, make sure you snag a ticket for the game.
"There is a special event ticket package available that includes a ticket, an exclusive METALLICA/Giants-themed Inflatable Guitar and a METALLICA/Giants-themed guitar pick tin. Partial proceeds from every ticket sold will benefit the Bay Area Chapter of Little Kids Rock.
See you at the Park in May! For more info, go HERE."