Abrasive Rock Fest Hits Olympia, WA Next Weekend


By Robin Banks, Contributor
Friday, July 26, 2002 @ 10:43 AM





Abrasive Rock Festival Offers

Toddlers RuleÖ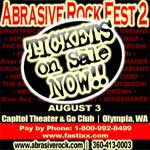 All the whining, crying, tantrums, potty training. Thatís what most toddlers are about, but not the Abrasive Rock fest! Okay, some of that other stuff might happen, but itíll be you after you catch a load of this line-up if you miss it. This is a yearly Abrasive Rock fest that is for those that like some variety. And yes, this is a toddler, just the second year. Some metal, some punk, some industrial, a little progressive, some thrash. Hey a little bit of everything for everyone. Held in Olympia Washington, August 3rd, itís a great alternative to some other hard music fests that just donít cut it anymore. It starts at noon as an all ages show, then ends with an after-hours unsigned show, thatís -- you guessed it -- 21 and over. They even allow re-entry so you can visit the bars down the street, and thereís at least ten to choose from. This is held in the Capital Theatre downtown Olympia, 205 Fifth Avenue Southeast. Tickets are still available, by contacting 1-800-922-TIXX. Otherwise they are on sale at some local spots in Washington, namely CD Connection- 1-360-413-9118. Tickets are $25.00 for hour after hour of music! If you have any further questions contact AbrasiveRock.com. Hereís THE lineup: Gruntruck
Forced Entry
Hirax
Onward
The Sabians
Brick Bath
Totimoshi

Unsigned show

The Braindead
Chief
Charlie Drown
River Red
Bonescrew
Mindshaker
Agony of Deceit
Heir Apparent






Please log in to view RANTS

If you don't have a username, click here to create an account!






Represent! Get Your KNAC.COM Bumper Sticker

Happenings This Week on KNAC.COM

ALL THAT REMAINS Guitarist OLI HERBERT Passes Away At 44

GWAR Set To Release New Graphic Novel GWAR: The Enormogantic Fail

BULLET FOR MY VALENTINE Are "Not Dead Yet" With New Video

ENSIFERUM Announces 2019 North American Headlining Trek, "Two Paths Of Glory Tour"

ARIA Stream Lyric Video Ahead Of New Album Curse Of The Sea

ACE FREHLEY Is "Rockin' With The Boys" In New Video

KILLCODE Drop First Video In Trilogy For "The Answer"

ROCKFEST 80ís Music Festival Returns For Year Three

GODSMACK's 2018 European Tour Postponed

GOATWHORE Announces Additional Headlining Shows

WAR OF THRONES Unleash "Say What" Video

Inaugural ROCKLANTA Festival Announced For 2019

AUDIOTOPSY Stream Heavy New Anthem "War"

POP EVIL Announce 2019 U.S. Headline Tour Dates

FAITHSEDGE, Featuring Ex-Members Of STRPYER, MR. BIG, DOKKEN, Wrapping Up Recording Fourth Album

A PERFECT CIRCLE Release 2D Version Of "Eat The Elephant" Video

IRON MAIDEN Remasters Get CD Digipak Treatment

AVANTASIA Set To Release New Album Moonglow

SOULFLY Announce 2019 North American Tour

SOILWORK Reveal Verkligheten Album Details

CHEVELLE Stream New Track "In Debt To The Earth"

METAL CHURCH Release "Damned If You Do" Video

BEHEMOTH Set To Unleash 'Wolf Ov Siberia' Beer

MEGADETH Reveal Details For First Ever MEGACRUISE For 2019

STEPHEN PEARCY Streams New Song "U Only Live Twice"

Sold Out SHIPROCKED 2019 Announces Lineup Additions

GRETA VAN FLEET Announce 2019 World Tour Plans

JASON BECKER Set To Release Triumphant Hearts LP

JIZZY PEARL'S LOVE/HATE Returns To The UK For Four Special Shows

SABER TIGER Return With Obscure Diversity

CLUTCH Reveal New December "Holiday" Tour Dates

TED NUGENT Announces New Album The Music Made Me Do It

JOE PERRY Hits The Road For More Headline Shows

JOE SATRIANI To Release Limited Edition Beyond The Supernova Box Set

KING'S X Join Golden Robot Records, Set To Release First New Album In Over A Decade In 2019

WITCH CASKET Premieres "Punishment" Video

NOTHING MORE Announce "The Truth Tour" For 2019

PROPHETS OF ADDICTION Tell Nothing But The Truth With New Album

JON BON JOVI Announces Two 2019 'Runaway To Paradise' Cruises

DONNIE VIE Readies New Solo Album Beautiful Things

BURNING WITCHES Unleash "Hexenhammer" Music Video

ROADKILL Set To Release Ruled By Machines Album

GOTTHARD Reveal Details For Double-Live Album Defrosted 2

WITHERFALL Release "Moment of Silence" Single, Video

BOWL FOR RONNIE Reveals Celebrity Bowlers, Guests

DANKO JONES Unveils "We're Crazy" Music Video

RUSH Celebrates 40th Anniversary Of Hemispheres With Expanded Reissues

SAXON Announce 2019 US Mini-Tour Dates

BLADE KILLER Unveil Debut LP Title Track "High Risk"

ARCHITECTS Debut "Royal Beggars" Video

GWAR Unleashes Video For "Viking Death Machine"

AFTER THE FALL Set To Release My Confession Album

WAKE N' BACON 420 LA Bus Tour Announced

HIGH ON FIRE Stream New Track "Spewn From The Earth"

WITCH CASKET Announces Sophomore Album Punishment

Former MISFITS Vocalist MICHALE GRAVES Continues "Course Of Empire" North American Tour In 2018

P.O.D. Announces Fall 2018 US Tour

FILTER Returns With New PledgeMusic Campaign

LIFE OF AGONY, SICK OF IT ALL Team Up For "Two Sick Nights Of Agony"

METAL CHURCH Set To Unleash Damned If You Do Album

RED FANG Announce the Second Leg Of US December Tour Dates

RYAN ROXIE Streams "God Put a Smile Upon Your Face" Lyric Video

GEDDY LEE To Release The Big Beautiful Book of Bass

PHEAR Signs To RFL Records, Readies Insanitarium Album

HELSOTT Unveils TOM PETTY Cover Video For "Runnin' Down A Dream"

MINISTRY Announces New North American Fall Tour

RAVEN Announce North American Tour

THE NIGHT FLIGHT ORCHESTRA Announce Re-Issues Of Early Albums

ANGEL VIVALDI, NITA STRAUSS Announce "The Guitar Collective 2018" Co-Headline Tour

BEHEMOTH Launches Video For New Single, "Bartzabel"

Guitarist JOE STUMP Kicks Off China Tour

JOYOUS WOLF Stream Cover of "Mississippi Queen" And New Original Track "Slow Hand"

SABATON To Release Carolus Rex (Platinum Edition) As Album Reaches Quadruple Platinum In Sweden

MONSTER MAGNET Drops Lyric Video For "When The Hammer Comes Down"

AMARANTHE Launch "Countdown" Single, Video

OTEP Announces "The Art of Dissent" Fall U.S. Headline Tour Dates

ALL THAT REMAINS Set To Release New Album Victim Of The New Disease

MESHUGGAH Reveal Exclusive Vinyl Reissues Collection

AMORIELLO Release Lyric Video For Debut Single, "Battle Song (feat. Vinny Appice)"

STARSET Release "Bringing It Down (Version 2.0)" Video

INGLORIOUS Announce UK 2019 Headline Tour For January, February 2019

ROCK ALLEGIANCE Band Performance Times Announced

AXEL RUDI PELL Releases New Single, Lyric Video For "The Wild And The Young"

YOB Add End Of Year Tour Dates To Action-Packed 2018

CHEVELLE Announces New Album, 12 Bloody Spies: B-Sides And Rarities

New Late WARREL DANE Track "As Fast As The Others" Streaming

WIZARDS OF WINTER Announce 2018 Holiday Tour Dates, New Members

70000TONS OF METAL Cruise Reveals 2019 Public Sales Dates

RIOT V Stream Lyric Video For "Caught In The Witch's Eye"

ARTILLERY Reveal New Album The Face Of Fear Details

THE DEVIL WEARS PRADA Announce Second Leg Of "With Roots Above And Branches Below Tenth Anniversary Tour"

IRON MAIDEN: ALBUM BY ALBUM Book Out In October

ATREYU Share "The Time Is Now" Video

BONFIRE To Release Legends Covers Double Album

AFTERSHOCK Band Performance Times, Experiences Revealed

CRIMSON GLORY's Self-Titled Debut Album Gets Reissued This Fall

SLASH FT. MYLES KENNEDY AND THE CONSPIRATORS Release New Live-Action, Animated Video For Single "Driving Rain"

GHOST To Join METALLICA On 2019 "Worldwired" Europe Stadium Tour

BENEDICTUM Announce European Tour Dates

TEN Are Returning With A New Album, Illuminati

ACCEPT Reveal Cover, Track List And Formats For Symphonic Terror Ė Live at Wacken 2017

BLIND GUARDIAN To Re-Release Another Three Of Their Classic Albums

AMON AMARTH Reveal Details For Documentary, Live Album The Pursuit Of Vikings: 25 Years In The Eye Of The Storm

DANKO JONES Returns With New Single "We're Crazy"

VICIOUS RUMORS Announce 2019 European Tour Dates

THE BLACK DAHLIA MURDER To Release New "Warborn" Beer

CATTLE DECAPITATION Reveal Details For Rarities Album, Medium Rarities

VANDENBERGíS MOONKINGS Get Rugged And Unplugged

ROXANNE Set To Release New Album Radio Silence