Sweden's IN FLAMES have built their reputation as one of the most respected and beloved modern metal bands over the course of 10 records, selling three million albums and packing venues all over the world in the process. The band will return this September with their eleventh album, Siren Charms.

The new album will be released via Sony/RED in the U.S. and lands in stores on September 9.

Formed in 1990, IN FLAMES, who redefined the melodic metal genre and continue to create music that defies simple categorization, have been blazing a metal trail for nearly 25 years, having toured with everyone from METALLICA to SLIPKNOT to KILLSWITCH ENGAGE to SLAYER. Many of their albums, namely 1996's The Jester Race, 1999's Colony and 2000's Clayman, are considered modern metal classics and "essential listening" by both fans and critics.

Yet, two decades deep, the band remains vital and continues to up the ante.

IN FLAMES have delivered what will be considered one of the best albums of their already impressive catalog with Siren Charms, taking a huge step forward all the while remaining true to the sound that earned them their status as a hard rock band to watch, within the scene and beyond.

About the album, the band said, "We recorded in the legendary Hansa Tonstudios in Berlin over the course of six intense weeks. This is IN FLAMES 2014, all for the fans to use and abuse."

The release date for the 11-song effort will be preceded by first single "Rusted Nail".

Their last album, 2011's Sounds Of A Playground Fading, achieved Gold status in their homeland.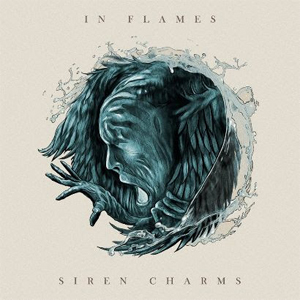 But IN FLAMES are not satisfied with stopping there. They are currently putting together tour plans which will bring them to North America.
IN FLAMES fans can expect to see and hear plenty from the band as it supports Siren Charms.
Siren Charms Track Listing:
"In Plain View"
"Everything's Gone"
"Paralyzed"
"Through Oblivion"
"With Eyes Wide Open"
"Siren Charms"
"When The World Explodes"
"Rusted Nail"
"Dead Eyes"
"Monsters In The Ballroom"
"Filtered Truth"