Jon Oliva drummer Chris Kinder has checked in on Facebook with the following update:

"Good day one and all...time for an update!

We have finally begun full band rehearsals for our classic performance of Streets in it's entirety at the legendary Prog- Power USA Festival in Atlanta GA in September. JOP will perform this iconic SAVATAGE album to close out the headlining spot on the final night of this amazing weekend of great bands and the world's best fans...(and the best promoter). Bill Hudson will join the band mid-summer but for now we will be perfecting our show to be fully ready when he arrives. Sundays rehearsal was just off the chain. Everyone fully prepared, a great vibe and a highly productive 5 hours of rehearsal left us all feeling very excited with 3 months of time to make it the best we can.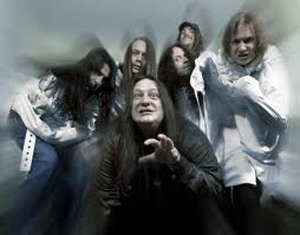 Writing continues as well for the next JOP release. Lots of business stuff going, t shirt designs for PP etc. Hope to have news of the next JOP release soon...it's always a process.
Merchandise: T shirts, Picks, Limited art prints and other stuff available for those that are interested. Feel free to contact me at ckindercash@Hotmail.com with any questions. We will have a final design for the limited edition ProgPower USA JOP shirt available for pre order in the next few weeks....Stay tuned!
Cheers people....more news soon!
Chris"