The BULLETBOYS regret to announce that Stephen Mills has formally retired from the band and will therefore not be joining them on their forthcoming Bang Your Head summer tour with QUIET RIOT. The band respects his decision and wishes him well with his future.

Having thought long and hard about how to proceed, Marq Torien and Lonnie Vencent unanimously agreed that the BULLETBOYS should go ahead with the tour and not let the fans down.

"Fate stepped in and thanks to Facebook, I was handed an old friend and huge talent" says Marq Torien. "BULLETBOYS are very excited to announce the addition of drummer Shawn Duncan".

Shawn has recorded over 11 releases with the bands DC4 and ODIN as well as shared the stage with Dizzy Reed, Ann Boleyn, Alex Masi, Jack Russell, Frank Hannon, Ira Black, Joe Floyd and many others.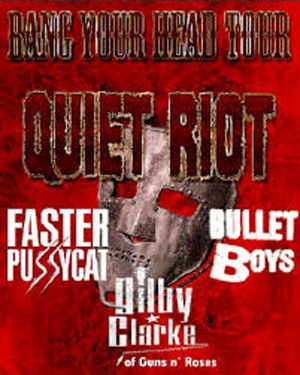 "I am honored to sit at the throne for the BULLETBOYS and looking forward to tearing it up every night! This is going to be monstrous!" says Shawn Duncan.
"Shawn is a perfect fit for us and a great talent who will provide even more power and fire to our live performances" says Marq Torien.
"Im very excited and looking forward to touring with my best friend and toxic twin Marq Torien and I could not be more thrilled to about sharing the stage with Shawn! I can't wait to hit the road and jam our new tunes." says Lonnie.
The Bang Your Head tour with QUIET RIOT will include BULLETBOYS favorites along with tracks from all of their albums plus new music and some songs never performed before on stage!
With a new single due to be released this summer, the BULLETBOYS are preparing to tour the United States once more – The BULLETBOYS will bring rock at its best the only way they have ever known how, Hard As A Rock and Smooth Up In Ya!