AUTOGRAPH, RUSTED, CIRCUIT Live In Ottawa


By Andrew Depedro, Ottawa Corespondent
Wednesday, June 18, 2014 @ 11:14 AM


| | | |
| --- | --- | --- |
| | | 30 And Non-Stop: AUTOGRAPH Celebrate Three Decades Of Rock At Obsession With Special Guests RUSTED And CIRCUIT, Ottawa, Canada, May 9, 2014 |
It may not have had the largest turnout for a live show I've ever been to but when you've amassed a couple of decades in the music industry and can still deliver a flawless performance like you were playing to a crowd of thousands rather than, uh, less than that, you deserve all accolades coming your way.

And this was a concert which survived the local radio station giving away free tickets suddenly going bust the month and changing its format. Prior to the end of March, the closest to KNAC terrestrial radio which Ottawa had was known as 106.9 The Bear. While its setlist as is the case with most Canadian rock radio stations often had an unhealthy balance of TRAGICALLY HIP songs (which I'm certain instigated its demise), it promised and delivered on promoting local hard rock talent as well as classic yet long-forgotten bands. As a fan of a bit of the two, I did my part for live music by winning two tickets to the show. Then the unthinkable happened - The Bear got bought out by a new media company which decided that this rock 'n roll thing was just a passing fad and switched the format completely. It was Airheads revisited except unlike the actual movie but very much like KNAC 105.5 FM's own fate, the station revamped and became 106.9 Jump. Its new format of playing the "non-stop hits" actually makes the mariachi music which replaced KNAC 105.5 18 years ago tolerable when you've seen the playlist: A tsunami shitstorm of top 40 crap. Clearly O-town's not listening to enough Taylor Swift and Lorde during the day. And I thought we were supposed to be boycotting Justin Bieber ever since he got lifted for DUI? Campaign didn't work, you say? Let's give him a THIRD station in town so that we can listen to "One Less Lonely Girl" every 15 minutes now.

Seriously......at least KNAC was able to come back to life as a dot com station.

To make matters worse, not many people even knew that The Bear was becoming extinct so there was confusion over whether this show would even happen. Thankfully, the show itself was not affected but it was still difficult to find someone to go with despite having two readily- earned tickets I never paid a cent for. It wasn't for lack of trying either in persuading people to accompany me to the show. I asked as many folks as I could and ran the proverbial gamut: Blondes, redheads, even my Polish brother-in-law who went with me to the VAN HALEN concert I won tickets for 2 years ago.....none were available that day.

Luckily that never stopped the bands from fulfilling their duties. In fact, the openers, CIRCUIT, had just come off of a period of self-imposed exile from the touring circuit themselves, their last jaunt being a North American tour in 2007 opening for BUCKCHERRY and EVERCLEAR. With pretty much all of the band members being family men that would probably explain why they've only been able to release one full-length album, Eau De Convenience, during their career. Still, they made such an impression on legendary radio personality Casey Kasem that he referred their name to an LA-based independent record company so they have that going for them. Performance-wise, the band itself are regular workhorses whose own musical influences ranging from their equally work ethic-minded peers such as GNR, the BLACK CROWES and the STONES among others shine on songs such as "Deficiency", "Better Part Of Me" and "Helen Of Troy" - brooding and often melancholic but raging with melody. And melodic would be the best description for frontman Michael James' voice which fits nicely between that of Van Morrison and LIVE's Ed Kowalczyk (at least back when Live were moderately listenable). Being that the local five-piece are more comparable to 90's alt-rock in the vein of SMASHING PUMPKINS, one wonders how CIRCUIT could ever have fared well at all on this type of bill but their friendly camaraderie and interaction with their fans (James did provide me with a copy of the band's setlist) ensured that lots of positive sparks will be running in CIRCUIT's favor.

https://www.facebook.com/pages/Circuit/200674723256

With their denim and leather and teased-up 'dos straight outta 1986 to bring us all together, Montreal's RUSTED made sure it was us that set their spirit free. But it was also the frequent gigging (opening for STEEL PANTHER, L.A. GUNS and Michael Monroe to name a few) and word of mouth in and around Montreal that also played a pivotal role too. And having stage names such as Mark Shark (that's the bass player), Tommy D Eagle/ManiaK (the two guitarists) and Tony Rust (the frontman who channels both Axl Rose and Bruce Dickinson) seems to make these guys stand out too. They played their just-released debut album Rock Patrolin its entirety with the notable choice cuts such as "True Eyes Of Love", "Devil In A Dress", "Partners In Crime" and the single "Young, Wild And Free" laying down the catchy harmonic choruses and blistering dual guitar solos from a bygone era that made the crowd raise their fists in the air. But though RUSTED may travel (or patrol) down a path taken by many other bands of their kind sometimes it's seeing that path as a journey more than as a destination which makes the trip more worthwhile and memorable.

https://www.facebook.com/rustedrock
http://www.youtube.com/user/rustedmontreal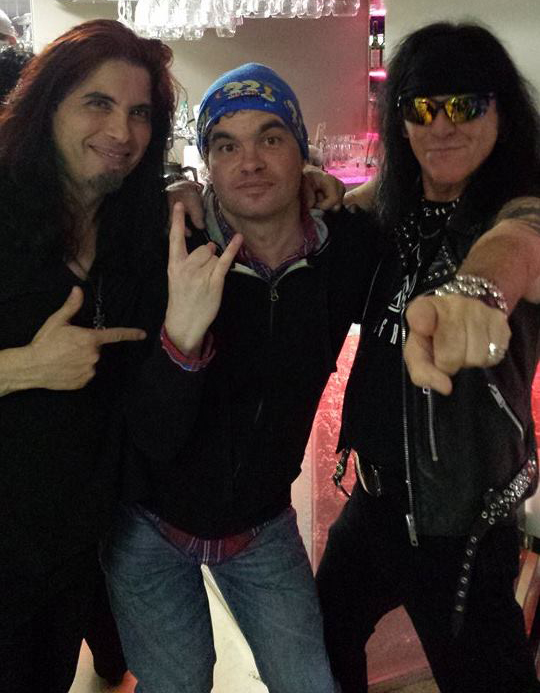 Straight outta Pasadena, California and at one point heavily touted to give VAN HALEN a challenge for the title of being the Sunshine State's ultimate party band during the 80's, headliners AUTOGRAPH take the stage and get deep and introspective with, well, "Deep End", from 1985's debut album Sign In Please. Despite the original lineup solely consisting of guitarist Steve Lynch and bassist Randy Rand the band - featuring recent inductees Simon Daniels and Marc Wieland in place of Steve Plunkett and Keni Richards respectively - worked the stage like consummate pros and giving few hints that they had been on and off from touring since their original breakup some 25 years prior after years of touring wih bands ranging from AEROSMITH and MOTLEY CRUE to HEART and even Bryan Adams. And their one-hit-wonder status back in the day was also heavily put to the task as their back catalogue expanded far beyond their biggest hit, "Turn Up The Radio". The crowd heard the music and demanded that AUTOGRAPH bring 'em some more. Which they did, from mostly their three breakthrough albums including That's The Stuff and Loud And Clear. As one could guess by such song titles as "Send Her To Me" and "She Never Looked That Good For Me" among others, AUTOGRAPH are the quintessential break-up band whose soundtrack resonates with many a jilted hopeless romantic. Sure, it sucks when one isn't their girlfriend's actual boyfriend but at least AUTOGRAPH can put a positive perspective on it and even offer glimmers of hope that maybe that particular girlfriend might be rethinking her relationship options. At least lyric-wise anyway. But when it comes to lamenting over the unattainability of "the one" DEAD CAN DANCE or MY DYING BRIDE these guys most certainly are not.
Performance-wise, Steve Lynch and Randy Rand performed with zeal while Simon Daniels took on Steve Plunkett's role with unbridled enthusiasm particularly on gems like "Blondes In Black Cars" and "Cloud Ten". Not a single beat was skipped by either the seasoned veterans absent from the stage nor by the fresh newcomers to the band. The riffs, the catchy hooks, the rolling licks and street savvy.....it was all prevalent and for the sparse but fiercely loyal crowd it was worth the long wait for AUTOGRAPH to finally make their signature mark on Ottawa. And the band was also grateful to finally be recognized for more than just a radio-friendly song or two after an on/off career spanning over three decades. Here's hoping AUTOGRAPH make another stop back here again. It looks good on them.
https://www.facebook.com/autographband
Setlist:
"Deep End"
"Dance All Night"
"Loud And Clear"
"Blondes In Black Cars"
"Send Her To Me"
"My Girlfriend's Boyfriend Isn't Me"
"She Never Looked That Good For Me"
"Cloud Ten"
"Crazy World"
"Turn Up The Radio"




Please log in to view RANTS

If you don't have a username, click here to create an account!






TRIVIUM, AVATAR, LIGHT THE TORCH In Portland, OR Photo Gallery

DEVILDRIVER, JINJER In Cleveland, OH With Photos!

CORROSION OF CONFORMITY In Dublin, Ireland

CAULDRON New Gods

STEVE GRIMMETT'S GRIM REAPER In Ottawa, Canada

JUDAS PRIEST, KREATOR In Quito, Ecuador

CAL JAM '18 Photo Gallery

BLOODBATH The Arrow of Satan Is Drawn

STRIKER Play To Win

NIGHT RANGER "Dawn Of Madness" Show In Waukegan, IL

BUTCHER BABIES, KOBRA AND THE LOTUS, SKARLETT RIOT, IGNEA, MAERTYRIUM, In Siegburg, Germany

HOUSE OF LORDS In New Bedford, MA

GRETA VAN FLEET Anthem Of The Peaceful Army

IMPELLITTERI The Nature Of The Beast

ALICE COOPER In Houston Photo Gallery

ICARUS WITCH Goodbye Cruel World

TARJA, STRATOVARIUS, SERPENTYNE In Cologne, Germany

CLUTCH, SEVENDUST, TYLER BRYANT & THE SHAKEDOWN In Portland, OR With Photos!

ACCEPT In Houston, TX With Photos!

U.D.O. Steelfactory

SKULL FIST Way Of The Road

SOULFLY Ritual

ANTHRAX State of Euphoria 30th Anniversary Deluxe Edition

FIFTH ANGEL The Third Secret

STEVE GRIMMETT'S GRIM REAPER In New Bedford, MA

ANAAL NATHRAKH A New Kind of Horror

PRIMAL FEAR Apocalypse

BEHEMOTH I Loved You At Your Darkest

DORO Forever Warriors, Forever United

SLASH FEATURING MYLES KENNEDY AND THE CONSPIRATORS In Houston, TX Photo Gallery

BILLY MORRIS AND THE SUNSET STRIP Holdin' All The Aces

VINCE NEIL In Houston, TX Photo Gallery

DEE SNIDER For The Love Of Metal

UNLEASH THE ARCHERS, STRIKER, HELION PRIME In Houston, TX W/Photos!

DREAM CHILD Until Death Do We Meet Again

SCORPIONS, QUEENSRYCHE In Tampa, FL With Photos!

HUMBLE PIE Live At The Ottawa CityFolk Festival

BEHEMOTH Album Listening Party In Los Angeles For I Loved You At Your Darkest

THE DEAD DAISIES, HOOKERS 'N BLOW In Ottawa, Canada With Photos!

DRAGONLORD Dominion

STONE BROKEN Ain't Always Easy

BRANT BJORK Mankind Woman

KORPIKLAANI Kulkija

BRAINSTORM Midnight Ghost

SLEAZY WAY OUT, INSUFFICIENT FUNDS In Ottawa, Canada

DEEP PURPLE, JUDAS PRIEST In Jacksonville, FL W/Photos!

HELLOWEEN In Worcester, MA With Photos!

RED TIGER Evolution