Hollywood Memorial Held For Betty Blowtorch's Bianca Butthole


By Frank Meyer, Contributing Editor
Monday, December 17, 2001 @ 12:34 AM


| | | |
| --- | --- | --- |
| | | Betty Blowtorch Leader Bianca |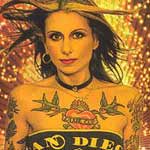 Last night, a memorial was held for Betty Blowtorch's Bianca Halstead (a.k.a Bianca Butthole), at the clothing store she worked at when she wasn't touring, Serious Clothing. The Melrose store served as a gathering place for friends and fans of the musician and her band. From 7pm on through the night people gathered, brought flowers, lit candles, talked, cried and shared stories about themusicir fallen friend. Although last night was the unofficial memorial for Halstead, throughout the week people can go and visit the shrine the store erected for her, which includes huge pictures of the band, personal pics submitted by friends, and a sign-in book for people to write her messages. Casper from the store said, "She is a member of our family and one of our dearest friends. We are all heartbroken over this. This is open to the public, friends and fans alike."

The store is located at: Serious Clothing
7569 Melrose Ave.
Los Angeles, CA 90046 323-655-0589
Bianca was the bassist/singer for Hollywood hard rockers Betty Blowtorch and was killed around 5:30am Saturday morning in a car accident in New Orleans. The driver of the car was Brian McAllister (at first identified as "William"), who offered Bianca a lift home in his '86 Corvette after a night of hanging out. They were driving on the I10 toward Kinner, LO (near New Orleans) when McAllister lost control of the wheel and the car spun around, jumping the median and heading into oncoming traffic. They were sideswiped by another car on Bianca's side and she was killed instantly. Witnesses estimated McAllister's speed at more than 100 mph, and he apparently had been drinking, said Trooper Todd Marchand. McAllister is be held by New Orleans police and is facing criminal charges. The two passengers in the other car have been hospitalized." According to police the other car -- which was driven by Robert Fenkel, 50, of Colorado Springs, Colo., -- broadsided the Corvette, nearly shearing it in half. Fenkel had to hospitalized but his injuries were not described as life threatening. Jacquelyn Hampton, 35, of Kenner, was driving the first car McAllister hit, but was not injured. It should be noted that while both the police and KNAC.COM sources claim McAllister was inebriated, Bianca herself has been sober for 10 years. A small funeral will be held this Friday at a Hollywood cemetery, though the details are not confirmed yet.

Bianca played in the band Butt Trumpet in the '80s before forming Betty Blowtorch in the late-'90s. The band released their full-length debut, Are You Man Enough?, earlier this year through Foodchain Records. The band was clearly on the path to stardom and this comes as devastating news to her fans, friends, bandmates and family. All that knew her sang her praises, and she was loved and adored by everyone she came into contact with. She was also an inspiration to many female hard rockers, as she forged a long career in the male dominated world of hard rock and could beat the crap out of any dude that tired out-rock her. She was an inspiration to all and will be sadly missed.

We at KNAC.COM send our warmest condolences to Bianca's family, friends and bandmates.






Please log in to view RANTS

If you don't have a username, click here to create an account!






Represent! Get Your KNAC.COM Bumper Sticker

Happenings This Week on KNAC.COM

RIP: MARTIN ERIC AIN Of CELTIC FROST

DOWN 'N OUTZ To Release New Live Album The Further Live Adventures Of... December 1

THREAT SIGNAL Stream New Track "Aura"

CLEOPATRA RECORDS Releases Diabolical Soundtrack For Halloween Pussy Trap Kill! Kill!

SALEMS LOTT Reveal Music Video For "You Can't Hide From The Beast Inside"

WELCOME TO ROCKVILLE Reveals FOO FIGHTERS As First 2018 Performer

VIMIC To Release Debut Album Open Your Omen

JUDAS PRIEST Announce "Firepower 2018" North American Tour

SERENITY Premiere Music Video For "United"

TYGERS OF PAN TANG Announce UK Tour Dates

MONSTERS OF ROCK CRUISE 2018 Final Public Sale Going On Now

SILVER SNAKES Debut Cover Of MINISTRY's "Burning Inside"

EDDIE VAN HALEN Launches New Online Store

IRON SAVIOR Set To Release Reforged - Riding On Fire In December

BEAST IN BLACK Stream "Beast In Black" Lyric Video

Say Hello Again To RUSH's A Farewell To Kings

GWAR Unleashes "I'll Be Your Monster" Video

'ROCKIN' THE CITY OF ANGELS Book Available Now

SATYRICON Debut "To Your Brethren In The Dark" Video

KNAC.COM Exclusive: DIAMOND BLACK Release "Sorrow" Video

WHITE WIZZARD Reveal Infernal Overdrive Album Details

From The SEX PISTOLS' Ashes Come THE PROFESSIONALS

JACKAL Release New Album God Of War

CANNIBAL CORPSE Premieres Title Track Of New Album

THE WINERY DOGS Set To Release Limited Edition Vinyl Of Dog Years: Live In Santiago & Beyond 2013-1026

DEUCE To Drop Sophomore Album Invincible

TRAUMA Announce Upcoming West Coast Performance Dates

EVERGREY Re-Issue Two Early Classic Albums, The Dark Discovery And Solitude, Dominance, Tragedy

MALLEN Release "The Otherside" Video

SILVER SNAKES To Release New Covers EP "Scathe"

DAVID GLEN EISLEY, CRAIG GOLDY Announce Debut Album Blood, Guts, And Games As EISLEY/GOLDY

STEEL PANTHER To Release Limited Edition Picture Disc Version Of Lower The Bar For Black Friday Record Store Day Exclusive

ARCH ENEMY Debut New Video For Single "The Race"

ANTHRAX, KILLSWITCH ENGAGE To Mount Epic Sequel With "Killthrax II" Tour

DIABLO SWING ORCHESTRA Announces Pacifisticuffs Album

A PERFECT CIRCLE Release New Song "The Doomed"

DOLL SKIN Release "Daughter" Video

WEAPONS OF ANEW Launch New Video Series: Creating The Collision Of Love And Hate

NUCLEAR BLAST Unveils Limited Edition SUBROSA Blast Beast Bikes

GWAR Premiere New Single "I'll Be Your Monster"

KISS Alive Forever: The Complete Touring History – 2018 PledgeMusic Edition Now Available For Pre-Order

DEAD HORSE TRAUMA, EKTOMORF Team Up For The "Death Before Dishonor Tour"

CKY Debut "Head For A Breakdown" Video

BLACK WATER RISING Get Electrified With New Album

HELLOWEEN Offer New Song, "Pumpkins United", As Free Download

STAGMA Unveil "Pokerface" Single, Lyric Video

TRIVIUM Stream New Song "Betrayer"

GRANNY 4 BARREL Releases "Freak Flag" Single, Video

Inaugural DEFENDERS OF THE NORTH Festival Announced For Monterrey, Nuevo Leon, Mexico

ANVIL Will Be Pounding The Pavement With New Album

TENGGER CAVALRY Sign With NAPALM RECORDS, Unveil New Track

POWERMAN 5000 Releases "Cult Leader" Music Video

HELLA HORROR NIGHT Announced For Los Angeles