Paul Di'Anno photo by Kara Rokita

Paul Di'Anno, former IRON MAIDEN vocalist, returned to Poland in April to play a string of live shows. One of the shows - at Lizard Club in Kraków on April, 9th - was recorded for the purposes of a live DVD release and today we reveal its title and release date. The Beast Arises DVD has been set for release on October, 6th in Europe and October, 7th in North America (via MVD). Other formats available: CD DG and 2LP.

The material from the DVD captures a live show in a club full of audience that would not let Di'Anno leave the stage for a long time. The setlist included the best IRON MAIDEN tracks (from the period when Di'Anno was the band's lead singer), as well as KILLERS' and Paul Di'Anno's solo tracks. The DVD also includes bonus features such as an interview with the Artist, a photo gallery and more! Full details to be revealed soon!

You can now see a short preview of the DVD below.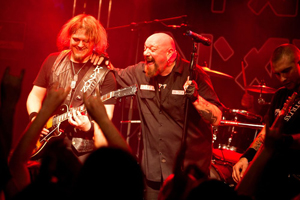 This English singer is best known as the first vocalist to record with the iconic band IRON MAIDEN, from 1978 to 1981. Despite world-wide success lurking just around the corner, Di'Anno departed from the band by the fall of 1981 (he's since admitted that he was partying a bit too hard around the time of his departure from MAIDEN). However, Di'Anno's unique and extremely powerful voice had made a huge impression on rock music fans the world over, and also gained him an army of fans due to the sales of more than 20 million copies of the first two IRON MAIDEN albums (Iron Maiden & Killers) featuring Paul's unique vocal talent.
In his post-MAIDEN career, Di'Anno has issued numerous albums, both as a solo artist and as a member of such bands as GOGMAGOG, BATTLEZONE and KILLERS, and he has been featured (either as the artist or as a guest) on more than 60 albums released world-wide.
As a confirmed icon of the metal genre Di'Anno is constantly gigging (with his various bands) throughout all of Europe, USA, Canada, Central & South America, Australia, Asia etc.
Di'Anno has even had time to have his first full sized and highly acclaimed Book/Autobiography released entitled The Beast, which is a no holds barred journey through his turbulent and often disturbing car crash lifestyle, throughout the last two decades.
Although he only appeared on the first two MAIDEN albums, MAIDEN's work with Paul Di'Anno remains among metal's all-time finest, and to this day those two albums are idolized and thought of as "The All Time Classics" by most Metal fans and musicians alike throughout the World.