Bristol, UK-based NWOBHM legends JAGUAR have teamed up with BLACK SABBATH/JUDAS PRIEST engineer and producer Mike Exeter for their latest album. Metal X will be available for download from August 2014 via mondotunes.com

Focusing on the fundamentals of the NWOBHM era, the band state the album as "heavy, fast, loud & proud", all the components of what the band were about in '79, but recorded with a modern approach to get the best out of the new songs.

Says JAGUAR: "It was great to have Mike on board for mixing duties, he's a real cool dude, and one of the nicest guys in metal! Mike came straight from mastering with JUDAS PRIEST to work with us, he's non-stop and we are honored he gave us his time!"

The band pre-played some taster tracks from the album at their show at 2014's Sweden Rock Festival on the same day as BLACK SABBATH.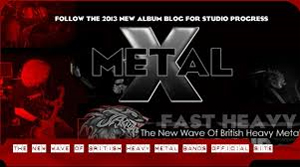 METALLICA's Lars Ulrich shares some words about JAGUAR in the album's sleeve notes. Lars states he has always been a huge fan of the band. The album also features a special bonus track which METALLICA fans will be familiar with.
This is the band's first new material release since Run Ragged in 2003 and also features long time bassist Simon Patel, who joined the band in 2006.
Metal X digipak CDs will be offered in the coming months. A limited edition vinyl release is also being planned for later in the year.
More details to follow