HELLION Announces Mini Album Details, Tour


By Larry Petro, News Monkey
Tuesday, July 22, 2014 @ 1:14 PM


| | | |
| --- | --- | --- |
| | | Karma's A Bitch Out October 8th |
Iconic female-fronted metal act HELLION announce details of their first new album and tour in over a decade. Entitled Karma's A Bitch, HELLION's new mini-LP is set for release October 7 on New Renaissance Records in the US, and via HNE/Cherry Red Records on October 8 in Europe and the UK. The cover artwork (featured below) was designed by British artist Wolven Claws of The Crystallomantic Art.

With a stellar line-up featuring vocalist Ann Boleyn, drummer Simon Wright (formerly of AC/DC, DIO and UFO), keyboardist Scott Warren (formerly with DIO and HEAVEN & HELL), bassist Bjorn Englen (formerly with Yngwie Malmsteen), and up-an-coming shred guitarist Maxxxwell Carlisle, this is easily HELLION's strongest line-up ever.

HELLION's new tracks were produced by Simon Wright and Ann Boleyn alongside legendary British studio icon Ken Scott, who has produced iconic albums, including David Bowie's Hunky Dory, The Rise And Fall Of Ziggy Stardust And The Spiders From Mars, Aladdin Sane and Pinups.

A top producer at Abbey Road Studios, Scott is also acknowledged as one of the five principal engineers for THE BEATLES. He has engineered countless classic works, including George Harrison's All Things Must Pass, Elton John's Madman Across The Water, Honky Chateau and Don't Shoot Me I'm Only The Piano Player. Other credits include gold and platinum albums by SUPERTRAMP, DAVID BOWIE, MISSING PERSONS, KANSAS and more.

Scott recently said of the comparison between working with David Bowie and Ann Boleyn: "Working with Bowie or working with Ann of HELLION, you've got sheer talent."

Acknowledging Boleyn as the driving force propelling the band, Scott notes: "Over the years, the musicians have changed. The one musician that has always been the same is Ann. So once again, it's new musicians. The one constant thing about HELLION is Ann, and her incredible voice."

"Starting off with a mysterious and ethereal ghostly introduction, "Betrayer" quickly blasts into overdrive with a scream from Hell and the raw power the likes of which can only come from Ann Boleyn," commented Rob DiMartini of Metal Scream Radio. "The title track, "Karma's A Bitch", is a tough sounding rocker destined to be one of the strongest songs on metal radio this year."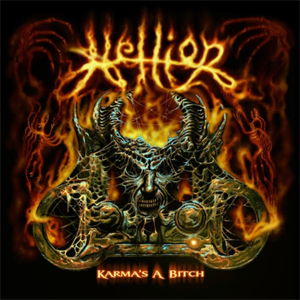 Di Martini continued, ""Hell Has No Fury" delivers full-tilt metal with a sublime orchestral section by Scott Warren and the blistering guitar work of Maxwell Carlisle. "Watch The City Burn" takes listeners on an in-depth journey into the anger and chaos of a full-blown riot. The final piece, "Til The End", begins with the hammering double-bass power grove of Simon Wright at his finest. With an anthem-like melody, this is a song that fans will be singing along with when HELLION hits the road."
HELLION's new CD can be pre-ordered through the KNAC.COM More Store right HERE. A fan pack will also be available through HELLION's official website at: http://www.hellion.com.
HELLION's new song, "Hell Has No Fury" is available for streaming below.
https://soundcloud.com/new-renaissance-records/26-hell-has-no-fury HELLION is set to kick off their North American tour in October (see below).
10.2 - Whiskey a Go Go (Los Angeles, CA)
10.3 - Count Vamp'd (Las Vegas, NV)
10.4 – Cactus Moon (Mesa, AZ)
10.7 – Lasalle's (Chico, CA)
10.9 – The Hop (Spokane, WA)
10.10 - El Corazon (Seattle, WA)
10.11- The Bouquet (Boise, ID)
10.15 – Red Line Tap (Chicago, IL)
10.16 - TBA (Detroit, MI)
10.17 – Rock Pile West (Toronto, ON)
10.18 - Obsession Live (Ottawa, ON)
10.19 - Legendary Dobbs (Philadelphia, PA)
10.22 – Devils Tail (Junction City, KS)
10.23 – The Vanguard (Tulsa, OK)
10.24 - The Chameleon Room (Oklahoma City, OK)
10.25 - Concert Pub North Metal Fest (Houston, TX)
10.30 – Brick By Brick (San Diego)




Please log in to view RANTS

If you don't have a username, click here to create an account!