Florida based death metal act OBITUARY posted the following unfortunate news:

"This is a post that we hoped would never have to happen but we need to let our fans know the situation and hope that one of you can help us.

Saturday, at Stonehenge Festival in Steenwijk, Holand somebody stole our backdrop. It happened right after our performance while we were packing up our equipment. Here is a photo of it so, if you know who has it or think you might know anything about this please helps us get it back!

Can't describe how important it is to us and it really sucks for the band and the fans these remaining shows to see OBITUARY without it hanging! Real Bummer!! We are offering a reward to the person who helps us get it back. Please, let us know if you have any information about this.

Email us at fans@obituary.cc."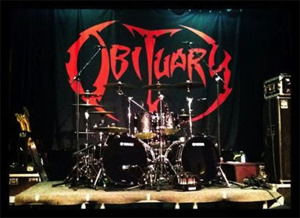 In other news, OBITUARY vocalist Donald Tardy let the cat out of the bag during a recent interview with Italy's Metal Skunk right HERE. "The new album is gonna be called Inked In Blood. The album cover is finished, the master copy is done, the marketing campaign has been set right now. It's gonna be released close to Halloween, probably the end of October."
Inked In Blood will be OBITUARY's ninth studio album and first full-length in over five years. The band has partnered with Relapse Records for its release.