There's a new metal band on the scene called INCITE. It features singer Richie Cavalera, the son of Max Cavalera (SOULFLY, KILLER BE KILLED, CAVALERA CONSPIRACY, SEPULTURA). It's an interesting story in that often we see brothers in metal bands together, but we don't always see children following in the footsteps of their parents in the same genre. Such is the case with INCITE, as they are set to release their new album, Up In Hell on September 2, 2014 via Minus HEAD Records. Up In Hell is a brutal, aggressive assault on your auditory senses and in a KNAC.COM exclusive, Richie Cavalera himself gives us a track-by-track synopsis of the new album! Check it out!

"Up In Hell" - The opening song on the record needs to be a statement and set the vibe for what's to come. "Up In Hell" is a song about the time that we live in and how people are. I think we are seeing hell on Earth and it's how I see it all. I feel that this song was the perfect opening track to feed the vibe of the rest of the record.

"WTF" - Next you're thrown this rager… it's a song about just being pissed off at someone like friends, family, random people whatever it may be. It's the "drive fast, don't give a fuck song". Explicit lyrics and hateful vibe for sure. I think it's the best song for the pits and really lets you vent out shitty day. I wrote this song first it really was on my chest for a while.

"False Flag" – This is one of my favorites. It's about the government and how they stage major events to keep the larger population under their control. The world is their stage to do what they please to feed into their bigger agenda of ultimate power over us all. They will always do what they want and kill without remorse. I think it shows the groove and thrash blend very strongly on this track.

"Fallen" - I think most people can relate to losing a loved one or someone close. While we were recording a close friend died and it really fueled this song. I've lost a brother, nephew, grandparents, and close friends. It's a part of life we all must face and it really hit hard for me. So when I returned back to recording from the funeral I sat down and wrote the lyrics for this track. It was very emotional.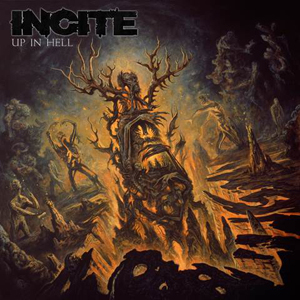 "Rightful Spot" featuring Liam Cormier of CANCER BATS - It was awesome to team up with Liam from the CANCER BATS. He's always been a great friend. It's about haters hating him, hating me, whatever it's our fuck you song to all of them. I love it just a big middle finger to anyone that talks shit. The lyrics are strong and you really feel the vibe we throw back and forth between the verse. The opening parts just rules. It drops in and all I think about is how sick it is.
"Rise To Greatness" - This is a track about my feeling towards the band and where we are at this time. I feel like we've paid our dues and it's time for us to rise to greatness. It's a very personal song about the band. I think it's a view from beginning to now of the band I've been through a lot of downs as well as ups. But I see nothing but good things for this band. It's time for us to rise and be great with the influence we can give the world.
"Who Am I" - This song is about being someone, but not really knowing where you've come from. I've never really known my biological father and I think a lot of people feel the same. I don't care to know him but it's always something you think about. To not know your complete history is strange, so I felt it was time to get very personnel on this song especially and to just not hold back.
"Losing Grip" - Is my story and how I feel sometimes. I feel like I've worked so hard and just lost grip of what's important to me cause I've been so focused on the band and been gone for so long. It's a hard life and it's not easy mentally or physically just finally got to me. I feel this is more of a song looking in on myself it was a different perspective for me to write a song this way, it was cool.
"Still Here" – This was the last song I wrote for the album. It's my song about not giving up even though you really want to. You can never give up on your dreams and what you desire no matter what gets in your way. I believe we all have our purpose, and this is mine, no matter what anyone says. I feel like we ourselves can be our worst enemy and I always fight myself on not being satisfied. So for me, the goal is to not give up and keep overcoming every hurdle in my way.
"To The Depths" - This was my song about wanting to just kill someone for all their lies and betrayal. About people that have fucked me over or others that feel the same around the world. It was the perfect way to end the record. I think the dark riffs and dark vibe of the song is a nice way to keep people on edge, when it ends and you instantly want to re-start the record. I love the title and lyrics, was cool start with "Up In Hell" and end with "To The Depths". Killer flow.
You can preorder your copy of Up In Hell in the KNAC.COM More Store right HERE. Order it now or Richie Cavalera will find you!
For more information INCITE, please visit these websites:
www.facebook.com/INCITEband
www.twitter.com/INCITEband
www.INCITEaod.com
INCITE is:
Richie Cavalera - Vocals
Lennon Lopez - Drums
Christopher "EL" - Bass
"Dru Tang" Rome - Lead Guitar
Kevin "Dis" - Guitar