Kiss Alive Forever: The Complete Touring History To Be Released


By Sefany Jones, Contributing Editor
Monday, August 19, 2002 @ 3:21 PM


| | | |
| --- | --- | --- |
| | | The "Holy Grail of Kiss Books" |
FOR IMMEDIATE RELEASE: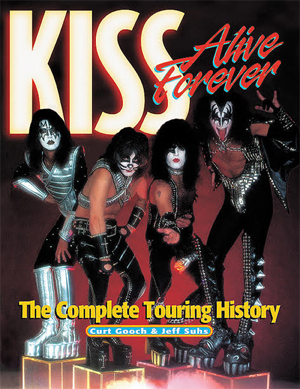 KISS Alive Forever: The Complete Touring History
By Curt Gooch and Jeff Suhs Over-sized trade paperback (8 ˝ " X 11")
288 pages on glossy Productolith stock
Featuring over 175 color photographs from all eras of KISS's history
Billboard Books, an imprint of Watson-Guptill Publications
Release Date: October 22, 2002

More than two months before its official release, KISS Alive Forever: The Complete Touring History is already being hailed as "The Holy Grail of KISS books" and was recently one of only two books included in the New York Post's "Things that are IN this fall" write-up. This uncompromising look at the touring history of the most influential live concert act in rock explores the entire arc of KISS's career, detailing every one of the band's 1,810 performances. Seven years in the making, KISS Alive Forever is the end result of exhaustive research by its authors Curt Gooch and Jeff Suhs, who reveal hundreds of previously unknown stories and facts about KISS herein. Exclusive interviews with over 100 former KISS employees, friends, and even band members make KISS Alive Forever a thoroughly addictive, immersive experience. The already rich text is brought to life by the inclusion of over 175 color photographs, most of which have never been published before. For the first time, readers will be able to see the infamous 1974 photo shoot where Ace could apply only half of his KISS makeup, as well as several 1970s-era non-makeup shots. KISS Alive Forever succeeds in deconstructing the myths behind KISS's world-renowned concerts and lays bare the underlying story: the compelling tale of four young New York musicians who grew up to conquer the world of rock and left an indelible stamp on American pop culture. Curt Gooch and Jeff Suhs, previously worked together on the officially licensed KISS Trivia Challenge CD-ROM game. The authors will be promoting KISS Alive Forever through personal appearances at KISS Expos and on their official Web site, www.kissaliveforever.com where seven excerpts from the book provide a glimpse of this unique masterpiece.




Please log in to view RANTS

If you don't have a username, click here to create an account!






Represent! Get Your KNAC.COM Bumper Sticker

Happenings This Week on KNAC.COM

LIKE A STORM Announces 2019 Sirius XM Octane Tour

Sunset Strip Veterans LYPSWITCH Return with 30 Years

MONTE PITTMAN Announces North American Tour With TONY MACALPINE, LONERO

ODDKO Debuts Groundbreaking "Disobey" VFX Video

ALL ELSE FAILS Returns With "A Dream of Names" Video

CHICAGO OPEN AIR PRESENTS Reveals 2019 Band Lineup

BARONESS, DEAFHEAVEN Plot Co-Headline US Tour

THE SIXTH CHAMBER Debut "Entrance To The Cold Waste" Video

GEEZER BUTLER, STEVE STEVENS, MATT SORUM, FRANKY PEREZ Debut DEADLAND RITUAL

TRAVIS BARKER'S MUSINK Returns For 12th Year In March

MONOLORD Confirm North American Headlining Spring 2019 Tour Dates

EPICENTER FESTIVAL Announces Massive Debut Lineup

WITHIN TEMPTATION Announce 2019 North American Tour Dates

Inaugural CAMP ANARCHY: 3 Day Punk Rock Campout Revealed

VOLBEAT Confirms North American Tour With GODSMACK In Spring Of 2019

ALTITUDES & ATTITUDE Stream New Song "Late"

SLAYER Announces Leg 5: North America Of Band's Final Tour

CARNIFEX Release Bury Me In Blasphemy EP

FAREWELL TO FEAR Premieres "Your Cure" Video

KING DIAMOND Announces New Live DVD/Blu-Ray Songs For The Dead Live

INCITE Reveal New Album Details, Title Track Video For "Built To Destroy"

CANDLEMASS To Headline NORDIC NOISE 2019

DREAM THEATER Debut "Untethered Angel" Video From New Album

THE HALL OF HEAVY METAL HISTORY Announces 2019 Inductees

CHILDREN OF BODOM Launch "Under Grass And Clover" Video

GIN ANNIE Reveal New Single, Video And UK Tour

HRH VIKINGS FESTIVAL II 2019 Headliners Announced

GEDDY LEE Announces Toronto Indigo Book Signing

CANDLEMASS Open The Door To Doom With New Album

M3 ROCK FESTIVAL Unveils The 2019 Band Lineup

REZET Signs To Metalville, Deal With It! Album Coming

TORA TORA Set To Unleash 'Bastards Of Beale' Album

WEST BOUND Featuring CHAS WEST Announce Debut Album, Volume I

THE WINERY DOGS Announce "Who Let The Dogs Out" 2019 Tour

TESTAROSSA Launch "Mother Lover" Music Video

2019 PSYCHO LAS VEGAS Reveals First Round Of Bands

Melodic Rock Artist DUANE MORANO Unveils Guest-Heavy Debut Incognito

NOTHING MORE Unleash Blistering "Let 'Em Burn" Video

WELCOME TO ROCKVILLE Reveals 2019 Band Lineup

LAST UNION Release "Most Beautiful Day" Music Video

ALDIOUS To Issue All Brose Limited Edition Vinyl

AT THE GATES Announce Special New EP Releases

KISSIN' DYNAMITE Launches "Heart Of Stone" Video

JUDAS PRIEST Announce Spring/Summer 2019 North American Tour

TERROR Debuts New Video For "In Spite Of These Times" & "One More Enemy"

HIGH ON FIRE Announce "Electric Messiah" Tour 2019

BEAST IN BLACK Unleash New "Sweet True Lies" Video

LET THERE BE ROCK SCHOOL Announces CAMP ROCK STAR Event

JINJER Premiere New Single/Video For "Dreadful Moments"

AVANTASIA Announce "Moonglow Over North America" 2019 Tour

VISIONS OF ATLANTIS Set To Release New Live Album The Deep & The Dark Live @ Symphonic Metal Nights

TO WHOM IT MAY Confirm Dates With DROWNING POOL, 10 YEARS

KISS Add More Dates To 2019 North American "End Of The Road" Tour

CRYSTAL LAKE Signs With Sharptone Records, New Album Helix Coming In February

DOWNFALL OF GAIA Announces New Album, Ethic Of Radical Finitude

LORDS OF THE TRIDENT Unleash "Death Dealer" Video

LAST IN LINE Set To Release New Album II

OVERKILL Reveal New Album, The Wings Of War

LAST UNION Release "Taken" Music Video

CHILDREN OF BODOM Announce New Album, Hexed

NEUROSIS To Headline Supersonic Festival 2019

HATEBREED Announce 2019 25th Anniversary Tour

BUCKCHERRY Set To Release New Album Warpaint

CRADLE OF FILTH Announce Second Leg Of North American "Cryptoriana" Tour

REVERENCE Release "Phoenix Rising" Live Video

KING 810 Premiere New Song "Braveheart"

ACCEPT Bassist PETER BALTES Quits The Band

RIVERS OF NIHIL Launch "The Silent Life" Video

DIRE PERIL Premiere "Always Right Here" Video

SONIC TEMPLE ART & MUSIC FESTIVAL Reveals Inaugural Band Lineup

PROPHETS OF ADDICTION Debut "Last Of The Words" Video

VENOM Are Set To Storm The Gates With New Studio Album

KILLCODE Drop Second Video For "Put It Off" In Their TRILOGY Release

JEFFREY NOTHING Streams "Dead Space/Dead Inside" Song

TWELVE FOOT NINJA Announce 'Upload' Headline Tour For March 2019

RED DRAGON CARTEL Releases Video For "Bitter"

CANE HILL Reveal New Album Kill The Sun

BILLYBIO (BIOHAZARD/POWERFLO) Launches "Rise And Slay" 360° Video

Bassist REV JONES Releases His Debut Solo CD Bakwash

METAL CHURCH Go "By The Numbers" With New Video

QUEENSRYCHE Stream New Song "Man The Machine"

LAST UNION Release "President Evil" Music Video Featuring DREAM THEATER Vocalist JAMES LABRIE

UNEARTH Unleash New Video For "One With The Sun"

DECIBEL MAGAZINE TOUR Confirms 2019 Lineup With CANNIBAL CORPSE

JINJER Reveal Micro EP Details

JOYOUS WOLF Launch "Mississippi Queen" Cover Video

THE THREE TREMORS Announce Self-Titled Debut Album

BLACK LIGHT DISCIPLINE Release Cover Video For ALAN WALKER's Hit Single "Faded"

JOHN 5 AND THE CREATURES Announce New Album Details

JASON BECKER Reveals "Hold On To Love" Video Featuring CODANY HOLIDAY

BLADE KILLER Premieres New Song "Midnight Sinner"

EXCITER, OMEN, RAZOR To Perform At "Hell's Heroes II" Fest In Houston

CLUTCH Announce New 2019 Winter Tour Dates

WARKINGS Unleash "Sparta" Music Video

SWALLOW THE SUN Unveil New Album Details For When A Shadow Is Forced Into The Light

New Supergroup SPIRITS OF FIRE, Featuring TIM "RIPPER" OWENS, CHRIS CAFFERY, STEVE DIGIORGIO & MRK ZONDER, Reveal Debut Album

STEEL PANTHER Announce First US Tour Dates Of 2019 With The "Heavy Metal Mardi Gras" Tour

EINDHOVEN METAL MEETING Reveals Band Running Order

THE GLORIOUS SONS Confirm 2019 U.S. Headline Tour

TYGERS OF PAN TANG Set To Release Hellbound Spellbound Live 1981

SLASH FEATURING MYLES KENNEDY AND THE CONSPIRATORS Launch Music Video Shot By Fans For "Mind Your Manners"

HYPOCRISY, FLESHGOD APOCALYPSE & AENIMUS Announce North American Tour

NEW YEARS DAY Stream New Song "Skeletons" From Forthcoming Album

JOE PERRY Debuts New Video For "Quake" Featuring GARY CHERONE

HARD ROCK HELL XIII Reveals Inital Bands For 2019

ALL THAT REMAINS Guitarist OLI HERBERT Passes Away At 44

WAR OF THRONES Unleash "Say What" Video