Kiss Alive Forever: The Complete Touring History To Be Released


By Sefany Jones, Contributing Editor
Monday, August 19, 2002 @ 3:21 PM


| | | |
| --- | --- | --- |
| | | The "Holy Grail of Kiss Books" |
FOR IMMEDIATE RELEASE: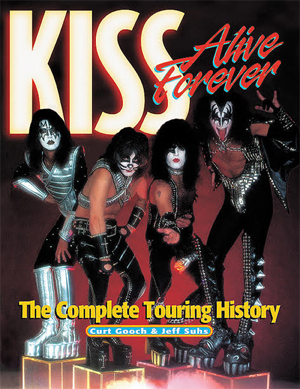 KISS Alive Forever: The Complete Touring History
By Curt Gooch and Jeff Suhs Over-sized trade paperback (8 ½ " X 11")
288 pages on glossy Productolith stock
Featuring over 175 color photographs from all eras of KISS's history
Billboard Books, an imprint of Watson-Guptill Publications
Release Date: October 22, 2002

More than two months before its official release, KISS Alive Forever: The Complete Touring History is already being hailed as "The Holy Grail of KISS books" and was recently one of only two books included in the New York Post's "Things that are IN this fall" write-up. This uncompromising look at the touring history of the most influential live concert act in rock explores the entire arc of KISS's career, detailing every one of the band's 1,810 performances. Seven years in the making, KISS Alive Forever is the end result of exhaustive research by its authors Curt Gooch and Jeff Suhs, who reveal hundreds of previously unknown stories and facts about KISS herein. Exclusive interviews with over 100 former KISS employees, friends, and even band members make KISS Alive Forever a thoroughly addictive, immersive experience. The already rich text is brought to life by the inclusion of over 175 color photographs, most of which have never been published before. For the first time, readers will be able to see the infamous 1974 photo shoot where Ace could apply only half of his KISS makeup, as well as several 1970s-era non-makeup shots. KISS Alive Forever succeeds in deconstructing the myths behind KISS's world-renowned concerts and lays bare the underlying story: the compelling tale of four young New York musicians who grew up to conquer the world of rock and left an indelible stamp on American pop culture. Curt Gooch and Jeff Suhs, previously worked together on the officially licensed KISS Trivia Challenge CD-ROM game. The authors will be promoting KISS Alive Forever through personal appearances at KISS Expos and on their official Web site, www.kissaliveforever.com where seven excerpts from the book provide a glimpse of this unique masterpiece.




Please log in to view RANTS

If you don't have a username, click here to create an account!






Represent! Get Your KNAC.COM Bumper Sticker

Happenings This Week on KNAC.COM

UFO Guitarist/Keyboardist PAUL RAYMOND Dies At Age 73

KNAC.COM Exclusive: AFTER THE FALL Debut Lyric Video For "The Fight"

BULLET Set To Release New Live Album Live

STITCHED UP HEART Premieres New Song "Lost" Featuring SULLY ERNA Of GODSMACK

AT THE GATES Drop "The Colours Of The Beast" Video

ELUVEITIE, KORPIKLAANI Join For Co-Headline North American Tour

VENOM Stream Track "Bring Out Your Dead"

METALACHI Announce Spring 2019 Tour Dates

GLORYHAMMER Release Namesake Video For "Gloryhammer"

SEPTEMBER MOURNING Announces New Dates With ROB ZOMBIE, HED PE And KOTTONMOUTH KINGS

BEASTO BLANCO Return With New Album We Are

PSYCHO LAS VEGAS Reveals 2019 Pre-Party Details

LORD DYING Announces North American Headlining Tour

JESUS CHRÜSLER SUPERCAR Reveal Lucifer Album

STRIKER Announces Tour Dates With HOLY GRAIL, BEWITCHER

SANTA CRUZ Return With New Song "Changing Of Seasons"

ABBATH Unleash Fiery New Music Video, "Harvest Pyre"

METALOCALYPSTICK: Canada's Premier Women Focused Metal Festival Announces 2019 Lineup

WHITESNAKE Release New Single "Hey You (You Make Me Rock)"

M.O.D. Announces Release Of Ritz Hotel Presents M.O.D. The Official First Live Performance

ORANGE GOBLIN Announces U.S. Tour Dates

FALLING IN REVERSE Drop New Song, Video For "Drugs", Featuring SLIPKNOT's COREY TAYLOR

ALL THAT REMAINS Announce Spring 2019 Headline Tour

LOUDER THAN LIFE Reveals 2019 Band Lineup, Including GUNS N' ROSES

AXEL RUDI PELL Set To Release Live Anniversary Album, XXX Anniversary Live

NEW YEARS DAY Release New Song "Come for Me"

RINGWORM Share "Acquiesce" Music Video

BUCKCHERRY Announces Leg Two Of 'Warpaint' Tour

KORN To Replace OZZY OSBOURNE At ROCKLAHOMA

EUROPE Release New Single, Video, "Turn To Dust"

GEOFF TATE Fronts New Project SWEET OBLIVION

DEMONS & WIZARDS Announce North American Tour

THE RODS To Release New Album Brotherhood Of Metal

Eyellusion Presents The DIO RETURNS U.S. Tour 2019

OZZY OSBOURNE Postpones 2019 Performances

THE CULT Reveal LA 'A Sonic Temple' Special Event

ELECTRIC FUNERAL FEST IV Announces Final Lineup

RED FANG Announce Summer European Headline Tour Dates

RON KEEL BAND Unleash Fight Like A Band Album

KHEMMIS Announce North American "Desolation Tour"

ALL THAT REMAINS Debut "Everything's Wrong" Video

SABATON Announce New Album, The Great War

JOHN 5 AND THE CREATURES Drop "Midnight Mass" Video

MASS DESTRUCTION METAL FEST III Reveals Final Lineup For 2019

SWORN ENEMY Unveils "Coming Undone" Video

LAMB OF GOD To Release Ashes Of The Wake - 15th Anniversary Edition

LOUD AS HELL Festival Announces 2019 Line-Up

TEXAS HIPPIE COALITION Are High In The Saddle With New Album

GHOST Announces Fall 2019 North American Dates, The "Ultimate Tour Named Death"

9ELECTRIC Unleashes New Album Megalith, Video For "The Light" Featuring CARLA HARVEY

MICHAEL SCHENKER FEST Set To Release New Album Revelation

L.A. GUNS Drop The Devil You Know Title Track Video

THE QUIREBOYS Reveal New Album Amazing Disgrace

DANKO JONES Confirms New Tour Dates In Ontario This May

THEM To Release "Back In The Garden Where Death Sleeps" 7 Inch Single

MEMPHIS MAY FIRE Drop "Heavy Is The Weight" Video

MEGADETH's MEGACRUISE Announces Band Lineup Additions

JEFFREY NOTHING (Ex-MUSHROOMHEAD) Announces May 2019 Show Dates

DEVIN TOWNSEND Launches Video For "Spirits Will Collide"

AFFÄIRE Set To Drop New Album Less Ain't More

CRAZY LIXX "Break Out" With New Video

ARCH/MATHEOS Reveal New Album Winter Ethereal

FALLEN ANGELS Drop "Psycholove" Video

ENTHRONED Unveil New Album Details, Release New Single

WHITECHAPEL Unleashes "Hickory Creek" Video

DUFF MCKAGAN Announces New Solo Album Tenderness

POSSESSED Reveal New Album Revelations Of Oblivion

DEMONS & WIZARDS Signs To Century Media Records

ALLEGAEON Launches Video For "Extremophiles (B)"

SOTO Announce New Studio Album Origami

QUEENSRYCHE Premieres "Light-years" Video

JINJER Premiere New Video, Announce European Tour Dates

ABNORMALITY Reveal Sociopathic Constructs Album Details

BLACK LABEL SOCIETY Drop "Spoke In The Wheel" Video

DEICIDE Announces North American Headline Tour

THE END MACHINE Debut "Leap Of Faith" Video

GNARLYTOWN: BIKES, BOARDS & BANDS Announced For Los Angeles

AMON AMARTH Reveal Details For New Beserker Album

...AND JUSTICE FOR ART: STORIES ABOUT HEAVY METAL ALBUM COVERS - VOLUME 2 Now Available

THE DAMNED THINGS Stream New Track "Something Good"

PSYCHO LAS VEGAS 2019 Reveals More Band Additions

STRYPER Announces 2019 "History Tour"

BATTLE BEAST Releases "Endless Summer" Video

DEATH ANGEL Set To Release New Album Humanicide

DEE SNIDER Debuts Video For "Lies Are A Business"

THE WILD! Announce New European Tour Dates

WHITESNAKE Unleash "Trouble Is Your Middle Name" Single

UNDEROATH Drop "Bloodlust" Video

KAMELOT Stream New Track "Vespertine (My Crimson Bride)"

EPICENTER Festival Reveals Onsite Experiences & More

SARAH LONGFIELD To Embark On U.S. Tour This May

WITHERFALL Stream Acoustic Version Of "Ode To Despair"

MAD WITH POWER FEST Announces 2019 Line Up

CONAN Announce Additional North American Tour Dates

BARONESS Set To Release New Album Gold & Grey

GLORYHAMMER Announces Release Date for New Album Legends From Beyond The Galactic Terrorvortex

CORNERS OF SANCTUARY Release "Children Of The Night" Video

VADER Announce New EP Thy Messenger

For ONSLAUGHT It's "A Perfect Day To Die" With New Video

AUGUST BURNS RED Confirm '10 Years Of Constellations' World Tour

DEAD GIRLS CORP Launch "Dead Girl" Video

ALICE COOPER Reveals More Headline Dates, New Stage Show "Ol' Black Eyes Is Back"

MEGADETH, HEAVY METAL Announce Graphic Novel, Album Release

EXHUMED Announce West Coast 'Facemelter Tour'

RED REIGN Drop "Toxic" Video

DORO Releases Backstage To Heaven EP

CELLAR DARLING Unveil Music Video For Fan-Voted Single "Drown"

LUCIFER Confirm North American Headline Dates

HEAVY AS TEXAS, Featuring Members Of EXHORDER, Set For Debut Album

ENFORCER, WARBRINGER Announce Co-Headlining North American Tour

DIAMOND HEAD Unleash "Belly Of The Beast" Video

AVATAR Reveals The King Live In Paris Live Album

NEUROSIS Announces North American Summer Tour Dates

OF MICE & MEN Launch "How To Survive" Video

VENOM Set To Release In Nomine Satanas 40th Anniversary Deluxe Vinyl Box Set

EXUMER Launches New Single, Raptor

MOTIONLESS IN WHITE, ATREYU Join For Co-Headline 'Spring Invasion Tour'

FLESHGOD APOCALYPSE Returns With 5th Album, Veleno

SWORN ENEMY Announces U.S. Dates With SACRED REICH

THE RAVEN AGE Drop "The Day The World Stood Still" Video

ULI JON ROTH Set For U.S., Canada 50th Stage Anniversary Tour

THE DAMNED THINGS Announce U.S. Tour Dates

SKILLET Set To Release New Graphic Novel Eden: A Skillet Graphic Novel