CANNIBAL CORPSE's Bible Of Butchery Details, Excerpts


By Larry Petro, News Monkey
Tuesday, August 26, 2014 @ 6:44 PM


| | | |
| --- | --- | --- |
| | | Due Out September 16th |
Besides releasing their thirteenth full-length album, A Skeletal Domain, death metal icons CANNIBAL CORPSE also plan to release their official autobiography on September 16th. Bible Of Butchery: The Official Biography was written by Joel McIver, the author of Justice For All: The Truth About Metallica and biographies on BLACK SABBATH, SLAYER, SLIPKNOT and QUEENS OF THE STONE AGE. The book spans 150 pages, includes a forward written by drum legend Gene Hoglan and is loaded with photos from throughout the CANNIBAL CORPSE and Metal Blade Records archives.

A couple of excerpts from Bible of Butchery: The Official Biography:

"Together with the band name that I came up with, and all the crazy cannibal films that we liked, we thought that should be the focus. Cannibal Corpse was a reanimated body which consumes other humans: the theme of the band was spelled out for us right there." - Alex Webster

"I've always been a smartass on stage. A lot of people who came to see me in CORPSEGRINDER were my friends, and they would be constantly breaking my balls when I was on stage, so I used to have to give shit back to them, which in hindsight probably helped with what I do now." - George "Corpsegrinder" Fisher

"When Rob Barrett quit CANNIBAL CORPSE in 1997, the slot came up for a guitarist. I went down there and learned the songs and played them with the band, but it was funny: they didn't tell me if I'd got the gig or not. I kept learning the songs and playing them with them, but they wouldn't tell me for the longest time if I was in or not! They were like "We're not sure" and then finally I said, "Have I got the gig or not?" and they told me I had." - Pat O'Brien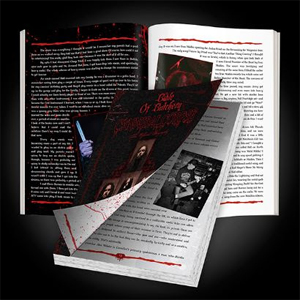 "I wanted to know how music was made: I'd be glued to the guitar players and watch how they played. Then a friend of my brother sold me his guitar, a Gibson L6S which I bought for $12. I used to pretend I was playing it. Even when I was a little kid I used to play air guitar on tennis rackets. Then I tried a guitar that belonged to a friend of mine in a band, and played along note for note with the song they were playing. The guys in the band freaked out and told me I had to get a guitar. Then in 1985 I begged my mom for a guitar—"Please mom, I'll never ask you for anything again!"—and I got a Cort Flying V and a practice amp." - Rob Barrett
"Cleverly disguised as an act of random violence, "I Will Kill You" is really an ode to seduction and sweet, mutually-agreed-upon consummation. From flirting, to foreplay, to intercourse, to post-coitus bliss, the chorus of "I Will Kill You" lays it all out in a tender, logical progression. "I will kill you (Hey good-looking, let's stop screwing around here, leave the bar, and get back to my hotel room for some hanky-panky), I must kill you (Damn, you're driving me crazy with desire! You look so good nekkid!), you are dead (Yeah, you like that don't ya? My God, you're beautiful), I have killed you (Whew! That was great! Pass me the cigarettes. What's that? You can't move? Yeeeeeeeah, I rocked your world for sure!)." This is some next-level Casanova-type shit. Some may balk at CANNIBAL CORPSE's seemingly "violent" lyrics, but underneath the brutal image, these are sensitive, romantic gentlemen: the Don Juans of death metal." - Randy Blythe, LAMB OF GOD
Author Joel McIver adds: "I had a blast writing this book, from the first notes made in spring 2012 to the final edits in summer 2014. Most of my interviews with CANNIBAL were executed over a few days which I spent on their tour bus as it traveled through the UK, in which time I got to know the musicians in a way that only being confined to a coffin-like metal tube can allow. While CANNIBAL CORPSE's public image is uncompromising to say the least, in private these are relaxed, lucid, even cerebral people. Alex Webster is CANNIBAL's primary spokesman, a man who thinks before he speaks and who faces any criticism with disarming mellowness. Paul Mazurkiewicz, the other remaining founder member, is equally pleasant company, more excitable than Alex and as hyped-up as any extreme metal drummer needs to be. Guitarists Pat O'Brien and Rob Barrett are the quiet ones, the former a man permanently in search of a party and the latter more content with his own company and a good book. Perhaps CANNIBAL's biggest enigma is frontman George 'Corpsegrinder' Fisher, a mighty force on stage and a contemplative man off it: I recall on more than one occasion coming into the tour bus lounge at the dead of night, confronted by pitch darkness broken only a pool of light surrounding George's face, deep in thought while studying his phone, beer close at hand. These individual dynamics make CANNIBAL CORPSE more than just the sum of its parts, and this is reflected in the book we've written together."
The album A Skeletal Domain will be released in North America on September 16th via Metal Blade records.




Please log in to view RANTS

If you don't have a username, click here to create an account!