For The Journey will be THRESHOLD's second consecutive studio album featuring Damian Wilson since his departure from the band in 1997. "I think it's just the fact that we've become really good friends and it's the companionship in the band," reveals Wilson on how easy it was to record the new album. "We seem to care a lot about each other and we've become really close, so we thoroughly enjoy making music together."

For The Journey was recorded at Thin Ice Studios in Surrey, England with band members Karl Groom (guitars) and Richard West (keyboards) at the production helm. Mastering was done by Mika Jussila at Finnvox Studios in Finland. Album artwork created by Polish artist Leszek Bujnowski.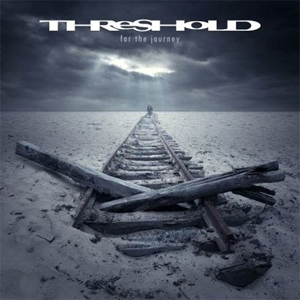 The track listing for the digital versions of For The Journey will be:
"Watchtower On The Moon"
"Unforgiven"
"The Box"
"Turned To Dust"
"Lost In Your Memory"
"Autumn Red"
"The Mystery Show"
"Siren Sky"
Bonus Tracks For Digital Versions:
"I Wish I Could"
"Lost In Your Memory" (Acoustic Version)
The import digi-pak (+1 bonus track) and the 2-LP blue vinyl import (+2 bonus tracks) versions of For The Journey can be pre-ordered from the Nuclear Blast USA Webshop.

THRESHOLD's 2012 studio album featuring vocalist Damian Wilson, March Of Progress, debuted at the following world chart positions: #28 - Germany, #30 - Switzerland, #43 - Sweden, #55 - Austria, #70 - Netherlands, #102 - France.

Nuclear Blast re-issued "definitive" versions of the first seven albums in THRESHOLD's back-catalogue: 1993's debut Wounded Land, 1994's Psychedelicatessen, 1997's Extinct Instinct, 1998's Clone, 2001's Hypothetical, 2002's Critical Mass, and 2004's Subsurface.

All THRESHOLD re-issues are also available from the Nuclear Blast USA Webshop.

Visit THRESHOLD online at www.THRESH.net.
Follow: www.facebook.com/THRESHOLD
Like: Twitter.com/THRESHOLD
Watch: www.YouTube.com/THRESHOLD