Heavy metal band A SOUND OF THUNDER has unveiled the official video for "Udoroth". The fully animated video was released September 3rd and can be seen right HERE.

The track comes off the band's new album The Lesser Key Of Solomon, released September 9th on Mad Neptune Records. The album was produced by RIAA multi-platinum-awarded producer Kevin '131' Gutierrez (WHILE HEAVEN WEPT, RAVEN, SHINEDOWN).

The fully-animated clip was produced by Powerhouse Animation, which has produced animation for Disney and DC Universe Online. The video is based on a story developed by A SOUND OF THUNDER and character designs by band artist Dusan Markovic and comic artist Paulina Ganucheau. "Udoroth" fleshes out the band's Queen Of Hell mythology, which first appeared in the fan-favorite song "Queen Of Hell", and sets Udoroth up as the Queen's nemesis, leaving the door open for more stories in the future.

A SOUND OF THUNDER's heavy riff-laden songs are complex yet instantly catchy, featuring razor-sharp musicianship and the lung-busting performances of powerhouse classically-trained vocalist Nina Osegueda.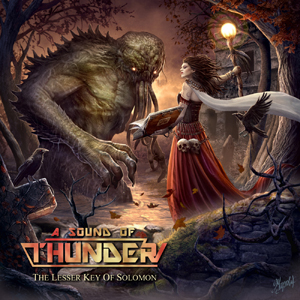 "If your erection lasts longer than four hours, you probably listened to our new album. Also, you're welcome", jokes Osegueda. "On a serious note, this album is our best work to date. The songwriting and performances from the band are on another level. The album was a joy to make and that comes through in the final recording."
Hot off the 2013 release of Time's Arrow, their best-selling and best reviewed release to date, A SOUND OF THUNDER was brimming with confidence and eager to get back into the recording studio. With too many musical ideas for just one album, the band selected only its darkest and most atmospheric material for The Lesser Key Of Solomon. The result is an ominous collection of songs united by supernatural themes. The album represents the fulfillment of a promise to A SOUND OF THUNDER's fans, known as the "Legion of Thunder", who funded the album via the Kickstarter crowd-funding platform in the autumn of 2013, raising over $23,000.
The Lesser Key Of Solomon has a running time of 61 minutes, features 10 of A SOUND OF THUNDER's most intense yet nuanced songs, exploring territory which is simultaneously heavier and more atmospheric than ever before. The steel-armored wail of prodigal vocalist Nina Osegueda (called by some "the lovechild of Rob Halford and Bruce Dickinson") tops off deft performances by a band that knows how to deliver the goods. From the demonic fire of "Udoroth", to the crushing DIO-esque "Master Of Pain", to the sweeping scope and dark theatricality of "Elijah", A SOUND OF THUNDER delivers a timeless album full of metal classics.
The Lesser Key Of Solomon will be available as a digital download, compact disc, and limited deluxe vinyl-book.
Weblinks:
www.asoundofthunderband.com
www.facebook.com/asoundofthunder
www.reverbnation.com/asoundofthunder
http://asot.bandcamp.com
https://twitter.com/asotband