WHILE HEAVEN WEPT Reveal New Album Details


By Larry Petro, News Monkey
Tuesday, September 16, 2014 @ 4:23 PM


| | | |
| --- | --- | --- |
| | | "Icarus And I" Lyric Video Streaming |
Virginia's long running epic metal legends are commemorating their 25th year of existence with the release of their sixth studio album, Suspended At Aphelion. The album will be released digitally via Nuclear Blast on November 18th. Ambitious, epic, and progressive, the album is comprised of a single track divided into 11 parts and is performed by the entire Fear Of Infinity line-up as well as several esteemed guests, including two FATES WARNING alumni that unite two eras of the band for the first time ever: drummer Mark Zonder and co-founding guitarist Victor Arduini.

WHILE HEAVEN WEPT guitarist & songwriter Tom Phillips shares more insight on the album:

"While most of our albums have been thematic, this is the first time we've released something entirely of a conceptual nature in the grand tradition of PINK FLOYD, GENESIS, RUSH, MARILLION, IRON MAIDEN, KING DIAMOND, QUEENSRYCHE and of course FATES WARNING. Musically, this album falls somewhere in the middle of all of that with a touch of Viking-era BATHORY as well."

While the signature sound of WHILE HEAVEN WEPT remains fully intact, the band has evolved. Phillips explains:

"We've always been characterized by emotional sincerity, bombast, sweeping melodies, and dense orchestration. Suspended At Aphelion is no exception - however, this really is another level for us in that it's the first album featuring all-new material composed in this decade (as opposed to previous releases which often culled from years of archival material). It's full of twists, turns, modulations, time changes, harmonic content rarely heard in metal, and tons of counterpoint. This is all augmented by actual cellos, violins, classical guitars, an array of percussion, and genuine analog synths."

"Over the last few years, we've had some audiophiles reaching out to us regarding the 'loudness wars,'" Phillips continues, "so we were very much committed to delivering an album with a wide dynamic range, with very little peak reduction or compression... ensuring it was as dynamic and organic as possible versus being Pro-Tooled to death or overtly compressed/limited for loudness...not unlike our labelmates SATYRICON, who definitely impacted our approach to Suspended At Aphelion. So you may have to turn it up compared to 'X album' from 2014, but we feel like this epic journey is even more gratifying because of this."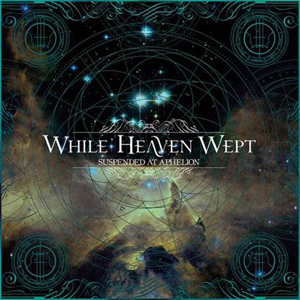 Fans can view the lyric video for the track "Icarus And I" below.
""Icarus And I" is Part 2 out of 11 and establishes the foundation of Suspended At Aphelion's plot: The pursuit of the sun with passion and vigor, only to succumb to the reality that it is beyond reach," explains Philips. "That is really what Suspended At Aphelion is all about: Being instead condemned to the furthest point from the sun... the failure to achieve the dream despite all the faith, hope, spirit, strength, and heart any one of us could muster. And musically, there are so many more twists, turns, modulations, so much more madness that follows this. It's impossible to represent the totality of this song with any individual part; however, "Icarus And I" was the inception of what we feel is the most gratifying journey in the history of WHILE HEAVEN WEPT."
Over a decade after creating 2003's classic Of Empires Forlorn and seeking a strong team effort to record the band's most epic album, WHILE HEAVEN WEPT reunited with producer/engineer Kevin "131" Gutierrez (RAVEN, DECEASED, DYSRHYTHMIA) at Assembly Line Studios in Vienna, Virginia.
To ensure the highest quality listening experience, three separate audio masters were optimized for LP, CD, and digital download formats.
Album art was once again created by Gustavo Sazes (MORBID ANGEL, ARCH ENEMY, FIREWIND). The track listing for Suspended At Aphelion is:
"I: Introspectus"
"II: Icarus And I"
"III: Ardor"
"IV: Heartburst"
"V: Indifference Turned Paralysis"
"VI: The Memory Of Bleeding"
"VII: Souls In Permafrost"
"VIII: Searching The Stars"
"IX: Reminiscence Of Strangers"
"X: Lifelines Lost"
"XI: Retrospectus"
Visit WHILE HEAVEN WEPT online at:

WHILEHEAVENWEPT.com
www.facebook.com/WHILEHEAVENWEPT
twitter.com/WHILEHEAVENWEPT
www.youtube.com/user/TomWHW




Please log in to view RANTS

If you don't have a username, click here to create an account!