Swedish death metallers BLOODBATH - notable for the inclusion of KATATONIA and OPETH members - is set to release its fourth album, Grand Morbid Funeral, on November 17th in Europe, and November 18th in North America via Peaceville Records.

The first album since the departure of OPETH vocalist Mikael Åkerfeldt, this new BLOODBATH album will feature PARADISE LOST's Nick Holmes on the mic.

"Ever since I got into PARADISE LOST back in 1990", Jonas Renkse tells TeamRock.com, "Nick Holmes has been one of my favourite growling vocalists out there. He was always audible and articulate but still deep and definitely morbid. It is a great pleasure to work with him some 25 years later after I was introduced to his thunderous roar!"

Adds Anders 'Blakkheim' Nyström: "Little did I expect to be working with the voice behind the death metal classic PARADISE LOST, or the genre-defining Gothic and yet here we are decades later, fulfilling another death metal dream. With his sinister and ominous vocal delivery, it's an absolute pleasure to make Old Nick the bell-ringer in BLOODBATH's grand morbid funeral!"

About the new album, guitarist Blakkheim recently commented,"We're proud of all these different styled releases and we loved doing each and every one of them, but the objective was never to settle with a certain style, so our time has come to shift once more. It was already decided right after the last album that the next record would not become a Fathomless part 2, but in certain aspects it would actually become its antithesis! So prepare yourselves for an ultimate blueprint of destructive, raw, heavy, organic and sludgy death metal! The time has come to stomp those HM-2 pedals once more and close the circle of the death metal archives with our Grand Morbid Funeral!"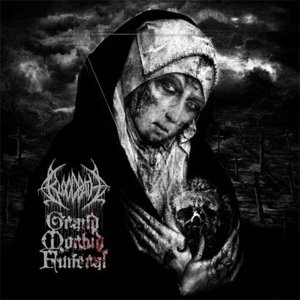 Recorded once again at Ghost Ward Studios and the City of Glass Studios in Stockholm, and mixed by David Castillo, Grand Morbid Funeral is undoubtedly the band's darkest and dirtiest opus yet; an organic collection of filth-ridden tracks straight from the grave, boldly eschewing the approach of somewhat over-produced modern death metal in favor of something altogether more rotten to the bone.
With eerie, doom-like melodies mixed with raw and savage riffing, and featuring a number of guest appearances including Chris Reifert and Eric Cutler from US gore-master, AUTOPSY, Grand Morbid Funeral is a new high-point of brutality for BLOODBATH.
Formed in 1998 with a mutual fascination for horror and the glory days of death metal (especially the old Florida and Stockholm 'Sunlight' scenes), the band has remained a leading light of extreme metal since its Breeding Death EP was unleashed back in 2000, and a formidable force for 15 years, further cemented by the devastating - and most successful album to date - The Fathomless Mastery in 2008.
BLOODBATH is set to appear on a string of festivals throughout 2015, including Inferno festival (Norway), Neurotic Deathfest (The Netherlands) and Maryland Deathfest (U.S.) with more TBA.
Stay tuned for more info on BLOODBATH and Grand Morbid Funeral.
BLOODBATH lineup:
Anders 'Blakkheim' Nyström - Guitar
Per 'Sodomizer' Eriksson - Guitar
Jonas Renkse - Bass
Martin Axenrot - Drums
Nick Holmes - Vocals