Twenty-Three years after their last record, and nineteen months after the tragic loss of guitarist Mike Scaccia, DFW TX Speed/Thrash Metal pioneers RIGOR MORTIS will release their fourth and final studio album - Slaves To The Grave (Due October 7th via Rigor Mortis Records). This marks the bands first studio album in 23 years, and the first with the classic original line up (Mike Scaccia - guitar, Casey Orr - Bass, Bruce Corbitt - Vocals and Harden Harrison on drums), since their 1988 eponymous debut album.

Today the band premieres the third blistering track from Slaves To The Grave. The stream of the track Ancient Horror" can be heard below.

Two special shows in support of the album have been announced including a CD Release Party and an appearance at the Housecore Horror Film Fest. The surviving members of RIGOR MORTIS will be performing as WIZARDS OF GORE at both events.

RIGOR MORTIS RECORD RELEASE PARTY

https://www.facebook.com/events/1434344633505185/

Saturday Sept 27th - Curtain Club- Dallas, TX

Featuring DEAD HORSE, WIZARDS OF GORE (RIGOR MORTIS), DEAD EARTH POLITICS and more tba. The new RIGOR MORTIS record will be available for purchase at this show.

WIZARDS OF GORE AT HOUSECORE HORROR FILM FEST

Oct. 23rd - 26th - Emo's - Austin, TX

https://www.facebook.com/HousecoreHorrorFilmFestival?fref=ts

Recorded less than a year before Mike's passing, Slaves To The Grave was to going to herald the band's long overdue comeback. In February 2012, RIGOR MORTIS entered 13th Planet Studios in El Paso, and recorded the 10 tracks that would become STTG. The artwork was done by Michael Broom.

RIGOR MORTIS dedicates this record to Mike Scaccia 1965-2012.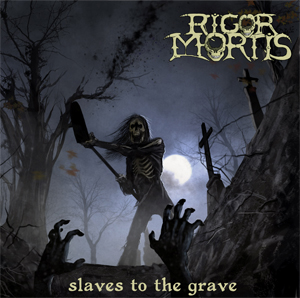 Slaves To The Grave Track Listing:
"Poltergeist"
"Rain Of Ruin"
"Flesh For Flies"
"The Infected"
"Blood Bath"
"Ancient Horror"
"Fragrance Of Corpse"
"Curse Of The Draugr"
"Sacramentum Gladiatorum"
"Ludus Magnus"
Produced by Mike Scaccia and RIGOR MORTIS

For More Info Visit:

https://www.rigormortis.com
https://www.facebook.com/rigormortis25
https://www.facebook.com/warbeast1
http://dirtheadmerch.storenvy.com