Aggressive modern metal band INCITE is pleased to announce an explosive upcoming performance in Brooklyn! The band will headline the third annual Metal Insider's CMJ 2014 Showcase, taking place at The Wick in Brooklyn, NY on October 22. Sponsored by Spinefarm Records, the show will also feature sets from'68, BLACK CROWN INITIATE and TOOTHGRINDER. Metal Insider's CMJ 2014 Showcase is taking place as part of New York City's annual CMJ Music Marathon.

Tickets are on sale now through The Wick's website for only $12 [enter SPINEFARMCMJ as the promo code at checkout to get the early bird rate of $10]. Limited CMJ badges will be admitted at the door. More information about Metal Insider's CMJ 2014 Showcase can be found here: http://bit.ly/1qSgC6u

Purchase tickets here: www.thewicknyc.com/event/695985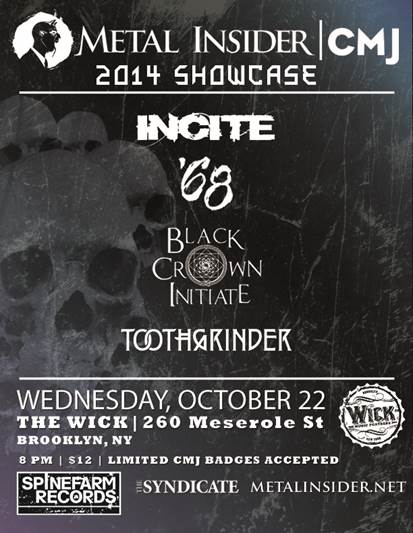 You can download your copy of INCITE's brand new album, Up In Hell, now via iTunes or Amazon. And this just in - keep an eye out for the 12" LP coming October 14th!
Up In Hell was produced at Hideaway Studios by Matt Hyde (DEFTONES, SLAYER, HATEBREED, PARKWAY DRIVE), who is also responsible for the recording, mixing and mastering of the record. Production assistance was provided by Thomas Bellier and Jon Nicholson of Drum Fetish is credited as drum technician on the album.
Over the years, INCITE has toured alongside the likes of DILLINGER ESCAPE PLAN, SOULFLY, THROWDOWN, CAVALERA CONSPIRACY and more. Moreover, they've been praised by everybody from Kerrang! and Revolver to ARTISTdirect. In addition, INCITE has reached Top-40-status on Sirius Metal Charts with tracks like "Army Of Darkness" and the Devil's Dozen on Liquid Metal with "The Aftermath". Revolver also named 2012's All Out War its "Album of the Week" upon release.
For more information INCITE, please visit these websites:
www.facebook.com/INCITEband
www.twitter.com/INCITEband
www.INCITEaod.com
INCITE is:
Richie Cavalera - Vocals
Lennon Lopez - Drums
Christopher "EL" - Bass
"Dru Tang" Rome - Lead Guitar
Kevin "Dis" - Guitar
For more information on the Metal Insider CMJ Showcase, contact Zach Shaw at The Syndicate, 201-864-0900 x200 or zach@thesyn.com