The Many Faces Of Black Sabbath 3-Disc Tribute Box Set Coming


By Larry Petro, News Monkey
Monday, October 6, 2014 @ 4:52 PM


| | | |
| --- | --- | --- |
| | | To Be Released In November |
Amazon UK has listed a 3-disc BLACK SABBATH box set under the name The Many Faces Of Black Sabbath. This set will be released on November 3rd and is available for pre-order HERE.

The package description is as follows:

BLACK SABBATH is - along with LED ZEPPELIN and DEEP PURPLE - the most important British hard rock band of all time. With its dark, mystical and obsessive sound, BLACK SABBATH built a unique brand that has influenced countless groups since its inception in the late 60s until today. As usual, in our series The Many Faces, we will take you into the fantastic and great world of BLACK SABBATH. We will revisit forgotten collaborations, its best songs and the artists (and even music styles) that the band have influenced.

We started with Disc 1, entitled 'The Players (and more)' that features musicians who have been part the band. To begin with, who else than Tony Iommi, the founding guitarist and the only member who has been in all the band's formations. Tony is synonymous with BLACK SABBATH. We also can't forget to mention that this first disc contains potent versions of three classic SABBATH's songs ("Paranoid", "Children Of The Grave" and "Hole In The Sky") by rock stars such as Vince Neil (MOTLEY CRUE), George Lynch (DOKKEN) and Californians RACER X and AGENT STEEL.

Disc 2 is dedicated to the band's greatest songs with versions from countries like the United States, Germany and Argentina. This is just a simple of passion that BLACK SABBATH generates around the world. And, as a special treat, we allow ourselves the freedom to include three classic Ozzy Osbourne's tracks from his solo career ("Mr. Crowley", "Crazy Train" and "Bark At The Moon"). These, in versions featuring guitar god Yngwie Malmsteen, Dee Snider (from TWISTED SISTER), Jason Bonham (son of John Bonham from LED ZEPPELIN) and core fans FOREVER SAY DIE.

Finally, Disc 3 - titled 'The Legacy' - features 14 tracks of stoner rock, the underground music genre that was born from the sound of the original BLACK SABBATH, especially the period between his debut Black Sabbath in 1970 thru Sabotage in 1975. So, bands like FREEDOM HAWK, SASQUATCH or ISAAK (among many others) bring back all the mystique and magic that we all love in hard rock into the XXI century.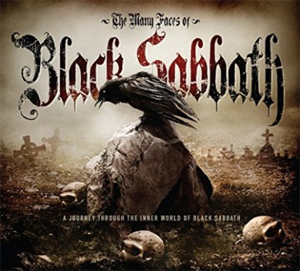 The tracklisting:
Disc: 1
"King Of The Night" - Bobby Harrison (Feat. Tony Iommi)
"Welcome To My Nightmare" - Ronnie James Dio
"Mainline Riders" - QUARTZ (Prod. By Tony Iommi)
"Only Women Bleed" - Glenn Hughes
"I Believe In You" (Fire In My Body) - BEDLAM (Feat. Cozy Powell)
"Tower Of Lies" - Axel Rudi Pell (Feat. Bob Rondinelli)
"Finally The Finale" - Ian Gillan
"Devil's Brew" - QUARTZ (Prod. By Tony Iommi)
"School's Out" - Dave Mustaine (Feat. Eric Singer)
"Paint It Black" - Rick Wakeman
"Flowers In The Rain" - THE MOVE (Feat. Bev Bevan)
"Paranoid" - Vince Neil (MOTLEY CRUE) & George Lynch (DOKKEN)
"Children Of The Grave" - RACER X
"Hole In The Sky" - AGENT STEEL
Disc: 2
"Black Sabbath" - ICED EARTH
"Sabbath Bloody Sabbath" - FOREVER SAY DIE
"N.I.B." - DOFKA
"Paranoid" - LOS NATAS
"War Pigs" - NATIVO
"Children Of The Grave" - Horcas & Andres Gimenez
"Die Young" - PRIMAL FEAR
"Neon Knights" - STEEL PROPHET
"Children Of The Sea" - JAG PANZER
"Falling Off The Edge Of The World" - ICARUS WITCH
"Disturbing The Priest" - ORDER OF NINE
"Mr. Crowley" - Yngwie Malmsteen
"Crazy Train" - Dee Snider & Jason Bonham
"Bark At The Moon" - FOREVER SAY DIE
Disc: 3
"Thunderfoot" - FREEDOM HAWK
"Dragonfly" - SASQUATCH
"Rest Of The Sun" - ISAAK
"Highway Officer" - GREENLEAF
"You Know How This Works" - BACKWOODS PAYBACK
"Gypsy Lady" - THE SOCKS
"The Conjuring" - WO FAT
"Jan-Michael Vincent" - GOZU
"Rooster Booster" - BRAIN POLICE
"Bleeding Out" - LO PAN
"Closer To The Sun" - FUDO MYO
"Keystone" - NIGHTSTALKER
"To Live" - MOTHER OF GOD
"Through Ashes And Tears" - SOUTHERN WHISKEY REBELLION




Please log in to view RANTS

If you don't have a username, click here to create an account!