FIVE FINGER DEATH PUNCH, VOLBEAT, HELLYEAH & NOTHING MORE Live In Youngstown, OH With Photos!


By Geoff Ketler, Cleveland Contributor
Sunday, October 12, 2014 @ 8:44 AM


| | | |
| --- | --- | --- |
| | | At The Covelli Centre |
Live Photos By Geoff Ketler/Steve Keller - Aces High Photography

It was a typical, cool, rainy, October day in Youngstown, OH; but things were heating up inside of the Covelli Centre. The compact arena, which usually brings to town the likes of Disney on Ice, Monster Trucks, or various pop stars, played host to one of the largest metal tours of this fall. I was made aware well in advance that this show was completely sold out and floor tickets were fetching $300-400 on the secondary market. It was evident that the Covelli Centre saw this as an opportunity for a giant money grab. As we pulled into the packed parking lot I saw a sign that read; "Parking - $20". Twenty freakin' dollars! The last time I was here I am pretty sure it was more around the $5-7 range. They could have at least bought me a drink first, right? Anyway, I cooled my jets, geared up and headed towards will call.

Inside it was complete pandemonium. The Covelli Centre seemed to be ill-prepared and understaffed for the onslaught of veracious metal-heads that had descended upon it. There was even a discrepancy with my information at the media check-in. Evidently my name was spelled wrong by the tour manager, but I was able to sway the marketing director into giving me the benefit of the doubt and quickly I headed towards the photo pit because NOTHING MORE had already taken the stage.

Hailing from San Antonio, NOTHING MORE performed with the intensity and energy as if they were the headlining act. They say that everything is bigger in Texas and the same could be said about their lengthy bass/percussion solo. Bassist Daniel Oliver placed his bass into this large, rotating, device that cradled it at an angle and the solo began. He was eventually joined by his bandmates and it almost became the bass player's equivalent of a drum circle. The group had a very progressive and heavy feel to them. Vocalist Jonny Hawkins got the crowd involved with their final song of their short set, "Salem (Burn the Witch)". The set was highlighted by the single "This Is the Time", off of their latest, self-titled, release.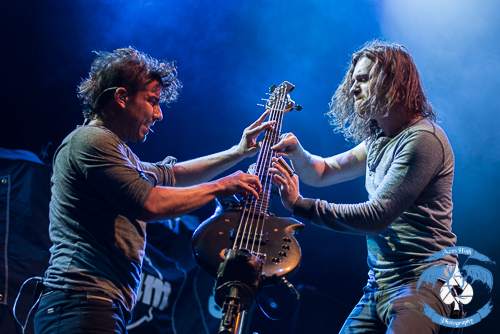 SETLIST:
"Christ Copyright"
"Mr. MTV"
Bass Solo
"This is the Time (Ballast)"
"Salem (Burn the Witch)"
After a quick set change, it was time for HELLYEAH. Supporting their recent release, Blood For Blood, the heavy metal veterans opened up with the song "Hellyeah!". I was excited to see them again after getting a taste of what they are all about during last year's GIGANTOUR. They are easily one of the more entertaining live acts you will ever see. Vocalist Chad Gray loses his mind on stage every night; playing up to the crowd, jumping off of the drum riser, whatever it takes to stir up the audience. The legendary Vinnie Paul lays down the beat, often stopping to spin those sticks and throw a few into the crowd. The set flew by smoothly. Highlight was hearing "Cross to Bier" off of Blood For Blood. Everytime I catch them live they are an opening act with a very brief set. I would love to catch a full set from these guys one day.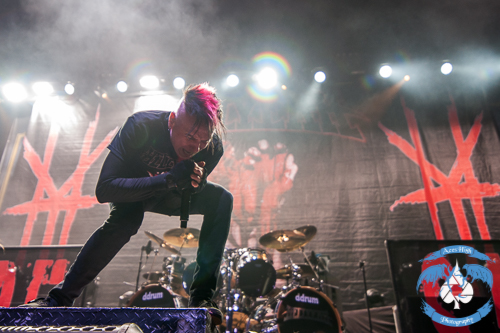 SETLIST:
"Hellyeah!"
"Sangre Por Sangre (Blood for Blood)"
"Demons In The Dirt"
"War In Me"
"Moth"
"Cross To Bier (Cradle Of Bones)"
"You Wouldn't Know"
Although FIVE FINGER DEATH PUNCH received top billing, it was VOLBEAT that really put the fans in the stands. Don't get me wrong, there were plenty of fans there to see FIVE FINGER DEATH PUNCH, myself included, but everywhere I turned there was another person in their VOLBEAT shirt. Vocalist Michael Poulson seemed to channel Elvis Presley on stage with his vocal demeanor. He even did a very good impression of the king between songs. The band ripped through all of the hits without missing a beat. At one point Michael pointed out a small kid in the crowd and then asked for the audience to allow him to crowd surf to the child to give him a VOLBEAT shirt. This theme continued during the band's performance of "Pool Of Booze, Booze, Booza". The band asked for the children in the audience to make their way up to the stage where there were lifted up and stood there in a line during the song. Michael Poulson addressed the crowd, telling them that the future of rock and metal exists because of these kids and he also noted that he would change the lyrics from "booze" to "chocolate". VOLBEAT has grown on me after seeing them live a few times. After seeing their performances I have a greater appreciation for their material and Michael and company are quite the showmen. The proof is in the droves of fans that show up everytime they book a date in my neck of the woods.

"Hallelujah Goat" "Guitar Gangsters & Cadillac Blood" "Sad Man's Tongue" "Heaven nor Hell/A Warrior's Call" "16 Dollars" "Lola Montez" "Dead but Rising" "I Only Want to Be With You" "Doc Holliday" "The Mirror and the Ripper" "The Hangman's Body Count" "Fallen" "Pool of Booze, Booze, Booza" "Still Counting"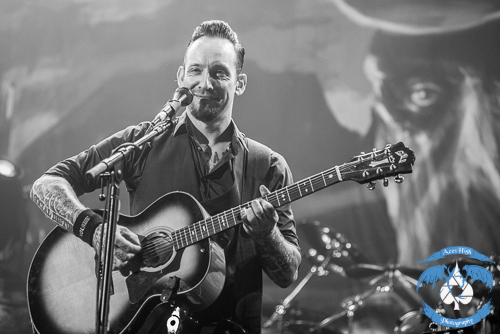 Although I was unable to make it because of my photography duties, HELLYEAH was doing a meet and greet in the hall outisde of the arena right after the VOLBEAT set. I was a little bummed about missing it, but nonetheless FIVE FINGER DEATH PUNCH took the stage with "Under And Over It" off of American Capitalist. Drummer Jeremy Spencer was wearing an outfit with a skeleton on it, complete with his face painted up like a skull. Vocalist Ivan Moody took center stage in his trademark over-sized shorts and high socks. He was flanked on either side by guitarists Jason Hook and Zoltan Bathory. The band was rounded out by bassist Chris Kael and all of his bearded glory. Ivan wielded a baseball bat with the word "FUCK" written on it and pointed it at the crowd as he belted out the lyrics. I have heard stories about the band having "off" nights once in a while. Thankfully, this was not one of them.
Ivan worked the crowd all night long. He told the story about the dog tag that he wears every night while he performs. He was approached by someone during a VIP meet and greet who asked him to keep the dog tag. It had belonged to his best friend who died defending our country. The man told Ivan that his friend would have wanted him to have it. It was difficult for Ivan to get the words out, but when he finally did, he dedicated "Bad Company" to the men and women of the armed forces. The crowd chanted "U-S-A" over and over again. It was quite a moving experience.
The kid-friendly theme continued on as Ivan spent time picking out children and tossing them shirts. He also explained to us that the band had a huge pyro package for this tour, but the venue would not allow them to use it. I felt as though the production was top notch, but the addition of pyro would have been incredible. I realize that this tour was in support of their latest release, The Wrong Side Of Heaven And The Righteous Side Of Hell, Volumes 1&2, but I would have liked to hear more material off of American Capitalist. At the very least, I felt like there was one too many ballads, because the set started to drag a little in the middle. All of that aside, the group was tight, energetic, and they looked fresh. The only hiccup of the night was during the first song of the set. I was in the photo pit and Ivan, while gesturing to the crowd, dropped his mic off of the stage and into the photo pit. He pointed at it and missed a few lines of the song before another photographer grabbed it and handed it back to him. Other than that it was a long night of great music performed by great musicians.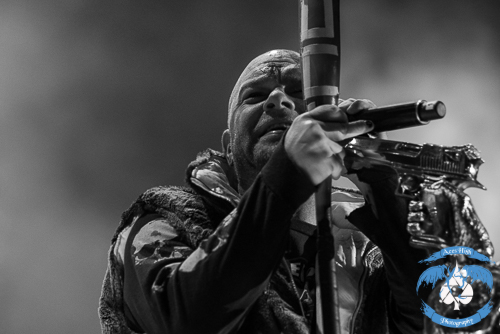 SETLIST:
"Under And Over It"
"Burn It Down"
"Hard To See"
"Lift Me Up"
"Burn MF"
"Bad Company" (Bad Company Cover)
"Remember Everything"
"Battle Born"
"Coming Down"
"Never Enough"
"Far From Home"
"Here To Die"
"The Way Of The Fist"
"The Bleeding"
Check out the Photo Gallery from the show right HERE.




Please log in to view RANTS

If you don't have a username, click here to create an account!