John Gallagher of RAVEN has made this announcement:

"Hard, heavy, and faster than the speed of light! We've written the album, and now we need you Lunatics to help us record it!

ExtermiNation.

In short, the best RAVEN album yet. We think we've written it, and now we need your help to record it!

Our good friends at SPV Records fully support RAVEN and have agreed to release the new album ExtermiNation in early 2015, but with the current state of the record industry, are only able to partially fund the album.

We're not willing to cut any corners or sell you, the fans, short, so we are asking for your help to cover the expense of extra pre-production, rehearsal, travel, and studio time. Most importantly, we're not just using any studio or engineer, we're reuniting the team responsible for our last album Walk Through Fire! With your help we'll return to Assembly Line Studios with producer Kevin '131' Gutierrez.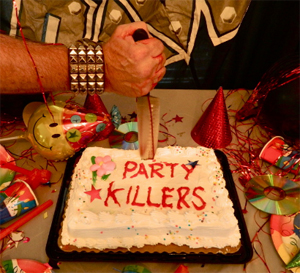 Our promise to you is an uncompromising album that will tear your head off! So please check out all the rewards we've dreamed up for you HERE, including an entire covers album just for you lot, and many other items only available here!
Thanks for your support, and we'll see you on the road!"
One of the rewards of the campaign is Party Killers, a brand new full-length covers album only available on Kickstarter:
"A collection of some of our favorite songs, given the RAVEN overhaul! Party Killers will be produced in limited quantities for Kickstarter backers only on CD and vinyl. Don't miss out!
The campaign runs until November 28th, 2014