A gigantic iceberg has been turned into the most unlikely of gig venues in the Greenland Sea, as U.K. metal band THE DEFILED performed on top of the floating platform for the Jägermeister Ice Cold Gig, which sees artists put to the test as they perform in unconventional, ice cold conditions.

Braving freezing temperatures and fast flowing ice, the group performed the special set to a host of locals from the nearby town of Kulusuk, Greenland, who ventured out to the ice field to watch this once-in-a-lifetime experience from an array of fishing boats and leisure craft.

View the documentary below.

As an internationally touring band and part of the Jägermusic Music program, THE DEFILED are used to spending long stretches on the road together, which helped prepare them for the unusual nature of this tour. Flying from the U.K. to Iceland, the group then transferred to the island town of Kulusuk before trekking over land & sea to their base on the neighboring island of Tasiilaq, which boasts a population of just over 2,000 inhabitants.

Prior to taking to the icy stage, frontman & guitarist Stitch D along with keyboard player The AvD, bassist Vincent Hyde and drummer Needles spent time meeting with local musicians and watching them perform their own traditional music before inviting them and other residents to come and witness their unique one-off performance. Renowned for their distinctively dark and imposing on-stage dress – which provided a stunning visual contrast to the bright white ice cold surroundings – THE DEFILED played a 30 minute set featuring tracks from their latest album and Nuclear Blast Entertainment debut, Daggers.

In planning the gig, the area was scoured for several days in the search for the 'perfect' iceberg, one that was large & thick enough to handle the weight of the band and all of their equipment. All of the instruments, sound equipment, and band members were ferried onto the moving ice stage with the help of local experts who have lived and worked amongst these impressive ice floes for generations.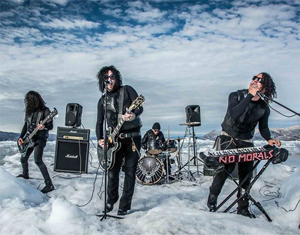 When THE DEFILED heard that the Kulusuk Village Music Hall and all of their equipment had burnt down in a fierce winter storm, Stitch D and his bandmates pulled strings with two of their equipment suppliers, Mapex and Blackstar, and donated a drum kit and guitar amp to contribute to the rebuilding of the facilities and to thank the locals for making this once-in-a-lifetime gig a reality.
"This has to be one of the most insane gigs we've ever played!" shares THE DEFILED's enthused lead vocalist & guitarist Stitch D. "You see these things on TV documentaries but it's not until you get to see them in real life that you realise just how big and amazing icebergs are. Although it was cold, I don't think any of us noticed once we got started, as the stage location literally takes your breath away. As a group of mates, we've shared some amazing experiences together but this has been an adventure that has bought us closer together and something that we all feel really privileged to have been part of. We've made a lot of friends during our short stay here and donated some music equipment to the local people, so we look forward to coming back one day and playing a joint gig out here next time – maybe the first-ever gig with two bands playing on two icebergs at the same time!"
In order to capture the gig and the breath taking surroundings in all its glory, the expedition team turned to the latest technology to film and photograph the gig. Controlled remotely from the flotilla of boats nearby, state-of-the-art Octocopter flying drone cameras were utilized to hover above and alongside the iceberg.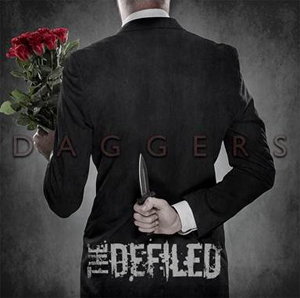 Jägermeister Music Manager Tom Carson, adds: "As far as stage backdrops go, I don't think you'll find anything more impressive than this. We're used to staging events at music venues and summer festivals, so it made for an interesting change to be checking 'berg suitability' as part of the pre-event checks as opposed to the typical band riders and sound systems. We've worked with THE DEFILED for a number of years now as part of our Jägermusic program and we're extremely grateful to them for accepting the Jägermeister Ice Cold Gig challenge and staging one of the most unique sets we've witnessed. We hope the locals of Kulusuk enjoyed it as much as we did."
THE DEFILED will tour through Europe and their native U.K. this November & December with AVATAR.
The band's 2013 release, Daggers, was recorded at Audio Hammer Studios in Florida with producer/engineer Jason Suecof (DEATH ANGEL, JOB FOR A COWBOY, ATHEIST, CHARRED WALLS OF THE DAMNED) and can be ordered from the Nuclear Blast USA Webshop & digitally via iTunes.
Visit THE DEFILED online:
Like: www.facebook.com/THEDEFILED
Follow: Twitter.com/THEDEFILED
Watch: www.youtube.com/THEDEFILEDTV