STRATOVARIUS will release a high quality reissue of their genre milestones Elements Pt. 1 and Elements Pt. 2 on 3CD+DVD as well as a limited box set including 5.1 mix of the original albums on DVD and previously unreleased songs. This package will be released on December 5th.

Jens Johansson explains: "The idea for this 2014 reissue revolves much around the surround (5.1) mixes of the album. I had heard a few tracks from these at some point and was completely blown away. But they were never released. So finally, these quite wonderful audiophile 5.1 surround mixes are available."

Elements Pt. 1 & 2 is going to be released as 3CD+DVD digi-pak, limited to 10,000 copies worldwide, as well as limited to 3,000 copies worldwide box set.

The releases feature both original albums, a bonus CD including unreleased and rare songs like b-sides or live versions from the 2003 Elements tour and a DVD. For the first time in the band's history, the DVD features the 5.1 mix of both albums, rare bonus songs as well as a photo gallery.

The box set includes the high quality 3CD+DVD digi-pak, a cassette including previously unreleased demo songs which are only available on this format and will not be made available anywhere else, an Elements tour t-shirt as well as a reproduction of the original tour program. As a special bonus, the band has conquered their private archives for rare and never before seen picture material – so get ready for some fun shoots from behind the scenes of the album recording sessions as well as juicy material from the tour.

With its previously unreleased and rare songs, the 5.1 mix on DVD, the brand new artwork and freshly written liner notes by Jens Johansson, Elements Pt. 1 & 2 is definitely a must-have.

Portraying the elements wind, fire, water and earth, the albums themselves feature a prominent, effortlessly flowing progressive sound. The music made clear that the band – Timo Kotipelto (vocals), Timo Tolkki (guitar), Jens Johansson (keyboard), Jörg Michael (drums), Jari Kainulainen (bass) – were not just another metal band, on the contrary, they were (and still are) a band that doesn't shy away to take one step further and experiment with different genres. Both Pt. 1 and Pt. 2 have proven to be one of the band's best works up until that point of their career. Especially Jens Johansson's exceptional keyboard performance has to be pointed out: mind-blowing keyboard solos, giving the album a distinctive sound frame.

"Elements still is one of the greatest sounding power metal records ever. And I imagine, one of the heaviest melodic rock albums that will ever be made with an orchestra", reflects Jens Johansson about the sound of the album.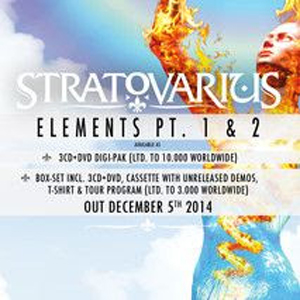 European Limited Expanded Edition (3CD+DVD)
CD1 Elements Pt.1
CD2 Elements Pt. 2
CD3 includes unreleased and rare songs
DVD includes 5.1 mix of Elements Pt. 1 and Elements Pt. 2 as well as rare songs
European Anniversary Edition Box set
3CD+DVD digi-pak
cassette (30 min) including rough demos – previously unreleased and only available on this release
T-shirt with original artwork from the tour
reproduction of original tour program
Tracklisting:

Elements Pt. 1
"Eagleheart"
"Sould Of A Vagabond"
"Find Your Own Voice"
"Fantasia"
"Learning To Fly"
"Papillon"
"Stratofortress"
"Elements"
"A Drop In The Ocean"
Elements Pt. 2
"Alpha & Omega"
"I Walk To My Own Song"
"I'm Still Alive"
"Season Of Faith's Perfection"
"Awaken The Giant"
"Know The Difference"
"Luminous"
"Dreamweaver"
"Liberty"
Bonus CD (previously unreleased and rare material; almost 70 minutes)

"Run Away"
"Into Deep Blue"
"Ride Like The Wind"
"Papillon (French Version)"
"Soul Of A Vagabond" (live)
"Destiny/Fantasia" (live)
"Forever" (live)
"Paradise" (live)
"Black Diamond" (live)
"Hunting High And Low" (live)
DVD
Elements Pt. 1 & 2 – 5.1 audio
Bonus Audio
Photo Gallery
Box Set Content

3CD+DVD - tracklist as above

Cassette Rough demos – previously unreleased and only available on this release

Side A
"I'm Still Alive" (Drum Machine Cassette Demo)
"Awaken The Giant" (Drum Machine Cassette Demo)
"Stratofortress" (Drum Machine Cassette Demo)
Side B
"Heart Of An Eagle (Eagleheart)" (Drum Machine Cassette Demo)
"Season Of Faith's Perfection" (Drum Machine Cassette Demo)
"A Drop In The Ocean" (Drum Machine Cassette Demo)
T-shirt Reproduction of original tour program