Memorials Held For Betty Blowtorch Leader Bianca Halstead


By Frank Meyer, Contributing Editor
Wednesday, December 19, 2001 @ 12:34 AM


| | | |
| --- | --- | --- |
| | | Memorials Held For Betty Blowt |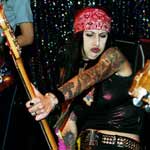 A public memorial will be held at 6pm Saturday at the club Dragonfly in Hollywood for Betty Blowtorch's Bianca Halstead (a.k.a Bianca Butthole), who died Saturday morning in a car accident in New Orleans. Located at 6510 Santa Monica Blvd. In West Hollywood, the club served as a breeding ground for Betty Blowtorch, who played there frequently.

Funeral services will be private.

All of this follows the memorial held on Monday night at the Melrose Ave. clothing store Bianca worked at when she wasn't touring, Serious Clothing. The Melrose store served as a gathering place for friends and fans who brought flowers, lit candles, talked, cried and shared stories about their fallen friend. Fans and friends can go and visit the shrine the store erected for her, which includes huge pictures of the band, personal pictures submitted by friends, and a sign-in book for people to write her messages, throughout the week. In addition, Serious Clothing is taking donations to pass on to the family for those that would like to help pay for the services. All donations will be used to offset the cost for the family. You can send donations to:

The Bianca Halstead Fund
c/o Serious Clothing
7569 Melrose Ave.
Los Angeles, CA 90046

Bianca was the bassist/singer for Hollywood hard rockers Betty Blowtorch and was killed around 5:30am Saturday morning in a tragic car accident in New Orleans. The driver of the car, Brian McAllister, offered Bianca a lift home in his '86 Corvette after a night out on the town with friends. They were driving on the I10 toward Kinner, LO (near New Orleans) when McAllister lost control of the wheel and the car spun around, jumping the median and heading into oncoming traffic. They were sideswiped by another car on Bianca's side and she was killed instantly. Witnesses estimated McAllister's speed at more than 100 mph and police said he had been drinking. McAllister is be held by New Orleans police and is facing criminal charges. The two passengers in the other car have been hospitalized."

According to police the other car -- which was driven by Robert Fenkel, 50, of Colorado Springs, Colo., -- broadsided the Corvette, nearly shearing it in half. Fenkel had to hospitalized but his injuries were not described as life threatening. Jacquelyn Hampton, 35, of Kenner, was driving the first car McAllister hit, but was not injured. It should be noted that while the police claim McAllister was inebriated, Bianca herself has been sober for 10 years.

Bronx, N.Y.-born Bianca's first band was Sin, which included the guitarist Bitch. Both women also played in the group Butt Trumpet and later performed with Humble Gods before forming Betty Blowtorch in 1998. The band released a Duff McKagen produced EP before issuing their full-length debut, Are You Man Enough?, earlier this year through Foodchain Records. They had been touring to much acclaim ever since and headed out on a national trek with Nashville Pussy to promote the effort, their biggest tour yet. The six-week tour was supposed to conclude with a New Year's Eve show at the legendary Whisky on the Sunset Strip.

Halstead is survived by her parents, Angele and Gerry Woolery of Coupeville, WA, her sisters, Selina Smith and Victoria Roberts, and her brother, Andrew Wilson, all of Los Angeles.

We at KNAC.COM send our deepest condolences to Bianca's family, friends and bandmates.






Please log in to view RANTS

If you don't have a username, click here to create an account!